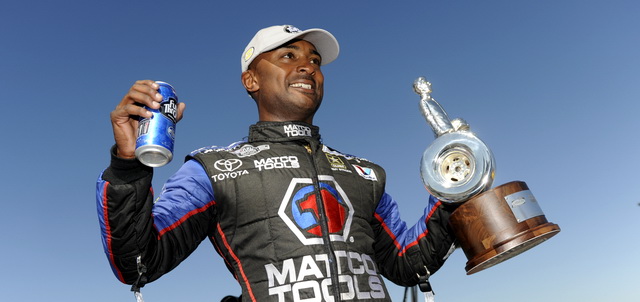 NHRA Top Fuel world champion Antron Brown joins NFL superstar Robert Griffin III, Olympic gold-medal gymnast Gabrielle Douglas and TV host Robin Roberts on 2013 edition of "TheGrio's 100" list that features African-American industry, sports and community leaders.
The exclusive list, which was announced Monday on the NBC "Today Show," honors Black History Month by highlighting the next generation of African-American history makers who are making a difference in the lives of all Americans. The TheGrio's 100 honorees come from various fields of work, including business, education, sports, science and the environment, media, service and activism, politics, health, pop culture and the arts.
It has been a whirlwind few months for Brown, 36, a native of New Jersey who lives with his family in Pittsboro, Ind., outside of Indianapolis. He became the first African-American to win a major U.S. auto racing championship when he steered Don Schumacher Racing's Matco Tools Top Fuel Dragster to the world championship in the National Hot Rod Association (NHRA) Mello Yello Drag Racing Series.
"It isn't often that I'm at a loss for words, but I can't describe what it means to me and my whole family to have my name on TheGrio's 100," Brown said. "I mean, I'm on a list with so many great people who save lives and are world leaders. It's incredible.
"I'm humbled and honored to be the first African-American in our sport to get the championship," he said in an interview with ESPN.com. "But, at the end of the day, I never looked at it like that. I wanted to get respect for the kind of person I am and for the kind of racer I am. I take it as a privilege and it motivates me to realize that you can fulfill your dreams no matter what color you are."
In addition to his accomplishments on racetracks and as a sprinter in college, he devotes considerable time to motivating high school and college students throughout the country.
The TheGrio's 100 honorees, including Brown, will be profiled on NBC News platforms, including "NBC Nightly News," "Today," NBCNews.com and MSNBC throughout the month of February.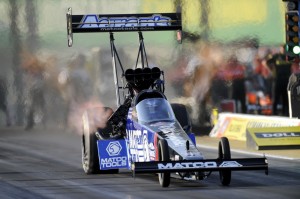 This year's list includes newsmakers and celebrities like UN Ambassador Susan Rice and NBA star and author Amar'e Stoudemire, along with upcoming leaders such as Svante Myrick, the 25 year-old mayor of Ithaca, N.Y., and Vince and Vance Moss, brothers who led a medical mission to Afghanistan.
"This year's list shines a light on those African-American leaders who may be lesser known but are doing incredible work in their communities, while also highlighting recognizable names for work you may not know they're doing," said David Wilson, executive editor of theGrio.com.
"The goal of 'TheGrio's 100' is to go beyond the rear-view conversations about Black History Month, and instead take a look at where we're going. This year's honorees are a great sampling of the leaders who are taking us there."
To review the full list of 100 and learn more about TheGrio's 100, visit TheGrio's Facebook page (Facebook.com/theGrio) and on Twitter @thegrio with the hashtag #thegrios100.