J.R. Todd moved into the Funny Car points lead with his second straight victory of 2018 on Sunday at the 34th Dodge NHRA Nationals at Maple Grove Raceway.
Steve Torrence (Top Fuel), Vincent Nobile (Pro Stock) and Hector Arana Jr. (Pro Stock Motorcycle) were also winners in their respective categories at the first of six playoff events during the 2018 NHRA Mello Yello Drag Racing Series Countdown to the Championship.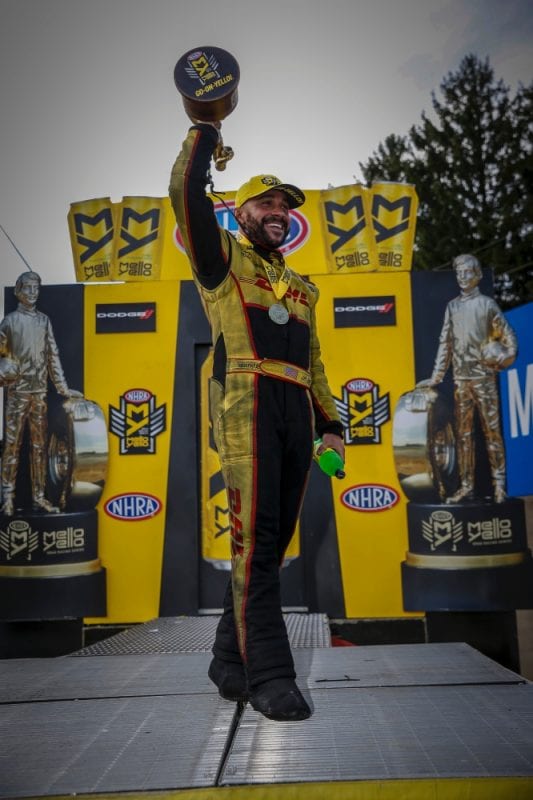 Coming off his second consecutive Indy win, Todd stayed hot and went 3.972-seconds at 319.90 mph in his 10,000-horsepower DHL Toyota Camry to defeat Tim Wilkerson's 4.196 at 249.95 in the final round, earning his fourth win of the season and 12th in his career. It also marked the 100th career win for Kalitta Motorsports and team owner Connie Kalitta. With the win, Todd now has a 23-point lead on defending world champion Robert Hight.
"It's awesome to keep the momentum going, but we've got a long road ahead of us," said Todd, who also has a Top Fuel win at the track. "These guys know how to win. A lot of them were there for the 2015 championship with Del Worsham, and we just want to keep winning. It was nice to come out with a win and now we just have to keep it rolling. We had a really good car and they just go up there and race smart, and not beat ourselves. The consistency is really coming around."
Todd beat Bob Tasca, Mike Smith and defending event winner Ron Capps to reach the final round. Wilkerson beat Terry Haddock, John Force and Hight to secure his 41st career final round and move to sixth in the points standings.
In Top Fuel, Torrence maintained his points lead after going 3.819 at 325.45 to beat Tony Schumacher's 4.196 at
234.82 and pick up his sixth victory in 2018 and 22nd of his career in his 10,000-horsepower Capco Contractors dragster. To reach his 36th career final round, Torrence knocked off Bill Litton, Mike Salinas and No. 1 qualifier Clay Millican, opening up a 50-point lead against Schumacher and Millican thanks to his first career victory at Maple Grove.
"We're not here to be second-best," Torrence said. "Winning the championship is fresh on our minds and we want to do everything we can to solidify that. I think this is a great way to start the Countdown. We're here to win and that's the only job we have. We're going to have to do everything we can to win and just stay focused on what we're doing. We've got a little bit of a lead and we need to maintain that, and keep going in that direction."
Eight-time world champion Schumacher advanced to his seventh career final round at Maple Grove Raceway and 152nd in his career after defeating Dave Mercier, Scott Palmer and Antron Brown on Sunday, moving into a tie for second in points with Millican.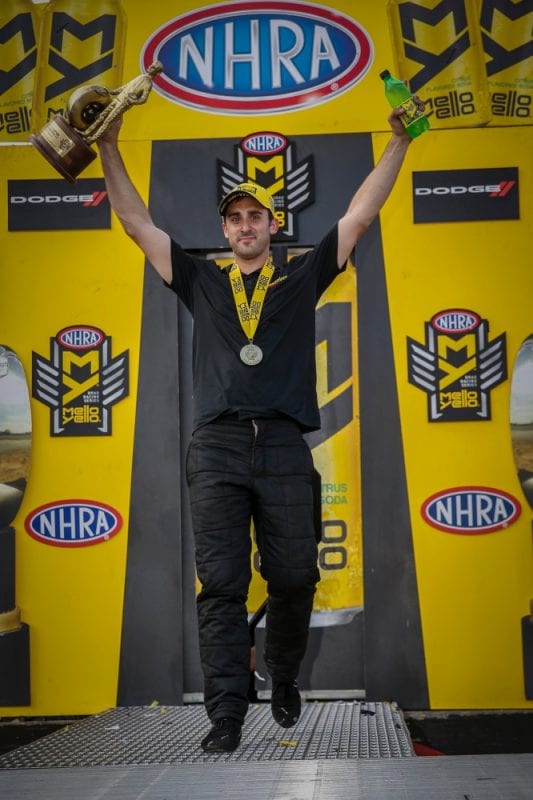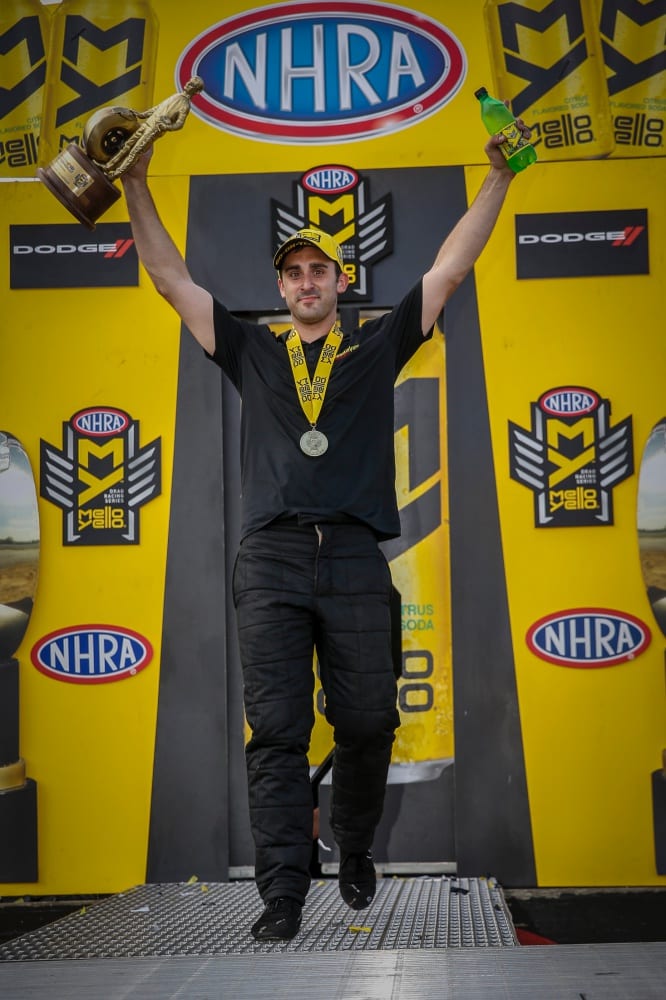 Pro Stock's Nobile grabbed his third victory of the season and 13th in his career in his Mountain View Tire Chevrolet Camaro after going 6.586 at 210.01 in the final round to defeat Drew Skillman's 6.580 at 211.53. Nobile, who knocked off Matt Hartford, Erica Enders and Greg Anderson to reach his 25th career final round, moved to second in the points standings with his second career win at the track.
"All in all, what a great way to start the Countdown," Nobile said. "If you really look at it, every single team out here can win the race. It's just a matter of who has their stuff together the best that weekend. You just have to do the best you can. I think we have a pretty good racecar and as long as we can be in the top six in qualifying, I think we can get the job done."
Skillman was seeking his first victory of the 2018 season, but did climb to fifth in points after beating Fernando Cuadra, defending world champion and event winner Bo Butner, and points leader Tanner Gray on Sunday. Gray maintained his points lead and currently holds an 18-point advantage over Nobile.
In Pro Stock Motorcycle, Arana Jr. earned his second victory of 2018 and 13th of his career with a run of 6.842 at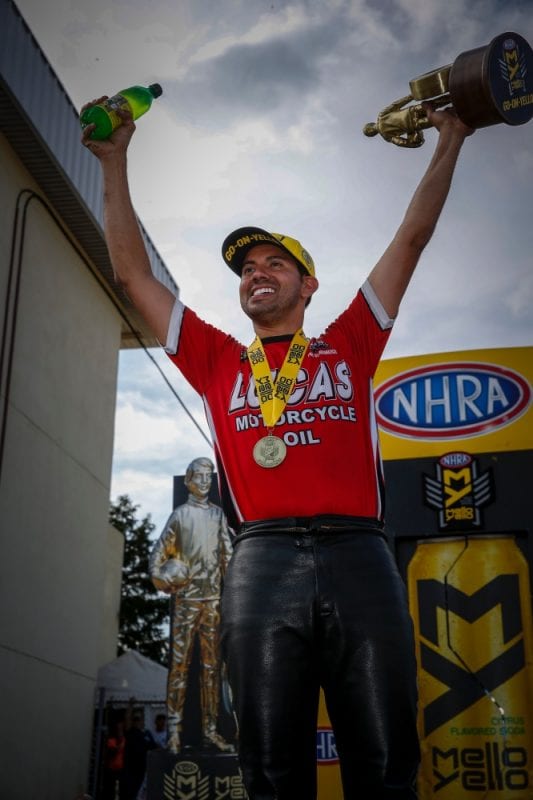 197.74 on his Lucas Oil Racing TV EBR in his final-round matchup against No. 1 qualifier Matt Smith, who slowed to a 7.306 at 145.88. Arana Jr. jumped to second in points after his second career win at the track and trails Eddie Krawiec by just three points. Arana Jr. picked up wins against Ron Tornow, Joey Gladstone and points leader Krawiec en route to the final.
"What matter are the wins in the Countdown and that's what we're working on," said Arana Jr., who earned his second win at the facility. "We're working on consistency and we've been working on that all year. We've got a strong championship contender with this bike and I can't thank my team enough. They work super, super hard. We're definitely working really hard for a championship."
Smith's path to his 47th career final round included victories against John Hall, Steve Johnson and LE Tonglet, as he improved to third in the points standings.
The NHRA Mello Yello Drag Racing Series continues Sept. 21-23 with the second race in the Countdown to the Championship, the AAA Insurance NHRA Midwest Nationals at Gateway Motorsports Park in Madison, Ill.