The Rust-Oleum Rocket is on jack stands. The supercharger is on a table next to the car. Most of the livery is off, the engine in pieces. Crew members, seemingly at random, zip around the pit, adding a part here, tweaking a belt there. It's chaos with the practice and grace of ballet.
The driver and team owner's son, TJ Zizzo, is in the lounge, practicing the portable tree. He's focused. The tree activates and he punches it. His reaction gives no indication of whether he's pleased or not. He sees me from his periphery.
"MISTER Mudd!"
I've been the team's PR rep for eight years, starting in 2010. Some of the players have changed, but the core group has been in place for years prior to my arrival. The team's clutch specialist, Tony Smith, has been with the team longest, around 25 years, back to when TJ's dad, Tony Zizzo, was a Top Alcohol driver and champion.
This is my family. I love them more than most of my blood relatives. There was a time when I was invited to take an, uh, unplanned absence from the team. That was the year Kenny Youngblood gifted each member of the team with a massive oil print of the car launching from the line he had painted the year before. Despite not being with the team at that point, not knowing if I would ever be back, I was sent one of these beautiful pieces of art. That's who the Zizzos are. Once you've been on the team, with few exceptions, you're always welcomed back.
TJ made his bones in Top Alcohol dragster. He moved to nitro in the IHRA and came within four rounds of earning the title in 2007. The wins and title chances dried up when the team decided to move to the big show, the NHRA. They knew it was coming. However, years of being underfunded, committing to a schedule not allowing them to build a program capable of winning rounds, much less winning races, takes it toll.
That changed a couple years ago when Rust-Oleum came aboard. Far fewer races, but a solid budget for the handful they go to. Since then, TJ has broken personal records for ET and speed multiple times. His greatest glories have come at his home track, Route 66 Raceway in Joliet, Ill. Two years in a row, after qualifying in the 16th and final spot, he beat the top qualifier; IHRA alum Spencer Massey the first year, Tony Schumacher the next.
Don't call him a giant killer, though.
"I don't see ourselves as a giant killer. I see ourselves as a giant. Truly."
It's hard to argue that. While not in the rarified air of the Don Schumacher Racing types or Kalitta Motorsports, the few appearances he's made recently are solid. Last year at Joliet, in the second round, he beat Top Fuel top qualifier and eventual class champion Brittany Force. Not due to her exploding. Not due to her shaking the tires or any other failure the team used to count on for wins. He beat her in a solid side-by-side race. This year, he qualified fifth there, the team's best-ever NHRA qualifying effort.
"Back in the day, we'd be racing Tony Schumacher first round or having to go up against the best of the best because we were the No. 16 qualifier and I don't see that anymore," he said. "We have all the quality parts and pieces we need and sure it changes my mindset. There's extra pressure when you're great, you know?"
On-track results are the proof of a legacy; greatness comes from within. Zizzo and the entire team have confidence stemming from strong runs, an inventory of parts, and decades of racing experience.
And some help from the National Hot Rod Association.
"I believe that the track prep has made us more of a car to be feared because our car runs the numbers that the track is giving out at any point in time," said crew chief Mike Kern. Kern has been the tuner for the team since TJ's IHRA days. A second-generation racer and Illinois native who turned 50 on Friday, Kern knows it takes a lot to win at this level. Any help he can get, he'll take.
Earlier in the season, NHRA began experimenting with the track prep at national events. It's not hard to imagine a lot of racers didn't dig it. In fact, you don't even have to imagine. Two-time Funny Car champion Matt Hagan was very vocal about it. Others, while less forceful with the message, also relayed to NHRA they weren't pleased.
Don't look for NHRA to change their setups anytime soon. Blake Alexander, a former Funny Car racer who runnered-up at 4-Wide a couple years ago in Funny Car, has won twice this year in Top Fuel. Billy Torrence, Steve's dad, won at Brainerd after 27 Top Fuel starts. He also earned his first-ever top qualifier that weekend.
For better or worse, the field has been bunched together. Mike is fine with that.
"There's our points, on a cold Friday night, where the track might be better and we get a good number out of it," he said. "For example, (Joliet during) Q2, Steve Torrence ran a .67 on that track where we ran a .77. They threw something out there and it stuck, but I think that's probably to this point in the summer the quickest we've seen this summer.
"So the track has backed up to us where the track used to be so good, you could throw almost anything at it and it would stick. We don't have enough runs to go and try to do that. We tend to be more conservative, so being conservative like that, the track has now, at that point, our conservative runs are now our aggressive run."
There isn't a single member of the team, a single member of the Zizzo family involved with the team, satisfied with just showing up to be part of the pageantry. There's an ingrained desire to win. There are Wallys at the shop for Best Appearing Team, but they're not the same. Not real. Not the result of winning the fourth round on a Sunday. Or in the case of the team this weekend, Monday.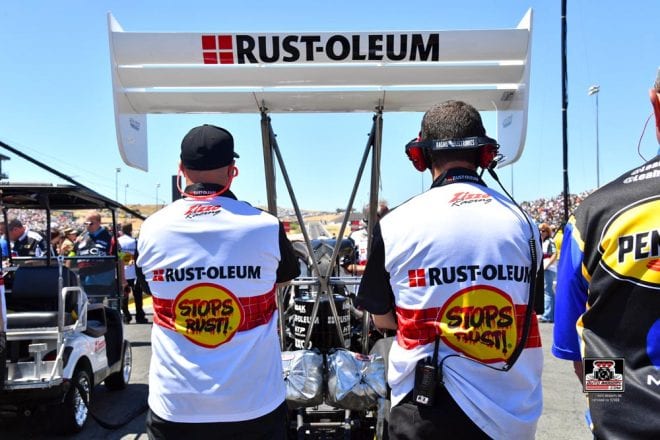 TJ isn't just the driver. In addition to being responsible for doing the team's laundry (not kidding), he's the lead cheerleader, ruthlessly upbeat at the lowest of times. Years of failing to get past E1 with any consistency can be draining. It can make you want to not be there and for anyone who loves drag racing, the way I do, the way you do, that's a terrible thing.
"No, man, I still get to drive a Top Fuel dragster," Zizzo said, when asked if he ever considered stepping away. "No matter which way you look at it, I still was able to compete at a high level against the best in the world. We had to go through all those learning curves. We took a lot away from those years, too, to make us better today. We just learned our lessons; we had a lot of lessens to learn.
"Back in the day, if we had four cents, we were going to go racing. That's what we did and we came back with negative two million cents. What we're doing now is wonderful and we're building again."
The Zizzos are loyal to a fault, with that respect reciprocated by the team. In the truest sense of the word, we are a family. They are my road family and I am fortunate to have found them.
TJ feels the same about us.
"People always say it's the thrill, it's this, it's that," he said about why he still loves it. "Honestly? It's because of our team. That's the reason I race. These guys show up and they love it.
"That's why I race. I race for them."