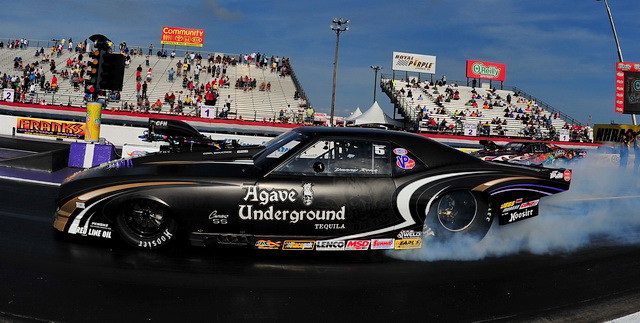 Perennial NHRA Pro Mod Drag Racing Series frontrunner and championship contender Danny Rowe (above) has a new teammate. Tim Tindle, who competed for five seasons in the NHRA Pro Mod series himself and currently competes in the X-treme Drag Racing League's outlaw supercharger division, Pro X-treme, will be joining Danny Rowe in a two-car venture for the remainder of 2013.
Both drivers will field Agave Underground Tequila-backed supercharged Pro Modified Camaros with world renowned crew chief Jimmy Rector handling the tuning duties on both entries.
"Obviously, we're very excited about Tim and his family joining our team," said Rowe, who is currently tied for 4th in the NHRA Pro Mod Series points. "We're thrilled to have the opportunity to field two cars here in this ultra-competitive Pro Mod category and, honestly, happy to have a guy like Tim joining our team. We're both family-oriented guys and I think the Tindle Family will fit right in with us. We're definitely looking forward to Norwalk."
Tindle, who has been racing Pro Modified since 2005, earned 2007 AMS ProMod Challenge Rookie of the Year honors following a season that saw him win the ProCare RX Supernationals at Old Bridge Township Raceway Park in Englishtown, New Jersey, as well as the NHRA Pro Mod Clash in Las Vegas, Nevada. In 2009, Tindle scored victories at both the NHRA Summer Nationals in Topeka, Kansas, and the IHRA Spring Nationals in Rockingham, North Carolina.
"Well, I'm just really excited to get to Norwalk and go racing," said the Holt, Florida-based Tindle. "I've been thinking about trying to go back quarter-mile racing with the NHRA and when I reached out to Danny – it just clicked. We talked about it, he had a second car available, and we pulled the trigger.
"We're racing for a championship in the X-DRL right now, but I've always had a thing for quarter-mile racing and competing within the NHRA," continued Tindle. "I've always liked a blower car and I feel like they're as competitive as anything right now. Jimmy [Rector, crew chief] has a great program there with Danny, and I'm confident we can be competitive right off the bat. We're looking forward to it."
Rowe, who unveiled a major sponsorship with the California-based exclusive tequila company Agave Underground at the NHRA Pro Mod Drag Racing Series season-opener in Gainesville, Florida, is also excited about the impact of a second Agave Underground car hitting the race track each race weekend.
"This is definitely a great thing that we're excited to do for Agave Underground," said Rowe. "Having two of these badass-looking hot rods out on the track is going to be fantastic. We've gotten a tremendous response from the fans this season about these Agave Underground cars and I'm sure it's only going to grow now that we've got Tim Tindle in one of them. Norwalk is going to be exciting."
The NHRA Pro Mod Drag Racing Series returns to action at the 7th annual Summit Racing Equipment NHRA Nationals on July 4-7, 2013, at Summit Racing Equipment Motorsports Park in Norwalk, Ohio.
To learn more about Agave Underground Tequila products, sweepstakes and hosted events, visit www.agaveunderground.com, Facebook.com/AgaveUnderground or Follow @AgaveUground on Twitter.
To keep up with the latest news and results from Danny Rowe Racing, log onto www.dannyroweracing.com
(Photo by Joe McHugh)