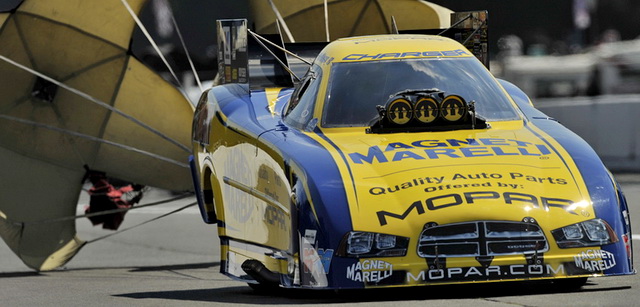 Half-way through the six-event NHRA Mello Yello Countdown to the Championship and the only thing that's certain is the competition has become more intense than ever.
Few points separate the series leaders in Top Fuel, Funny Car and Pro Stock, and as teams head to scenic Maple Grove Raceway for the 29th annual Auto-Plus NHRA Nationals, Oct. 3-6, each and every one of the Countdown-eligible teams in the NHRA Mello Yello Drag Racing Series will be racing hard to firmly establish themselves as championship contenders.
Khalid alBalooshi (Top Fuel), Mike Neff (Funny Car), V Gaines (Pro Stock) and Eddie Krawiec (Pro Stock Motorcycle) were last season's event winners. The race will also be televised on ESPN2HD. It is the fourth of six playoff events in the NHRA Mello Yello Drag Racing Series Countdown to the Championship.
In Funny Car, Matt Hagan's lead was trimmed to six points by a resurgent John Force who won in St. Louis. Hagan, the 2011 world champ who has led the standings since early June in his Magneti/Marelli Dodge Charger (above), is very determined to hang on to his front-running position.
Mix in the reputation Maple Grove Raceway has earned over the years as a place where the world's fastest race cars can generate record-setting performances and the atmosphere is sure to be electric.
"I'm looking forward to Reading," Hagan said. "I think it's going to be cool conditions and there's going to be an opportunity to run fast and there may even be a world record set there like we saw last year, so that's pretty exciting."
Hagan, who has seen John Force get on a hot streak in the playoffs and overtake him for a championship title in 2010, is determined to not let history repeat itself this year. Hagan's team has won four races and been extremely consistent all year long led by veteran crew chief Dickie Venables.
"I told all of my guys to take a deep breath this week and chill and when we get to Reading we'll put our game face on and go racing," Hagan said. "We need to let everyone else worry about the points. We are still the points leaders and we can win this thing."
Force, who is going for his 16th world championship, was energized after winning in St. Louis. The 64-year-old NHRA icon has won six times at Maple Grove, but his last victory there came in 2001. With new crew chief Jimmy Prock calling the shots on his Castrol GTX Ford Mustang and working alongside the entire Force Racing "Braintrust," Force seems more ready than ever to win again in Pennsylvania and keep battling the "kids" as he calls them, for another Funny Car crown.
"I have been guilty of getting overloaded and not focusing on my race car, (but) now I have people working for me (who are chasing new sponsorship) so I can focus on winning," Force said, "because you have to live this race car every day."
Several other drivers remain in title contention in the incredibly competitive Funny Car class, including defending world champ Jack Beckman, Robert Hight, Cruz Pedregon, Ron Capps and Courtney Force. Beckman was the No. 1 qualifier at Reading last year and was one of the drivers involved in the national record performance parade. He remains winless this season, but is third overall, 44 points out of the lead in his Valvoline/MTS Dodge Charger.
"The problem is we keep opening the door wide open for ourselves and then we fail to take full advantage of it," said Beckman, a three-time runner-up this season. "We have to win a race if we are going to win the championship. We are probably going to have to win two of the last three races. I guess the upside is we have a car that can do it."
In Top Fuel, Shawn Langdon created some distance in the series standings by earning a bunch of qualifying bonus points and the No. 1 qualifying position in St. Louis. He exited the race early, however so did several other primary contenders at the top of the series standings.
Like every one of his Top Fuel challengers, five-time season winner Langdon is eager to get back on the fast track at The Grove.
"Reading has the capability of being a throw-down race so we are going to be prepared for that possibility when we arrive," Langdon said. "We want the Al-Anabi car to be ready because if there's an opportunity to get a national ET (elapsed time) record and pick up those extra 20 bonus points, we want to be the ones to do it."
Langdon leads Doug Kalitta by 33 points and Spencer Massey by 35. Morgan Lucas is 45 points back and Tony Schumacher is 72 out of first. Last season's Reading runner-up and national record holder, Antron Brown, also moved back into the championship picture, as his St. Louis victory put him 102 points out of the lead. With all of the tough competition for the championship, Langdon said it was critical for his team to regain the series lead at Gateway.
"The Al-Anabi team left St. Louis with the points lead so with three races to go, we are in control of our own destiny, and that is how we want it," Langdon said. "In the grand scheme of things, the Al-Anabi car is very strong right now, and we are very excited to be going to Reading this weekend."
In Pro Stock, Countdown top seed Mike Edwards got off to a slow start in the Countdown, but regained the points lead with a runner-up finish in St. Louis.
The Oklahoma native has never won at Maple Grove in two final round appearances there. He is going to be tested by a host of hungry challengers in the factory hot rod division, including second place Jeg Coughlin, a three-time winner at Reading who trails Edwards by 10 points, two-time world champ Jason Line, who is 30 points back of the leader, St. Louis winner Erica Enders-Stevens and defending world champ Allen Johnson.
"It is going to be a dogfight to the very end," Edwards said. "The Pro Stock championship is going to come down to the last race, and we just need to return to our pre-Countdown form and we will be just fine."
Matt Smith zoomed into the series lead in Pro Stock Motorcycle, taking it away from season-long leader Hector Arana Jr. with a victory in St. Louis. Smith holds a 75-point lead over Arana Jr. and Hector Arana Sr., who are tied for second place on their Lucas Oil Buells.
Michael Ray and defending champ Krawiec are also still within striking range in the points order. Smith, the 2007 world champ, who won at Maple Grove in 2008 feels very confident about his chances of winning a second world championship aboard his Viper Motorcycle Company Buell.
"We've had a dominant bike this year," Smith said. "I feel like I've got the bike to beat and as long as we don't have any problems, I think we'll be fine. This Viper Motorsports bike is pretty bad. We'll just see what happens the last three races."
The Auto-Plus NHRA Nationals qualifying opens on Friday, Oct. 4, with sessions at 1:15 and 4:15 p.m. The final two qualifying sessions will take place Saturday, Oct. 5, at 11:15 a.m. and 3 p.m. Final eliminations are scheduled for 11 a.m. on Sunday, Oct. 6.
On  Saturday, Oct. 5, ESPN News will televise 90 minutes of qualifying coverage at 11:30 p.m. (ET), with an additional 90 minutes of qualifying coverage at 3:30 a.m. (ET) the following day, Sunday, Oct. 6, on ESPN2 and ESPN2HD. Three hours of eliminations coverage starting at 8 p.m. (ET) will be televised Sunday, Oct. 6, also on ESPN2 and ESPN2HD.
(Photos courtesy MHRA/National Dragster; Click to enlarge)