The twice-annual Osage Casino Throw Down in T-Town has become one of the top events in drag racing, as local racers and track operators Keith Haney and Todd Martin have worked to build the race to serve the fans and competitors alike.
The Throw Down in T-Town returns this weekend at Osage Casino Tulsa Raceway Park, with more than 150 race cars expected to compete across several classes. Haney and Martin have put more than $84,000 up for grabs.
"We're excited about the Osage Casino Throw-Down in T Town," Haney said. "This will be our 16th Throw Down, and it's getting bigger and bigger every time. We listen to our racers. We listen to the fans. We take what people say to heart and do all we can to make their experience better each time they come here."
The Throw Down will feature two Pro Mod classes — Outlaw Pro Mod and Legal Pro-Nitrous/ Pro Boost — with $6,000 to win each class. And should a driver not make the eight-car field in either class, they can still race in the $2,500-to-win Outlaw Doorslammers tilt.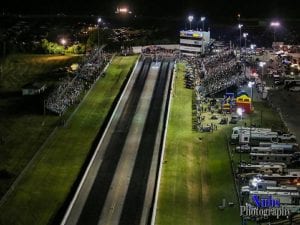 And in addition to at least 18 Drag Radial vs. the World cars on the entry list, there are 19 Pro Extreme cars entered in the Throw Down.
"That's a ton of heavy hitters," Haney said. "And Pro Nitrous has a full field, too. We've got an unbelievable lineup. Every class is great. We've got the live feed. Our entire staff has worked their butts off to put this race on and to put it at the forefront of drag racing. It's clearly become a go-to event."
Drag Illustrated intends to cover the race, a sign of the Throw Down's importance.
"That's pretty big news for our race," Haney said. "Over the years, it's become a huge race. Wes Buck is making Drag Racing Great Again and believes in how Tulsa Raceway Park does it. We love the guy."
The Throw Down will have a live feed at http://www.tulsaracewaypark.com/trp-live-tv-channel, with Bangshift's Chad Reynolds hosting all the action.
The track has a total of $54,000 available for class winners and another $30,000 in contingency money up for grabs. In addition to track sponsors Osage Casino, Lucas Oil, Mickey Thompson, Pro-Line, Fuel Tech and RacingJunk.com, several other companies have joined the track as contingency sponsors.
Larry Jeffers Race Cars and Trick Titanium will present the Outlaw Pro Mod class, with Aeromotive and Dave's RV sponsoring the Pro Nitrous/Pro Boost category for the fourth consecutive season.
In addition, the track will host the Pro Line Racing/Pure Tech/M&M Transmission Outlaw Doorslammers race, the Trick Titanium Pro Extreme class, the Wiseco/Induction Solution X275 category, the Mickey Thompson MX235 class and the Mickey Thompson/Pro Line Racing Outlaw 10.5 Radial vs. the World class.
The track expects full fields in nearly every class.
Other sponsors backing the event are: Suburban Chevrolet, Miami Auto Supercenter, Reher Morrison Racing Engines, Grand Prix Auto Parts, A-1 Auto Body, Jeff Pierce Race Tuning, STK Performance and Jerry Bickel Race Cars.
The Throw Down will feature live music throughout the weekend, prize giveaways for fans and Super Play rides for kids. Plus, fans can see a flame-throwing, wheel-standing nitro-altered fuel dragster.
"It's just a real good atmosphere," Haney said. "All the people who work with me at the dealerships get to come and be a part of it. It's a great event, and for Keith Haney Racing, it's even better."