Veteran race engine builder Charlie Buck suffered a major setback Thursday night (June 18) when brazen thieves broke into his King, NC, shop and made off with at least $315,000 worth of completed engines and parts. A reward of $10,000 has been posted for information leading to the capture and conviction of those responsible. Anyone with information should call Crimestoppers at 800-222-8506 or Detectives with the City of King Police Department at 336-983-0886.
"Something like this really knocks the wind out of your sail," said Buck, who most prominently provides engines to PDRA Pro Nitrous racers Chris Rini and Jay Cox, who qualified in first place at two of four PDRA races held so far this year. "You bust your butt every day and you work like crazy, but you feel good because everything's been going pretty good, and then for this to happen it's just really disheartening, pretty devastating."
On-site video surveillance equipment at Buck Racing Engines showed at least two men with their faces and heads covered by masks and hoods showed up about 11 p.m. and immediately spray painted over the external camera's lens. They then went around the back of the shop and cut a hole through a wall, presumably to avoid setting off any door or window alarms. Once inside, the men managed to disarm the alarm and phone system before methodically seeking out several internal surveillance cameras and disabling or painting over them, too. Additionally, they lured Buck's guard dog Sally Mae outside, where fortunately she was found unharmed this morning when he arrived to open the doors.
After spending at least four hours in the shop, Buck said the criminals made off with at least eight engines, five manifolds and several sets of cylinder heads, though he expects even more will be found missing once a full inventory is completed this weekend.
"They stole several big motors and a couple of 632s and several bracket engines, but they looked at everything before they pulled out what they wanted, which was all nitrous stuff, so they obviously knew what they were after," Buck said. "But I really don't know what they're planning to do with this stuff. Maybe they're planning on parting it out, but there are part numbers and serial numbers all over everything we do."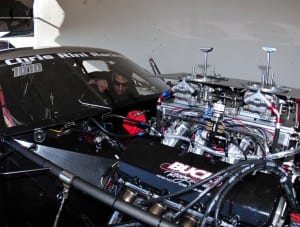 An engine builder for three decades and in business on his own for more than 16 years, Buck said nothing like this has ever happened to him before and rival nitrous engine builders Gene Fulton, Pat Musi and Sonny Leonard were among the first to call him Friday morning after news of the break in spread, as did PDRA announcer Brian Olson, among many others. That it appears the heist was orchestrated and carried out by people familiar with the layout and security system for the shop troubles him nearly as much as the loss of his property and sense of security.
"You know, I probably talked to them, but you just never know, I guess," Buck said, his voice betraying a distinct sadness. "We don't know if it was a customer or someone who came with a customer or someone who was just in here once and maybe took pictures or a video while they pretended to be talking on their cell phone; we just don't know, but it does seem like it was somebody at least familiar with our business."
With surgery scheduled for a partial knee replacement next Wednesday, Buck said he was going to miss next weekend's PDRA event in Martin, MI, anyway, but can't say how much the theft will further set back his business.
"You know, a lot of people have already asked me about that, but I really can't answer that right now," he said. "I just don't know, I've just got to get through this as best as we can and see where we are then. We've just got to wait and see."
(Photos by Van Abernethy)