In the unpredictable and unstable world of NHRA nitro racing, holding a position at one of the mega-teams for a long stretch of time is becoming more and more uncommon. Yet Jim Oberhofer has enjoyed more than two decades as an employee of Kalitta Motorsports, now serving as crew chief for Doug Kalitta's Mac Tools Top Fuel dragster and vice president of operations for the four-car team.
As a boy, 'Jim O' would tag along with his dad, Dave, and the Top Fuel teams he co-owned to races up and down the East Coast, at places historic places like Maple Grove, Budds Creek, Epping, and Island Dragway. A family move to Plano, Texas, in 1977 momentarily took Oberhofer's interest away from drag racing, only to be stirred up again when he met Scott Kalitta at Chaparral Trailers, Dave O's employer at the time. Dave then opened a body shop near the Chaparral headquarters and would do work for Don Garlits, Chris Karamesines and Raymond Beadle, whose legendary Blue Max Racing shop was just down the street.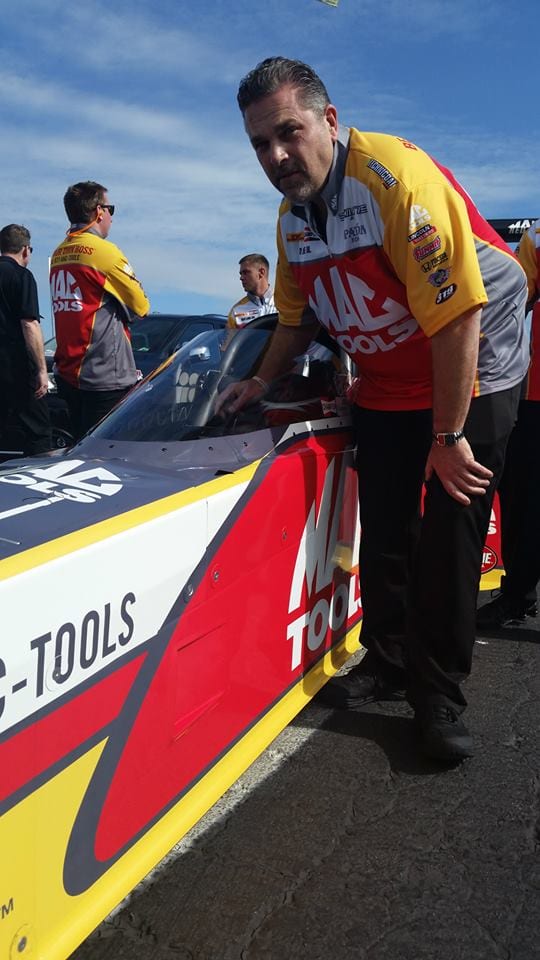 With Oberhofer's interest back in drag racing, he started going to local races with his brother and dad to clean parts for Conrad "Connie" Kalitta and son Scott. Upon graduating high school in 1984, Jim O went on the road with the Drag-On Charger alcohol Funny Car team of Frank Cook and Chuck Landers, cleaning parts, waxing the body and polishing the wheels at races in Texas and Louisiana. A more serious opportunity was presented in 1987, allowing Oberhofer to travel to more races with alcohol dragster driver Jay Meyer, who taught him more about working on the cars and gave him the first chance to actually work on the engine of a race car.
It was around this time that Oberhofer would first pair up with his current team.
"Scott Kalitta, at the time he noticed I was at a lot more races and I told him, 'hey, I want to work on your car someday.' He just kind of blew me off a little bit," Oberhofer recalls. At the beginning of the 1988 season, however, Jim O says he again reminded Scott he wanted a job. "Two weeks later he called me up and says, 'hey, you want to go racing?' and I said yeah. So I met him at the Gatornationals in Gainesville in 1988 and that was my first race with the Kalitta team back then. And I've been here ever since."
Oberhofer has been offered opportunities at other race teams, but he's never been interested in leaving, especially when he thinks of the Kalittas as more than just employers.
"I always felt like they were family to me and that both Connie and Scott, they had this rough exterior about them but they were goodhearted people and had hearts of gold and would do anything in the world for you. It was one of those things if you were loyal to Connie and Scott; they were 10 times loyal back to you."
Oberhofer has been around the Kalitta organization through some of its biggest ups and downs, through to this point where they have four championship-contending nitro teams sponsored by some of the most recognizable brands in motorsports. Oberhofer says that it wasn't always that way, remembering the race team was little more than a hobby for the airline mogul. He credits Dick LaHaie for laying the groundwork for the business that Kalitta Motorsports is today.
"Dick LaHaie just changed the mentality. Instead of just racing to race and showing up at race tracks, just filling a spot in the field or trying to fill a spot in the field, all of a sudden we started showing up with a good race car and we had good equipment and a lot of it. Scott became a better driver and then myself, my brother (Jon), Nicky Boninfante and Donnie Bender, guys that probably the elite teams back then did not want any part of having on their team, all of a sudden we became good crew members.
"We all owe that to Dick LaHaie. He took Kalitta Motorsports and turned it into a championship-contending team, and really changed our mentality of how we race as crew members and how we went about doing our jobs and preparing the car. It was a big step in the right direction for Kalitta Motorsports and really even to this day, what we have right now is still based around what Dick did back in 1993 when Connie hired him to come run Scott's car."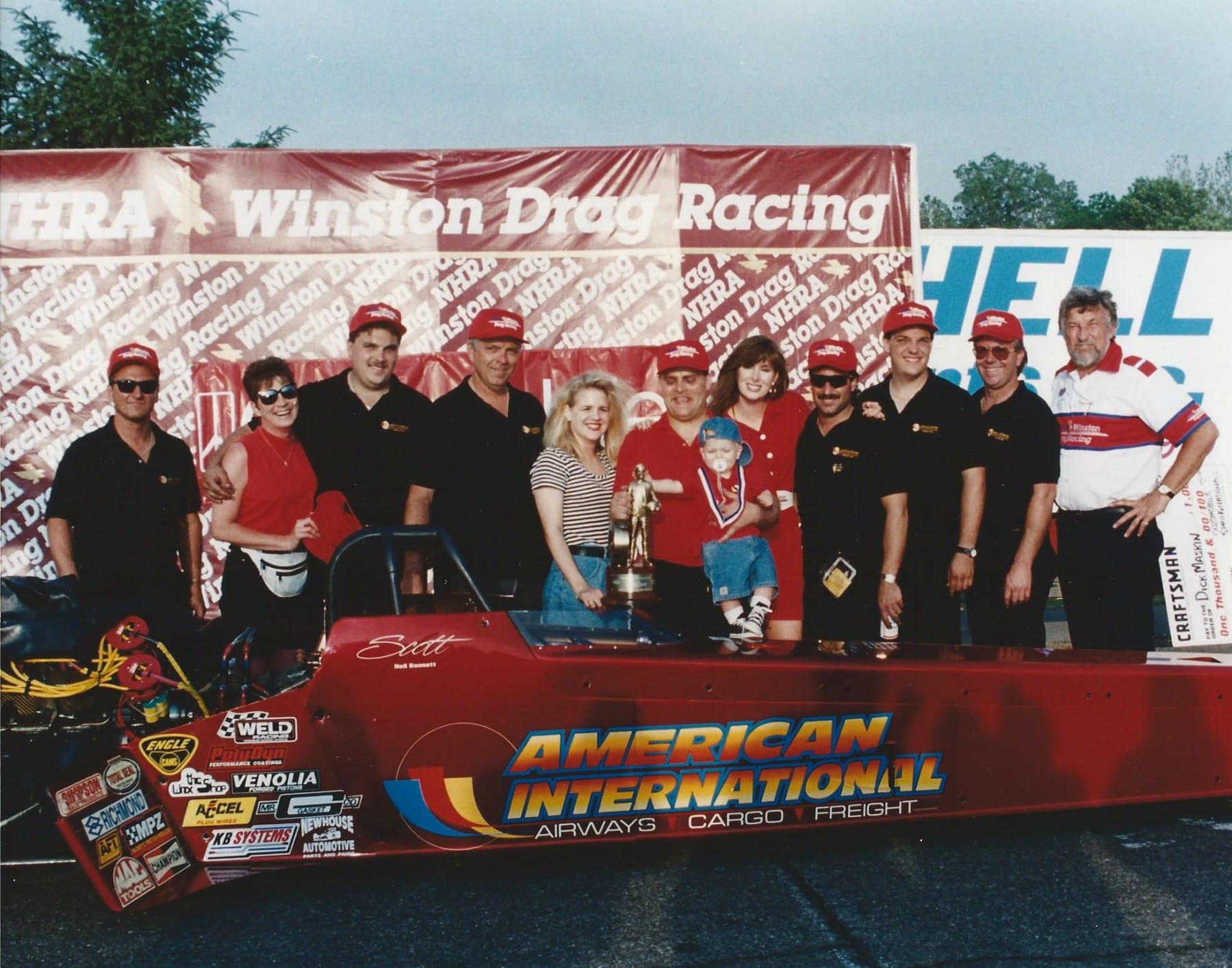 Oberhofer was given his first opportunity to fill a crew chief role in 2000. After working under LaHaie and Ed "The Ace" McCulloch, Connie put Jim O in charge of Doug Kalitta's team, then the only car in the shop. He played important roles not just in the on-track performance, but also in the business side, working with Mac Tools on Doug's car and then adding a second car driven by Scott with Mac and West Coast Choppers branding. Oberhofer now oversees operations at Kalitta Motorsports, including the four teams: two Top Fuel dragsters driven by Doug Kalitta and J.R. Todd and pair of Funny Cars driven by Alexis DeJoria and Del Worsham. It's a dream job for Oberhofer, who is proud of the organization Kalitta Motorsports has become.
"I feel over the years we've hired some great guys to work on these cars. I feel like we have a great group of crew members, crew chiefs, and assistant crew chiefs. I feel that our drivers that we have are some of the best drivers in the sport and I feel that Connie, being our owner, I feel that he's the best owner, not just in drag racing but in all of motorsports. And then the partners that we have on the teams, from Mac Tools, Red Line Oil, DHL and Patron, going to a guy like Cowboy Bob (Coffman), who owns Technicoat, we have such a great group of people. And Toyota has been a huge asset to this team with R&D through their TRD group.
"Sometimes I shake my head when I come into this place, this building, and all the things that we have going on. It's like, 'holy cow!' And it's a handful. It's definitely a handful, but it's something that I enjoy doing and I tell people every day I'm fortunate that when I wake up in the morning I enjoy going to work, and not a lot of people get to say that, I think."
Oberhofer offers high praise for his boss, Connie Kalitta, who he feels has created a family atmosphere in an arena of motorsports that has become big business.
"He's so excited about the people involved in the sport, and the cool thing for me is he loves teaching and he's given me the opportunity of a lifetime. I tell people I feel like I've won the lottery working for him because he's been so good to me and my family and believes in me. He believes in teaching me. You couldn't ask for a better guy to work for," Oberhofer says.
"One of the things I hear from people why they like being part of our team is the family atmosphere. This is not a dictatorship over here. We want to go out and we want to race. We want to be competitive. We want to have fun while we're racing because it should be fun. And we want people when they come into our area to feel welcome, no matter who they are."
Family is important to Jim O, too. His daughter, Ashley, works for Kalitta Motorsports as the social media coordinator and his wife, Tammy, was an integral part of the organization for years, first as a public relations rep then office manager before her untimely passing in 2013. Tammy was diagnosed with Stage IV metastatic lung cancer in 2012 and fiercely fought the disease, but the cancer soon spread. Realizing the severity of the condition, the couple decided to take a long-awaited family trip to Niagara Falls, where Jim learned one of the primary lessons described in his upcoming book.
"She wanted some ice cream and we went to this Haagen-Dazs and she got some ice cream, and the happiness that was on her face while eating this ice cream was priceless. And it hit me at that point, I said the best medication she could ever have is happiness. And eating this ice cream for 10 minutes has made her happy and made her pain-free better than any chemo could do, better than any radiation can do, better than any pain pill or pain pump. Just being happy made her feel good," he remembers fondly.
The book, titled TOP FUEL FOR LIFE: Life Lessons from a Crew Chief was made possible through a Kickstarter crowdfunding campaign, which raised $53,700 of a $47,000 goal. Jim O says he's "looking forward to sharing my story, sharing the mistakes I've made and the things that I've found to hopefully help somebody who is going through something similar, maybe look at things a little bit differently, and basically understand how important happiness is in somebody's life." He plans to start a foundation in Tammy's name with proceeds from the book to benefit a cause near and dear to his late wife.
"She always loved kids and she always had a spot in her heart for kids who were maybe disabled or had some sort of disability that didn't allow them to do things that other kids could do. So we thought, well, let's create a foundation where we could invite kids out to the race track who maybe couldn't get to the track on their own, who needed help, who maybe are wheelchair-bound for their whole life or have some disability that doesn't allow them to just run out of the house and hop in the car with their folks and come out and enjoy drag racing. We'll make them feel like they're a part of the team, and we're hoping we can do this at all 24 events somewhere down the road. I think that would be a great way to honor my wife and the things that she believed."
Another one of Tammy's passions that he is continuing today is ballroom dancing, a hobby the couple picked up in 2010. Oberhofer enjoys the activity for fun, but also takes part competitively, training and competing as an amateur at nine competitions, picking up four top male student awards along the way.
"I see some similarities," Oberhofer says of racing and dancing. "There's a huge amount of preparation for just a short performance. The details of just what it takes to go from running, let's just say a 3.80 to a 3.75, there's so many things that have to happen just right. It's the same thing in ballroom dancing. You can get a top score or a low score just depending on what you did within a two-second time frame."
As unlikely as it is to see a Top Fuel crew chief waltzing around a dance floor, it allows for a break from the grind that comes with running a race team and tuning one of the top cars in its class.
"It's kind of something fun for me. I suck at golf and all my friends that are out there drag racing, whether it's Alan Johnson or Chad Head, they're all great at golf. My brother is great at golf. I suck at golf, but I know I could kick their ass on a dance floor."