Khalid AlBalooshi is best known in the United States for his success in the NHRA Pro Mod and Top Fuel ranks, but AlBalooshi has thrived just as much in the Middle East's Tilal Sweihan Sand Drag Racing in the United Arab Emirates.
To win his fifth career championship, however, AlBalooshi had to put together the best run of his standout career in his screw blown truck.
Needing to win the final race of the race and set a new E.T. and speed record on the dirt drag strip, AlBalooshi delivered a clutch performance, going 2.68 at 140 mph to set both ends of the record, win the race and, ultimately, the championship, marking an incredible finish to his sand drag racing season.
He'll race this weekend in Gainesville to kick off the NHRA Pro Mod season, bringing plenty of good vibes from his record-breaking performance with him.
"This was one of the best feelings, you know," AlBalooshi said. "In a month we went from 2.76 to 2.69. We spent a month testing and found a little bit here and a little bit there, and we got the job done. It was a big-time celebration."
It was certainly a well-deserved one for AlBalooshi, who has proven to be a top driving talent no matter the car or the terrain.
He has raced in the sand drag racing leagues for nearly two decades, enjoying immense success, but the talent level has increased substantially in recent seasons.
Things took another step forward this year, and AlBalooshi found himself as the runner-up in the first two races, losing the first race on speed after both drivers went 2.78. AlBalooshi went 2.76 in the next round to finish as runner-up, knowing he needed something record-breaking to have a chance.
With a month between races, AlBalooshi's impressive talent pool went to work. Phil Shuler, Stevie "Fast" Jackson and crew chief Jasim Aljais found ways to take a significant amount of time off the truck, while AlBalooshi delivered under pressure when the situation called for it.
It was no surprise to Jackson, who has watched AlBalooshi thrive in everything he's driven.
"I had an absolute blast working on that thing. AlBalooshi and I are very similar in the fact we both want to win and we don't want to settle for second place," Jackson said. "I surround myself with people who are passionate and want to win like I do, and you won't find a more fierce competitor than Khalid anywhere in the world. Day in, day out, they all do a killer job."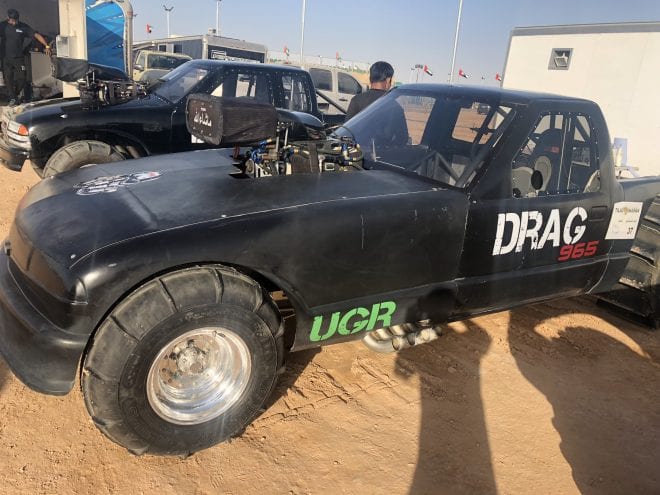 Seeing the changes the team had made, AlBalooshi, the 2011 NHRA Pro Mod world champion, was locked in on the task at hand, thriving in the key moment when the championship was on the line.
"If we stayed second, we were going to lose the race and the championship," said AlBalooshi, who also credited sponsors Drag 965 and UGR. "I have to thank Jasim and I got good help from Stevie and Phil. We kept changing stuff around and found this performance a week before the race. This is what I grew up doing and to win a race like that, it was pretty good."
After running 140 mph this season, AlBalooshi plans to push the envelope, envisioning runs in the 2.50s in the near future.
For now, though, that momentum will carry over into the NHRA Pro Mod season, where AlBalooshi, who won a race and finished eighth in points a year ago, hopes to have an immediate impact this weekend in Gainesville.
"Any season, if you start doing good at the beginning of the year, it keeps everything going smooth and moving in the right direction," AlBalooshi said. "We'll see what happens in 2019."
As for Jackson, he will be more than happy to help AlBalooshi against next season after the experiences he was a part of this year.
"Screw blowers are fun and screw blowers on a truck in the dirt are really, really fun," Jackson said. " Having to set the world record on that run to win the championship, that's a big moment. I couldn't be more proud of those guys. They did a killer job."