Alan Johnson Racing and Top Fuel points leader Shawn Langdon will compete in this weekend's Amalie Motor Oil NHRA Gatornationals, the team announced today. The third race of the NHRA Mello Yello Drag Racing Series season is set for March 13-15 at Auto Plus Raceway in Gainesville, Fla.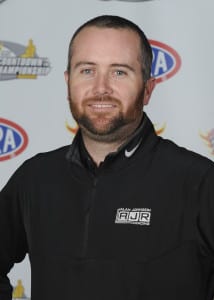 2013 NHRA Mello Yello Top Fuel World Champion Shawn Langdon won the season's opening race last month in the Knuckle Sandwich/AJPE Toyota dragster. He qualified No. 1 when he posted the quickest pass in NHRA history, and with the win, he qualified for the Traxxas Nitro Shootout at Indianapolis on Labor Day weekend. The team moved on to the second race in Phoenix, advanced to the semifinals and maintained its points lead. Although still searching for sponsorship after unexpectedly losing its funding a month before the 2015 season began, team owner Alan Johnson made the decision to race in the season's third event.
"We made the commitment to compete in the first two races of the season to demonstrate to potential sponsors what our team can accomplish," Johnson said. "We did that with a great performance at the season-opening Winternationals, and we take the points lead into Gainesville. That says a lot about our race team and the commitment our guys have made in the face of a very difficult situation. Our marketing staff, along with our new strategic marketing partner Guy Fieri and his Knuckle Sandwich group, has been at work trying to secure funding, but we understand this process is difficult and time consuming.
"Racing the entire season and competing for the 2015 NHRA Mello Yello world championship is still our goal. We are racing in Gainesville to provide a little more time to put a program together that will allow us to do that. We enter every race with the goal of winning it, and we are going to Gainesville with every intention of winning the Gatornationals."