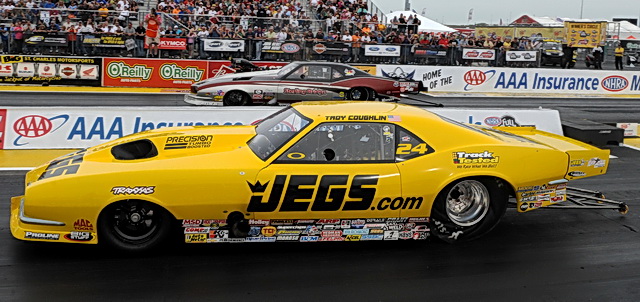 Team ProTorque lived up to its mantra of "Total Domination" at the big races in September, scoring NHRA Pro Mod, Outlaw 10.5 and Drag Radial victories at major events all across the country.
ProTorque's REVOLUTION torque converters powered NHRA Pro Mod racers to three victories with Brad Brand capturing Indy, Leah Pruett on top in Charlotte and Troy Coughlin (above) sealing the deal in Kansas. Adding to this dominating performance, Donnie Walsh qualified number one at all three consecutive races.
Nothing showcases ProTorque's ability to manage power delivery better than "small-tire" racing. The much-anticipated and anxiously-awaited "Radial Revolution No Mercy III" showdown at South Georgia Motorsports Park pitted the world's fastest Outlaw 10.5 and Drag Radial cars against each other. When the smoke finally cleared, Team ProTorque's Tim Lynch had posted low ET at 4.22, then plowed through a tough 32-car Outlaw 10.5 field to defeat ProTorque Teammate Mark Kyger in the final.
In Radial vs the World, Team ProTorque teammates Kyle Heutell and Frank Soldridge met in the final with Kyle taking the win and Frank the runner-up spot. Other ProTorque highlights at No Mercy included Jason Enos posting the top speed of 187 mph in Outlaw 10.5, Kyle Heutell setting the NOS Outlaw 10.5 ET record at 4.30 seconds and Steve Jackson qualifying number one in Radial Vs The World.
September also saw many Team ProTorque racers set new milestones including Sal Patel's Viper becoming the first IRS car in the sixes with a 6.98 at 207-mph run at MIR. Here's a partial list of Team ProTorque's outstanding success in September:
No Mercy III Outlaw 10.5 – Tim Lynch W / Mark Kyger R/U
No Mercy III Radial Vs The World – Kyle Heutell W / Frank Soldridge R/U
Yellow Bullet Nationals Outlaw 10.5 Winner – Tim Lynch
Yellow Bullet Nationals Outlaw Drag Radial Winner – Frank Soldridge
ADRL Pro Mod Memphis Winner – Todd Tutterow
ADRL XTF Memphis – Dennis Sugrue W / Lamar Swindoll R/U
WCHRA X275 Points Champion – Kelly Henry
2012 Street Machine Shootout True 10.5 – Mark Woodruff
Northeast Pro Mod Association Points Champion – Steve Drummond
NMCA West Garrett Pro Street – Mike Bowman
HOT ROD Magazine Drag Week – Jeff Lutz – Fastest Speed Ever 212 mph!!!
Holley LS Fest Drag Radial – Mark Koehler
With a couple of big races yet to go, ProTorque enthusiastically congratulates Team ProTorque on their hard work, dedication and incredible domination. For more information go to www.ProTorque.com.
(Photos courtesy JEGS; DI files; Click to enlarge)