As the only blind crew chief in all of motorsports, Jay Blake has garnered attention from national news outlets like NBC Sports and The New York Times. When he isn't busy running the Permatex/Follow A Dream Top Alcohol Funny Car team (and sometimes even when he is), Blake can be found inspiring corporate groups and school assemblies as a motivational speaker. The Massachusetts native has made the most of his circumstances and is now one of the most respected team owners in the NHRA Top Alcohol pits.
Almost two decades ago, Blake was working as a head mechanic at a transportation company. He was working on the tire and wheel assembly of a forklift when four of the bolts on the wheel snapped, releasing a massive amount of pressure and sending Blake 45 feet into the air. The horrific accident was nearly fatal. His ability to see, smell and taste was taken away in an instant. He underwent 11 hours of reconstructive surgery on his face and spent another three-and-a-half weeks in the hospital. After two weeks of recovering at home, Blake made a discovery that changed his life.
"At this point I was still pretty thankful to be alive. I was able to figure out how to get around my house and I went out into my garage where my toolbox had been brought home. My toolbox was always very organized. I opened up my wrench drawer because I wanted to see if I could tell what my tools were. I had no idea about blindness and now I'm totally blind. The one thing I love is tools. So I picked up a combination wrench and I could tell what it was. I had this smirk on my face and I put that wrench back and closed the drawer. I bent down and opened the bottom drawer, which was my junk drawer, and I just grabbed whatever I grabbed. I actually think I physically looked away, you know, just to make sure," Blake laughs, "and I grabbed a GM distributor module and I had it in my hands and I could tell what it was and the shape of it. I realized that even though I couldn't see with my eyes, I could feel with my hands. The things that I had done my whole life with tools I could still tell and I was confident I could figure out how to do it again."
In 1999, Blake set out to inspire others through his non-profit organization, Follow A Dream, using drag racing as an outlet to share his message. He and his brother, Jim, started out with a Super Comp car before Blake realized he wanted to go bigger. That meant purchasing a Top Alcohol Funny Car from none other than Frank Manzo, the most decorated racer in the class. The Follow A Dream team debuted their new car in 2003 with driver Todd Veney and have since become one of the constant favorites in the alcohol pits.
As the crew chief and team owner of a 3,000-plus horsepower alcohol Funny Car for just over a decade now, Blake has become accustomed to most of the tasks required to field a car, from unloading it off the liftgate in the morning to spinning the starter to begin the warm-up. There is one task, however, that Blake asserts is not his forte.
"I do not tune the car. At one point that was kind of a goal but I'm not computer-savvy and I've chosen to concentrate my efforts where I am more useful, so I physically work on the car. That's what I love to do. I can probably disassemble and reassemble a majority of the car myself, but Tommy Howell looks at the Racepak and he physically tunes the car. We'll talk about things and there are roles I play in that but he tunes it."
Fielding a team in one of drag racing's most challenging classes is just one of the ways Blake displays the power of positive thinking, self-determination and teamwork. He's learned a lot about those things since his accident, and he's eager to share his findings.
"There are definite ups and downs," Blake says of blindness. "I have a little phrase to describe blindness called, 'It sucks.' There is very little positive I will ever tell you about blindness. It does suck and it's no fun, but it's not paralyzing. I am able to continue.
"In true honesty, the blindness has helped in the promotion because one of the things that makes me different is I'm blind. That's very different. It's very intriguing. It amazes more people than it doesn't. But the reality is, I've been doing it and I've learned how to do it. It's amazing to people because when you're sighted you don't think it's possible, but the reality is it is possible. That's part of what this whole thing is about; teaching people that instead of thinking it's not possible, you just go do it. You figure out more things are possible than you thought originally."
Looking back at the racing division of Follow A Dream, Blake's team is every bit as competitive as one led by someone with perfect vision. The Permatex-sponsored group has won three national events, eight divisional races and an NHRA East Region championship. Blake hopes to soon add to that list the NHRA national championship, a title won just three times by drivers without the name "Manzo" in the 18 years since Blake's accident.
"The simple goal is to win the championship. Last year we did not end up in the top 10. I definitely want to be in the top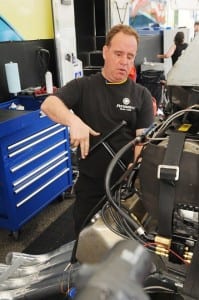 10 and would like to be in the top five. We built a brand-new McKinney car and worked with Chevrolet on the new Camaro body. We struggled with it for the last year. We started out this year still trying to fight some issues. It's not the car and it's not the body, it's something we're doing. So we're working real hard on getting that better and when we find that and get that squared away I'm confident that car is going to be a rocket ship."
While he has already amassed an incredible career, Blake isn't done dreaming.
"I would love to build a nitro car. I've looked at (building one) before. Financially, you gotta' have that sponsor and they're tough to come by. I'm also working very slowly on a project to go to the Bonneville Salt Flats to drive myself, to drive a car over 200 miles per hour and become the fastest blind man in the world."
Judging by the impressive strides he's taken to get this far, it's hard to doubt Jay Blake will find a way to add one more remarkable accomplishment to his racing résumé.
This story originally appeared in DI 97 – The Crew Chief Issue.