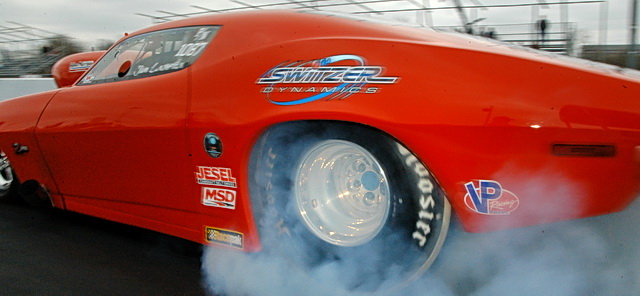 Switzer Dynamics has entered into a significant partnership with the new X-treme Drag Racing League (X-DRL), as it was named Apr. 11, as the official sponsor of the X-DRL's Pro Nitrous class for the inaugural 2013 season.
The class will officially be called the Switzer Dynamics Pro Nitrous class for the X-DRL's 2013 campaign.
"Nitrous racing is where are passion is and a lot of people that are running in the X-DRL support us, and we wanted to support the X-DRL and our customers. We are very excited to be official sponsor of the Pro Nitrous class. The X-DRL has good people involved and it's a good place to race," Switzer Dynamics Owner Brandon Switzer said.
"From everything I've seen, the quality of people and professionalism involved in the X-DRL is outstanding. It's getting handled more like a business and it's a lot more professional. I really think it's going to be the premier (eighth-mile) series."
Switzer, who is considered one of the brightest minds in the nitrous world and has created and developed products for many of the top names in the sport, and his talented staff, which includes Melissa Smith, Dan Carver and Warren O'Dell operate out of a 15,000-square foot facility in Denver, N.C.
Specializing in nitrous and induction systems, Switzer's customer base includes the likes of Pro Nitrous world champions Bob Rahaim and Burton Auxier, as well as Jim Laurita (above), Pat Stoken and many more.
Business continues to be strong, in part because of Switzer's dedicated team that is constantly thinking outside the box. With state-of-the-art technology and an unmatched work ethic, Switzer Dynamics offers a variety of services, including custom nitrous installations, custom intake and manifold designs to manufacturing, flow testing, fabrication and more.
The company just finished its first electronic fuel injection (EFI) packages, with Stoken running the first one. Laurita and Rahaim are both expected to switch to an EFI set-up during the 2013 season as well.
Switzer worked with Big Stuff3, which is also an X-DRL sponsor, on the ECU and then designed and built the manifolds, bodies and nitrous systems in house.
"It's just going to give you a little more consistency going from one racing condition to another. It's a lot easier to keep the tune-up the same," Switzer said. "You can tune it closer to the edge and keep it there without hurting stuff.
"I'm really excited about the EFI deal. I stand real firm in the fact that I won't release anything until I can stand behind it 100 percent and know it's a really good package for everybody. We really enjoy making difficult stuff. It's a challenge, but that's what we pride ourselves on."
Switzer and his team, which is starting to dabble with more mainstream parts like plate systems and nozzle kits for sportsman drivers, will have a strong presence at each X-DRL event, offering service, parts and support to clients.
It's an aspect Switzer enjoys and also part of the reason Switzer Dynamics is thriving and continues to receive such glowing reviews from customers.
"I love being at the events and being able to teach people who want to learn," Switzer said. "We're going to have quite a bit of product at the races, and we're just there to help everybody. We want to try to grow some of our stuff into the Top Sportsman class as well, and we're excited to be there to support our customers."
(Photos by Ian Tocher; Click to enlarge)