Friday's two qualifying sessions were rained out, leaving the Top Alcohol teams to make two qualifying attempts and first round of eliminations all on Saturday. The Saturday morning conditions were cool and crisp – just like those Lindberg was familiar with in Sweden. On the first qualfying run, Lindberg fired off a 5.473 elapsed time at 270.10 mph – the first TA/FC run over 270!
Going into the weekend, Lindberg knew this was his chance to make history.
"With the conditions and the concrete surface I knew this was the race to go 270. Or else I would wait until October for Reading. I was aiming for the 270s. To do it straight off the trailer was pretty spectacular."
With one run of data and the first 270 MPH achievement under his belt, Lindberg looked ahead to the next title – the first supercharged, methanol-burning Funny Car into the 5.3-second zone. He went for it on the second qualifier, not just dipping into the 5.3s with a 5.39, but a stupefying 5.361 at 272.01 mph.
"I was aiming for a thirty-nine. I knew it was in the car because I went forty-seven pedaling it on the first run. I just gave the car what it wanted and it just hauled ass. I never felt the car pull so hard, so it was an amazing run. It's hard to explain."
The 25-year-old driver/tuner backed the car down for first round of eliminations Saturday evening, easily taking the win with a comparatively tame 5.574. Going into Sunday, Lindberg ramped it up to go for the ET national record back-up run. His 5.381 at 270.64 mph was more than enough to back up the record and take the round win over Brian Hough. Lindberg pedaled to a 5.523 in the semifinals, and finally capped off the historic weekend with a 5.406 at 269.94 MPH run to dispatch reigning world champion Steve Harker in the final round.
The multi-talented young driver is flying home this week to meet with potential sponsors so he can continue his run at the 2015 NHRA Lucas Oil Series national championship.
"It's pretty big what we've done here, so I have meetings when I get home to Sweden and hopefully we can do more races. I can't stop now.
"I want to try to find Swedish companies who want to expand here in the U.S. Because I'm Swedish, it fits pretty good. We'll see what happens. I don't mind American sponsors. I'm working hard right now to find sponsorship so we can do a lot of racing here," Lindberg added.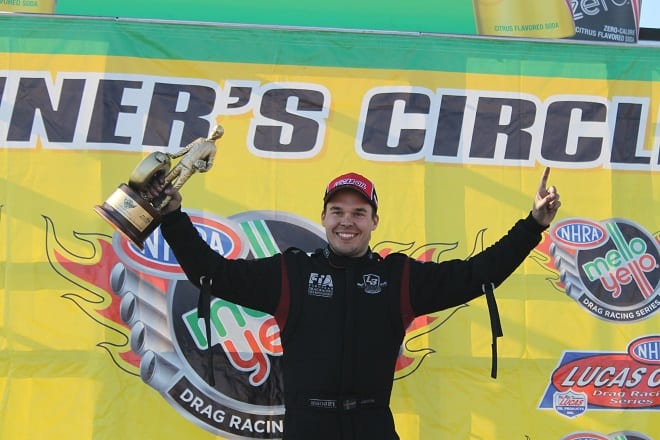 The weekend was especially gratifying for Lindberg, who set out on a cross-continental racing journey two years ago with the goal of backing up his European achievements on American soil.
"I did so good back home in Europe – went 5.42 at 268 mph – so that was one of the reasons to come over here. I wanted to prove that I was that good. Last year we learned a lot. We struggled with the track conditions and started learning a lot. I did my homework during the winter and it seems to pay off."
Another misconception he soon hopes to erase is that Jonnie and brother Johan are resting on the tune-up and horsepower from 17-time TA/FC champion Frank Manzo, who previously held the elapsed time and speed records before the Lindberg Bros. Motorsports team began their assault on the class. While it is true that Lindberg purchased the rolling chassis and body from Manzo, that's where any performance secrets from the "Ace" stop.
"We're good friends, but I tune my own car and it's my engine set-up and the Leanders clutch. The only thing that is Frank's is his old spirit maybe living in the car," Lindberg jokes. "I bought the roller and body from Frank then built everything else back home in Sweden. Everyone thinks it's a Frank Manzo tune-up but it's actually mine."
Jonnie Lindberg offered his thanks to sponsors Red Line Oil, Noonan Race Engineering, Manton Pushrods and Rocker Arms, and Leanders Clutch, a company belonging to fellow Swedish TA/FC competitors Ulf and Jorgen Leanders. "Without the good products and parts, we wouldn't be able to run these numbers."
As multi-time FIA champions in Pro Mod and Top Methanol Funny Car, brothers Jonnie and Johan Lindberg originally put their names on the alcohol racing map racing on the tracks across Europe. Jonnie ran 5.42 at 268.88 MPH, then the fastest alcohol Funny Car run in the world, on his way to the 2013 FIA TM/FC championship, but critics in the U.S. doubted the numbers. "Was the car NHRA-legal? Can he run those same numbers at an NHRA-sanctioned event?" they would ask. His performances at the NHRA Four-Wide Nationals at zMAX Dragway last weekend answered those critics with an exclamation mark.