Stage 8, manufacturer of the world's most effective, active mechanical locking systems, now offers locking fastener kits for all cat-back and header ball and socket applications.
The best technique for dealing with exhaust fastener loosening is to prevent it from occurring in the first place. Stage 8 offers an easy-to-use kit that assures no horsepower loss or gasket failure created by loose exhaust fasteners.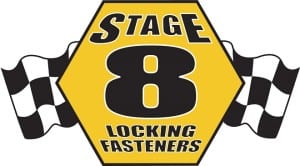 Stage 8's unique, patented and trademarked ball and socket 4-piece locking fastener assemblies are available in both metric and U.S. sizes. Depending on the application, a steel bolt or nut, locking retainer, threaded tab and spring clip are included. Stage 8 Locking Ball and Socket Kits are sold with all of the necessary hardware for your specific application.
2015 marks Stage 8 Locking Fastener's 30th anniversary of building the world's best locking fasteners for a myriad of industries including automotive, industrial, railroad and military. Since 1985, Stage 8 has consistently delivered measurable increases in equipment reliability and safety as well as dramatic reductions in maintenance costs and equipment failures, especially for the most critical fastener applications, especially header and exhaust applications.
Stage 8 is accepting additional partnerships with cat-back and header manufacturers. Contact Robert Ahern at [email protected] or 415-485-5340 for details.