Nitrous Pro Mod star Mike Castellana and crew chief Shannon Jenkins were out testing their Speedtech '69 Camaro yesterday (Sep. 23) at Virginia Motorsports Park (VMP), where they laid down an unofficial record 5.76-seconds pass at 244.69 mph—in NHRA-legal trim!
They got the job done with a new Sonny's 903-c.i, EFI-equipped engine under the hood, outfitted with a pair of brand-new Sonny's Stage 2 cylinder heads and manifold.
"This new combination has been making great power and showing great results at the race track. Shannon is doing a wonderful job of putting the power to the ground and with their whole program, so our hats are off to them," said Todd Hoerner, sales manager and on-track race tech support for Sonny's Racing Engines in Lynchburg, VA.
"All the guys here at Sonny's are working around the clock on research and development to give our customers the best products available," Hoerner continued. "Here at Sonny's we do most everything in-house. Our cylinder heads and manifolds are just a couple of the engine components designed and built by us here."
Shortly before the outstanding quarter-mile run—which was the quickest ever for an NHRA-legal nitrous car—Castellana also ripped through an outstanding 3.77-second eighth-mile pass on the same track he'll soon visit for the PDRA's season-ending event.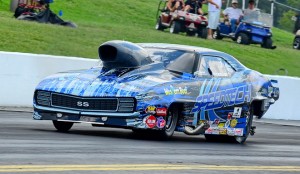 "We are so excited for Mike and his whole team. They have been working so hard and to see the success they've had in such a short period of time with their new combination is terrific," Hoerner stated. "Seeing their 3.77 eighth-mile run, then coming back a few minutes later and running a 5.76 in the quarter mile was awesome. All of us here at Sonny's couldn't be happier for them—and they're just scratching the surface with this new combination. We look forward to even bigger things from them and are excited to be working with a great bunch of guys!"
Castellana will be racing this weekend (Sep. 26-28) in the NHRA Pro Mod event presented by Precision Turbo at Gateway International Raceway, near St. Louis, followed by the 2014 PDRA Championship Finals scheduled for Oct. 10-11, at Virginia Motorsports Park.
Photos by Justin Stanley & Ian Tocher