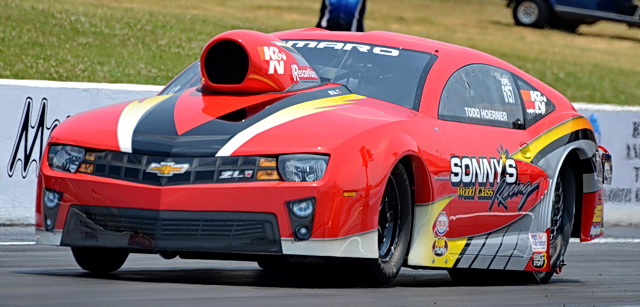 Support for the X-treme Drag Racing League (X-DRL) continues to grow as the new eighth-mile sanctioning body today announced a partnership with drag racing industry leader Sonny's Racing Engines.
Sonny's has produced engines for many of the top names in the sport, including multiple world champions in Pro Stock. Its owner, Sonny Leonard, sees a great deal potential in the X-DRL, which begins its nine-race 2013 debut season on April 6-7 in Tulsa.
"I recently met with the three X-DRL owners (Jeff Mitchell, David Hubbard and Larry Pearce) and I was impressed with their credentials and integrity," Leonard said. "That means a lot and to have that in an association means a lot. It gives people incentive to race there and all three of them are successful businessmen, which you need in a sanctioning body. It's pretty exciting to have a sanctioning body you know is going to be strong and that's important."
Sonny's Racing Engines will be heavily involved with the X-DRL's inaugural season, offering a number of exciting incentives and programs.
It will offer contingency in a number of X-DRL professional classes, as well as a No. 1 qualifier bonus in X-treme Pro Stock if the driver uses one of Sonny's popular engines, which are the product of choice for world champions like Cary Goforth and John Montecalvo. In all, Sonny's will post nearly $50,000 in for drivers who use the company's engines or popular cylinder heads.
"We are thrilled to have Sonny's Racing Engines as a premier partner for the 2013 season in the X-DRL," X-DRL Account Executive Keith Goolsby said. "The product and support they offer to the talented drivers in the sport speaks for itself and we are excited with the programs they have in place for the X-DRL's 2013 season."
Additionally, Sonny's Racing Engines will introduce the "Sonny's 3-Second Club," which will honor the first five X-treme Pro Stock drivers to reach the prestigious 3-second mark. Talented Pro Stock driver and Sonny's customer John DeFlorian nearly posted the first 3-second run in history with an unbelievable pass of 4.01 in 2012.
Leonard is confident the first 3-second place will take place in 2013.
"I'm sure this spring that someone will run a 3.99 and I would say there's five to six people capable of doing it, and that's what makes it really good," Leonard said. "Everyone in this class is so good and there's so many teams who want to be the first to do it. I think it's going to be a really neat deal in 2013."
Operating out of a state-of-the-art 14,000 square-foot facility in Lynchburg, Va., Sonny's Racing Engines has always been at the forefront of technology, thanks in part to a location that features two SuperFlow dynamometers, a porting room, two five axis CNC machining centers, digitizing and laser scan equipment, a fabrication and welding shop, and other racing machinery.
It has embraced EFI technology in the Pro Stock class, and Sonny's Sales Manager Todd Hoerner became the first driver in Pro Stock history to win using an EFI set-up.
"The advantage of EFI is its tunability. It will respond almost immediately," Leonard said. "You can tune it quickly and be happy. You spend your time on a laptop, change cylinders and be ready to go. The bottom line is it costs you less and the younger generation love it."
EFI will certainly be prevalent in the X-DRL's X-treme Pro Stock class in 2013, and will be used by talented drivers like Todd Hoerner, Dean Goforth, Kevin Bealko and more. Sonny's Racing Heads and Components are also popular in the X-treme Pro Mod class,
The 5-inch and 5.3-inch bore-spacing products are used in the X-treme Pro Mod legal weight class and are the choice of talented drivers like Pat Musi, Rickie Smith, Robert Patrick, Johnny Pilcher and others.
It's yet another reason why Leonard is excited to be working with the new sanctioning body in 2013.
"I feel really positive about the X-DRL and where it is headed in 2013," Leonard said. "It gives people a good place to race and I think a lot of people are going to appreciate the X-DRL. The owners are racers, so they know what the fans and the racers want, and I think it's going to be a win-win situation for everyone."
(Photos by Ian Tocher; Click to enlarge)