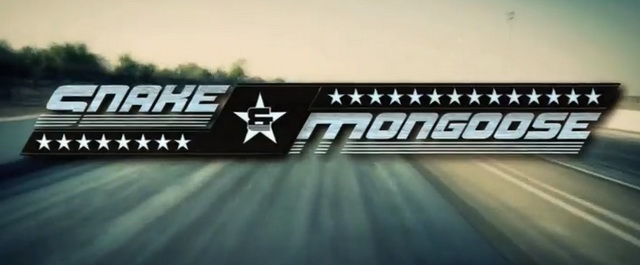 Anchor Bay Films announced Jan. 21, the upcoming release of the engine-revving racing drama, "Snake & Mongoo$e," for digital download on iTunes and Amazon Instant Video, and On Demand across select cable providers March 4, and on Blu-ray/DVD April 8, 2014.
Premiering originally in a series of star-studded events that spanned the nation and included stops in Reno, Detroit, Indianapolis and Los Angeles, the supercharged film riveted audiences with an eye-opening look at the birth of a phenomenon.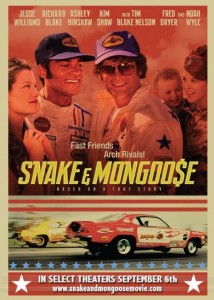 The announcement comes on the heels of the historic screening at the 2014 Barrett-Jackson Scottsdale Auction this past Sunday where "Snake & Mongoo$e" became the first film ever screened in the legendary automotive event's 43-year history.
"Snake & Mongoo$e," the incredible true story of the greatest rivalry and friendship in drag racing history, pits Don "The Snake" Prudhomme (Jesse Williams of LEE DANIELS' THE BUTLER, "Grey's Anatomy") against his longtime friend and on-the-track nemesis Tom "The Mongoose" McEwen (Richard Blake of Dragonball: Evolution).
From the fiery days of early speedways through the explosive peak of their popularity, these are the triumphs and tragedies behind the legendary races and Hot Wheels partnership that created a global phenomenon. Ashley Hinshaw (CHRONICLE), Kim Shaw (She's Out of My League), Fred Dryer ("Hunter"), Ian Ziering (Beverley Hills 90210, SHARKNADO), Tim Blake Nelson (O BROTHER, WHERE ART THOU?) and Noah Wyle ("ER," "Falling Skies") co-star in this nitro-burning drama of the two men who battled business and each other to change motorsports forever.
Featuring a soundtrack that includes some of the most notable artists and anthems of the time, including ZZ Top's "I'm Bad, I'm Nationwide," "Snake & Mongoo$e" perfectly captures an iconic era while dropping viewers into the heart of the 1960s and 1970s.
Two of nature's deadliest enemies, the snake and mongoose are each genetically coded to mercilessly fight each other to the death.  Recognizing this visceral force of nature, one of the planet's most enduring dynamics was strategically applied to the historic rivalry between drag racing heavyweights Prudhomme and McEwen. It was on drag strips across the country that Prudhomme, the Snake, and McEwen, the Mongoo$e, aggressively competed for dominance while transforming a "minor" sport struggling for attention into a global phenomenon.
Lauded by Moviereporter.com, "Director Wayne Holloway…keeps the action sequences intense, utilizing real footage of the glory years of drag racing during the 1960s and '70s, and moving his story skillfully through the decades.  He also handles the dramatic scenes effectively, revealing his characters' struggles and successes as well as their inner need to find purpose in life.  It's a lot more than a racing movie."