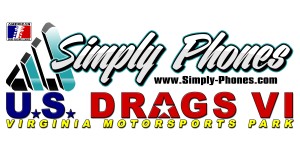 The American Drag Racing League (ADRL) announced May 8, that communications leader Simply Phones has been named the title sponsor of the ADRL U.S. Drags VI, June 8-9, at Virginia Motorsports Park, in Petersburg, VA, near Richmond.
"We are excited to welcome to welcome Simply Phones to the growing family of ADRL marketing partners," ADRL President Kenny Nowling said.
"With the addition of the new Pro Drag Radial class, the U.S. Drags is poised to be one of the most memorable events in ADRL history. Simply Phones' willingness to think outside of the box, when it comes to how they market their company, makes them an ideal partner for the ADRL."
Free tickets to the ADRL Simply Phones U.S. Drags VI can be found at several participating retail partners throughout Petersburg, Dinwiddie, Richmond and the surrounding area. Free e-tickets to the event can be printed athttp://www.adrl.us/free-tickets/event4/.
"Kenny and his team had us as their guests at the recent ADRL Hardee's Georgia Drags event and we were blown away,"  Simply Phones President Carter Kessler said. "When our team walked around the pits and grandstands, we saw literally hundreds of people who fit our demographic of small to medium sized business owners.
"The opportunity for us to market Simply Phones to the huge crowds expected to attend the U.S. Drags is going to be tremendous, however it is the month long in-market promotions and the free tickets being distributed to thousands of potential Simply Phones' customers that make this partnership a perfect fit."