Tony Schumacher secured the Top Fuel No. 1 qualifier Saturday at the 48th annual Amalie Motor Oil NHRA Gatornationals at Gainesville Raceway.
Schumacher piloted his U.S. Army Top Fuel dragster to a track elapsed time record pass of 3.682 seconds at 328.22 mph in the second qualifying session to earn his 81st career No. 1 qualifier, first of the season.
"The Gatornationals to me, even as a kid, was always one of the greatest moments for my father," Schumacher said. "It's a great chance, great opportunity. When you're given a great opportunity, you surround yourself with people capable of that moment, which we have done. You hope for great weather and the perfect situation tomorrow; great storm, great race. What you want is for the fans to walk away going, 'We paid good money for this race and we feel like we owe more.'"
In the first round of eliminations Schumacher, who will be in pursuit of becoming the first five-time Top Fuel winner at the Gatornationals, will face Smax Smith. Doug Kalitta is qualified second with a 3.698 at 328.78 in his Mac Tools dragster and will race Ike Maier and defending world champion Antron Brown and his Matco Tools dragster are in third and will line up against Chris Karamesines.
John Force (Funny Car), Jason Line (Pro Stock) and Jerry Savoie (Pro Stock Motorcycle) were also No. 1 qualifiers in their respective categories at the third event of 24 on the 2017 NHRA Mello Yello Drag Racing Series schedule.
Force raced his PEAK Chevy Camaro to the 155th No. 1 qualifier of his career with a track elapsed time record of 3.832 at 333.25. He will face Bob Tasca in the first round.
"It's exciting to come here to Gainesville," Force said. "I haven't run this good in years. We kept low ET, that's an honor, I love it. It's a good weekend of us. The team gelled. We'll just go from there. I want to come out here tomorrow and I want to try to win. Don't know who I race, don't matter, I race my lane. I go A to B. But I'm really excited just to be in the hunt."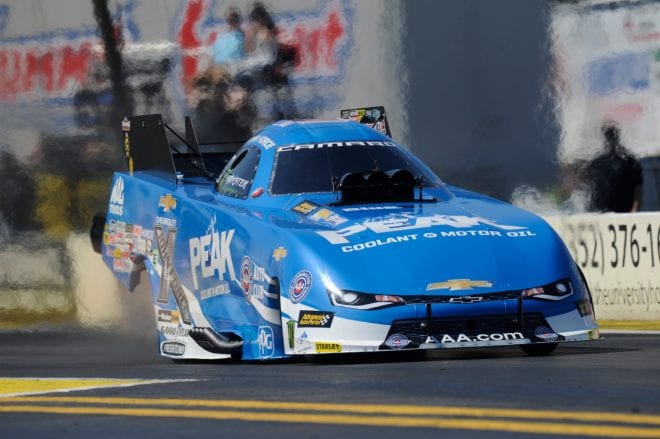 Force's teammate, Robert Hight, is qualified second with a 3.844 pass at 331.61 in the Auto Club Chevy Camaro and will race Del Worsham and Matt Hagan is third.
Line's 6.476 pass at 213.87 in his Summit Racing Equipment Chevy Camaro from Friday held up to secure his third consecutive Pro Stock No. 1 qualifier of the season, 52nd of his career.
"We just try to go as fast as we can," Line said. "The strategy is the same, early season, late season, mid-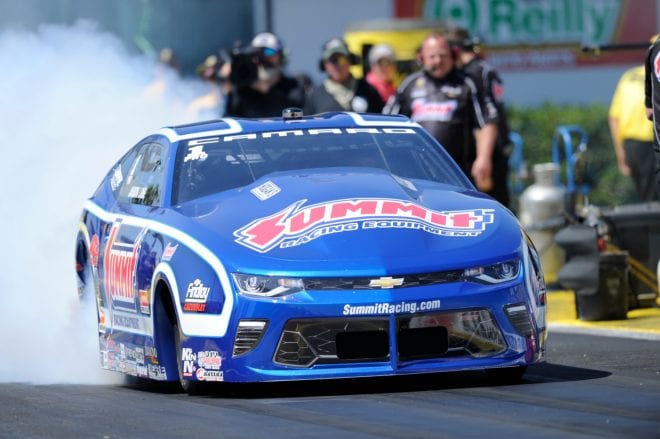 season, it doesn't matter, it's to put the Summit cars in the Winner's Circle. Qualifying No. 1, obviously to me, is the best way to start. Our Summit Camaro is running really, really well so I'm super excited about tomorrow."
Teammate Bo Butner is second with a 6.477 at 213.60 in his Jim Buner's Auto Chevy Camaro and will line up against John Gaydosh in the first round of eliminations. Two-time world champion Erica Enders and her Elite Motorsports Chevy Camaro are qualified third and race Alan Prusiensky in round one.
Defending Pro Stock Motorcycle world champion Savoie earned the ninth No. 1 qualifier of his career with a 6.753 pass at 198.99 on his White Alligator Racing Suzuki in the third qualifying session. He will race Shawn Gann in the first round of eliminations.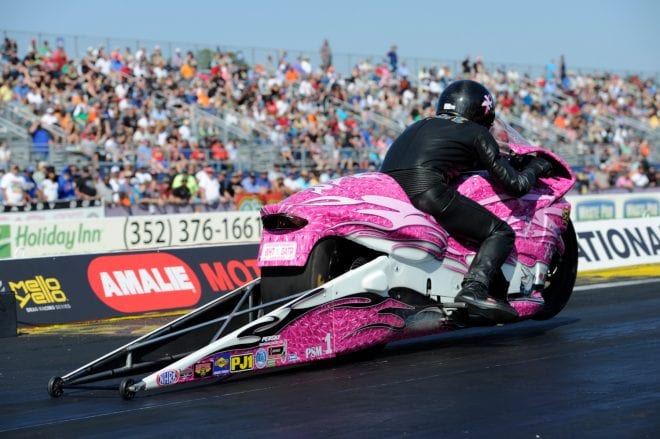 "I've been coming to the Gators six years now," Savoie said. "My first year out we qualified No. 6. I had really thought, when I bought all of Mr. (Don) Schumacher's stuff and everything, that it was going to be easy, I thought we were going to qualify No. 1 and win the race. Six years later finally, finally we get to qualify No.1 in Gainesville. For me it's a special privilege."
Savoie bumped Screamin' Eagle Vance & Hines Harley-Davidson rider Eddie Krawiec who is second with his 6.791 pass at 198.17 from Friday. Joey Gladstone, in his second season, qualified third with a pass of 6.810 at 197.51 on his San Marino Excavation Suzuki.
Eliminations for the 48th annual Amalie Motor Oil NHRA Gatornationals begin at 11 a.m. on Sunday. Catch all the action on FOX Sports 1 beginning at 1 p.m. ET.