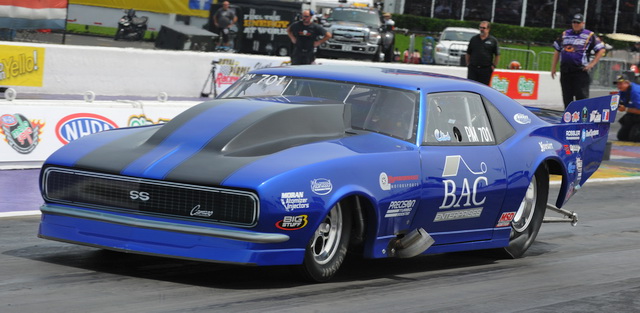 Clint Satterfield (above) raced to his first career NHRA Pro Mod Drag Racing Series victory Sunday at the O'Reilly Auto Parts NHRA SpringNationals presented by Super Start Batteries at Royal Purple Raceway.
Satterfield in his BAC Enterprises '68 Camaro faced Kenny Lang and his Summit Racing '63 Camaro and marked the first time the two had faced in eliminations. Lang fouled at the start, giving the win to Satterfield, who posted a 6.015 second pass at 246.75 mph.
In earlier rounds, Satterfield defeated Mike Knowles, Rickie Smith and Mike Castellana.
Lang moves to the NHRA Pro Mod Drag Racing Series points lead from third and Satterfield catapults from 10th to third on the strength of his win.
The NHRA Pro Mod Drag Racing Series returns to action at the Toyota NHRA Summernationals at Old Bridge Township Raceway Park,  May 30-June 2.
BAYTOWN, Texas — Final Pro Mod round-by-round results from the 26th annual O'Reilly NHRA Spring Nationals presented by Super Start Batteries at Royal Purple Raceway, the race is the third of 10 events in the NHRA Pro Mod Drag Racing Series.
ROUND ONE — Von Smith, Chevy Camaro, 5.973, 244.12 def. Troy Coughlin, Chevy Corvette, 6.587, 167.59; Kenny Lang, Corvette, 5.959, 247.70 def. Pete Farber, Dodge Daytona, 8.270, 116.06; Rickie Smith, Camaro, 6.171, 241.89 def. Steve Matusek, Ford Mustang, 6.685, 185.18; Danny Rowe, Camaro, 6.428, 184.52 def. Chip King, Daytona, 7.546, 140.24; Clint Satterfield, Camaro, 6.044, 246.44 def. Mike Knowles, Camaro, 6.200, 239.95; Chris Juliano, Mustang, 6.264, 220.87 def. Mike Janis, Camaro, 8.282, 116.42; Mike Castellana, Camaro, 6.135, 238.81 def. Jeffrey Cummins Jr., Camaro, 6.392, 208.78; QUARTERFINALS — Castellana, 7.567, 122.59 was unopposed; Satterfield, 6.276, 239.44 def. R. Smith, 6.278, 230.57; Rowe, 6.026, 245.90 def. V. Smith, 6.065, 242.84; Lang, 5.991, 245.99 def. Juliano, DQ; SEMIFINALS — Satterfield, 5.996, 246.84 def. Castellana, 6.189, 243.15; Lang, 6.001, 246.26 def. Rowe, 5.980, 246.44; FINAL — Satterfield, 6.015, 246.75 def. Lang, foul.