Brothers Matt and Zach Sackman will race together at an NHRA national event for the first time this weekend at the 59th annual Lucas Oil Winternationals presented by ProtectTheHarvest.com at Auto Club Raceway at Pomona. With primary sponsorship from Hangsterfer's Metalworking Lubricants, Matt will compete in Top Alcohol Dragster and Zach will race in Top Dragster.
"This is a very cool opportunity," said Matt Sackman, 25. "Zach and I are both going to be running the Hangsterfer's colors, so to have two shots to win at the Winternationals for Hangsterfer's is a big deal."
The Winternationals will be Matt Sackman's third race driving one of Randy Meyer Racing's championship-caliber A/Fuel dragsters in the loaded Top Alcohol Dragster class. The effort will be supported by Hangsterfer's, Gemini Farms and TMS Titanium.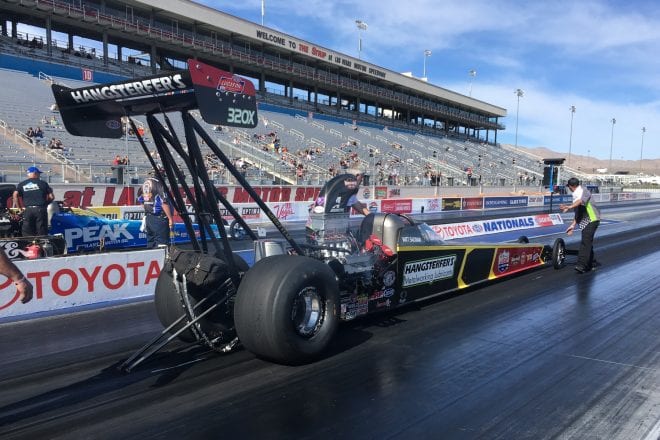 "I'm very excited to race at my first national event," added Matt. "It's the Winternationals. It's one of the bigger NHRA races of the year and just to race a car there is pretty cool. I'm definitely looking forward to it. I've been looking at the forecast and it's going to be a cool Winternationals, so there should be some quick ETs and fast speeds. Plus, I know the Randy Meyer cars are definitely capable of running fast at Pomona."
Matt's schedule as a crew member on the Antron Brown-driven Matco Tools Top Fuel dragster for Don Schumacher Racing has prevented him from competing in national events in the past. While Sackman will still serve as a cylinder head specialist on Brown's car this weekend, he'll occasionally slip away from the Matco pits when Top Alcohol Dragsters are called to the staging lanes.
"I definitely couldn't do this without the group of guys working on the Matco car," Sackman said. "They're going to cover for me so I can make some runs in the alcohol car. I have to thank Mark Oswald, Brad Mason and all the guys on the team. The schedule is going to make for some late nights, but I think it will be worth it."
Zach Sackman is also looking forward to a fast-paced weekend. The 23-year-old fabricator realizes there will be a lot of work involved, but with that work comes the opportunity to leave Pomona with three trophies.
"Most of the time it's me watching Matt or Matt watching me," said Zach. "Now I can watch him race for a Wally working on Antron's car and racing the alcohol car, then I get to race myself in the Top Dragster. The dream weekend would obviously be Antron winning, Matt winning and me winning in the same weekend."
Zach is starting his Top Dragster championship campaign at the Winternationals for the second consecutive season. After Pomona, team patriarch Darren Sackman will haul the Hangsterfer's Top Dragster back across the country, stopping at the NHRA Arizona Nationals in Phoenix and the 50th annual NHRA Gatornationals in Gainesville, Fla.
"I'm very lucky to be able to race at Pomona and start our season so early," Zach said. "I get to do all these races at such a young age – it's a really cool opportunity. I'm thankful that my dad gets to go and to Brandon Hess at BrandoSpeed and Shane Novak at Novak Electric for giving me the time off to go racing."
The Sackman Boyz Racing team enters the 2019 season with continued support from Hangsterfer's Metalworking Lubricants, Novak Electric, Diamond Pistons, Trend Performance, Lucas Oil, T&E Auto Haulers, Gemini Farms, Brown & Miller Racing Solutions, Rolla Competition Engines and Harmonic Designs Inc. The Top Dragster team will also receive support from NGK Spark Plugs, a new sponsor for the season.
Qualifying at the 59th annual Lucas Oil NHRA Winternationals presented by ProtectTheHarvest.com will begin Thursday, Feb. 7. Final eliminations will take place Sunday, Feb. 10.