Ever since Zach Sackman was a young Jr. Dragster wheelman racing down the eighth mile at Route 66 Raceway, he dreamed of winning an NHRA national event. This past July, three years after he made his last pass in a Jr. Dragster to win the Route 66 track championship, Sackman's dream came true. The 22-year-old drove his family's Hangsterfer's Metalworking Lubricants Top Dragster to a final-round win at the NHRA Route 66 Nationals.
"Basically, I couldn't believe I just won a national event," Sackman remembers of what was going through his mind when the final win light came on. "It's what I've dreamed about since I was a little kid. I think a national event is the biggest stage you can win on in drag racing. And to win one at my home track, you couldn't pick a better place. I just couldn't believe it."
That big win was one of three victories for Sackman Boyz Racing this season. Zach's older brother, inaugural DI 30 Under 30 honoree Matt Sackman, won the ADRL Summer Drags in Martin, Michigan, and an NHRA divisional race in St. Louis. Zach also earned a runner-up finish at the Norwalk NHRA divisional race. The brothers share the seat of their supercharged, Spitzer-built dragster nicknamed "The Unit", an arrangement that seems to work well for the Channahon, Illinois-raised duo.
"We learn off each other," Zach points out. "When I watch him race, I see things that he does differently than I do, and where I can take things that he does and use them to make my driving better. I'm sure he looks at it the same way when I drive."
In addition to fielding the family car, Sackman helps with the Novak Electric Top Dragster driven by 20-year-old EmiLee Novak, doing anything from setting up the pit area to offering tune-up suggestions to Novak's father and crew chief, Radial vs. the World driver Shane Novak. As a fabricator at Brandospeed in Fairfax, Iowa, Sackman is also working on Shane's new car, a ProCharged, Pro Line Hemi-powered '69 Camaro.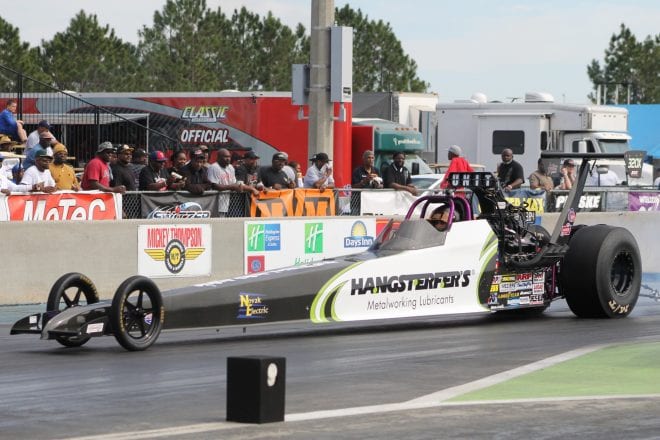 "At Brandospeed, we do anything that involves fabrication – welding, machine work – to get race cars ready," Sackman adds. "We make a lot of custom exhausts. I've been redoing a '69 Camaro, putting new quarter panels on it. We do mostly race cars, but we'll work on just about anything."
Another one of Sackman's projects is a 2006 Cobalt he's preparing for NHRA Super Stock competition. He started with a bone-stock, base model Cobalt and has been working away at it little by little, completing the transition from street car to race car as his work schedule and budget will allow.
"Racing just one car at a national event gets kind of boring because there's so much downtime in between runs," Sackman feels. "I got the idea to run a second car to get rid of that downtime, but I didn't have the money to go out and buy a race-ready car. Working at a chassis and fab shop, I decided to build my own car. I started out with a 2006 Cobalt like you'd buy from a dealership. It had the interior and everything still in it. I stripped it down and gutted it to what the Super Stock rules allow. Right now, it's on the chassis jig and I'm getting ready to start the roll cage. We'll see where it goes from there."
Sackman hopes to have the Super Stocker ready to hit the track near the end of 2018 in order to shake it down before the 2019 season. The project may have started as a way to kill downtime between Top Dragster rounds, but Sackman, who appreciates support from his brother Matt, parents Darren and Marie, and the Novak family, also has much bigger intentions for it.
"We're still working on winning a divisional championship, but my ultimate goal would be to win a world championship in a sportsman class, whether it's Top Dragster or Super Stock."
This story originally appeared in DI #127, the 30 Under 30 Issue, in December of 2017.