The eighth-mile Jr. Dragster world has produced some of the most talented drivers in the upper-level sportsman and pro ranks, but for 22-year-old Matt Sackman it helped mold him into a top-notch mechanic. Now a rising star in the NHRA and PDRA Top Dragster ranks, the Illinois native also serves as a key member of Antron Brown's 2015 championship-winning Matco Tools Top Fuel team.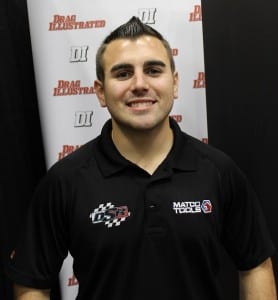 Sackman and his younger brother, Zach, truly grew up at the track. Their dad, Darren, worked on John Lawson's Alcohol Funny Car and Matt was just five months old when he made his first visit to a drag strip. The Sackman boys would tag along at the shop and the track, even more so when Lawson stepped up to a nitro Funny Car. Darren then went to work for Mike Ashley's fuel Funny Car team for a couple seasons before Matt and Zach decided they wanted to try Jr. Dragsters. Matt enjoyed success early, winning the 2006 and 2007 track championships at Route 66 Raceway before moving on to Outlaw 330 Junior Dragsters in 2009, finishing second in the Southeast Junior Racing Association and third the next year in the Midwest Jr. Super Series.
While finishing up his degree in Precision Machining in 2013, Sackman started helping out on Brown's car for Don Schumacher Racing. The Sackman family knew Brown through friends Mark Oswald and Brian Corradi and Brown invited Matt to the Route 66 Nationals to hang out and learn some of the basic tasks associated with running a top-level nitro car.
"I just mixed fuel and cleaned some parts and tried to do all of the little things. I enjoyed doing what I did. The U.S. Nationals came around and he (Brown) asked me to do the same thing. It progressed to me going to the St. Louis race. They were struggling in the Countdown; then they won St. Louis. Antron said, 'You're going to the next one!' So I went to Reading and they runnered-up, so he was like, 'Alright, you're going to the next one since we're doing well.' They flew me to Vegas and they won that race. I was already going to Pomona so I got to do the same thing there," Sackman remembers. "That's when they approached me about a job opportunity on the car. I was just finishing up school and I wasn't sure what I wanted to do with my two-year degree. I love drag racing, so why not try to make a career out of it?"
Sackman currently serves as the tire specialist and clutch assistant on Brown's team. After each run, he removes and replaces the flywheel and clutch pack before packing the parachutes and ensuring all four tires are ready for another 330-mph lap.
Being around such a fast machine and the men who drive and tune it—Brown, Oswald and Corradi—has been a big help in Sackman's transition into Top Dragster racing. The Sackman Boyz Racing entry, a Spitzer-built rail with a supercharged Rolla Competition Engines 540 c.i. BBC, is the first race car Sackman has driven since moving out of Jr. Dragsters in 2011.
"I'm very fortunate to be around people like Antron, Mark (Oswald) and (Matco car chief) Brad Mason. They told me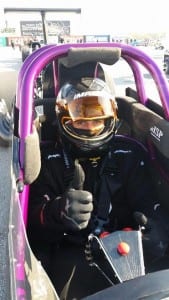 what to expect and that they're confident that I could do it. That's a big booster. I was pretty nervous the first time I let go of the button at West Palm testing," Sackman freely admits. "It got my attention; then I realized it wasn't as fast as I thought it was going to be. Just like Mark told me, the run starts to slow down after the tenth run. Now the runs are slowed down and broken down and I really know what's going on with the car. Right now I only have about 60 runs in the car and probably 30 of those are quarter-mile runs. I feel very confident driving it. I'm pretty lucky to have world champions around me. That gives me a lot of confidence as a driver."
Sackman realizes his lifestyle is far from average for his age. Instead of cramming for a final exam, he's working late at the DSR megashop in Indianapolis so he can get away on an off-weekend from the NHRA Mello Yello Series to race his own car. It's a unique schedule that comes with pros and cons.
"One of the pros is I'm making money while everyone else my age is spending money at college. One of the cons is there aren't too many people out here that are my age. It does help me learn lessons in life quicker because I'm around people that are a lot older than me. Everybody likes to have fun at the race track, so it's not like college, but it kinda' is like college. Racing is our job and everyone takes it seriously, but we're still having a good time doing it," says Sackman, who spent 25 of 27 weekends at the races during the 2015 season.
No matter the challenges that come with such a time-consuming hobby and profession, Sackman believes he's found his lifelong passion. He intends to progress up the crew member ranks, including a likely move to clutch specialist in 2016, while also adding classes to his NHRA competition license. Sackman recently earned his Top Alcohol Dragster license at a Las Vegas test session.
"I would definitely like to run several races in an A/Fuel car, then work my way up to driving a fuel car of some kind, Top Fuel or Funny Car. Even Pro Stock," he adds. "I would race pretty much anything if I could get paid to drive a race car. That's what I want to do. I don't care what it is; I'll do it."