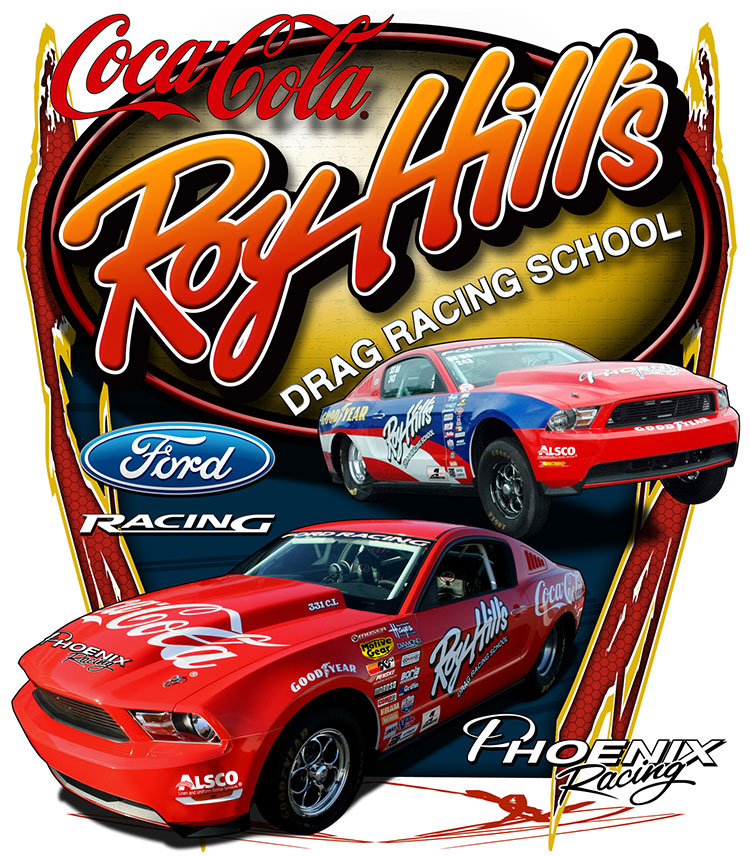 Drag racing icon Roy Hill is gearing up for an action-packed second half of the 2012 season, and he's starting it off with a major announcement.
"I'm proud to announce that Roy Hill's Drag Racing School is now the Official Drag Racing School of Ford Racing," Hill said. "This is the end result of months of planning with Jamie Allison, Jesse Kershaw, and the folks at Ford Racing, and we have lots of great things we're going to do with this association, now and into the future."
The first feature of the new partnership will allow all 2013 Ford Mustang Cobra Jet buyers to attend Roy Hill's Drag Racing School free of charge.
"We're working with Ford to really take care of the new Cobra Jet buyers," said the Pro Stock legend. "They can come in, get their license, and learn from the Ford engineers as well as some of my people, all included with their purchase. It's the perfect way for the new owners to become familiar with their Cobra Jets."
"We're excited to be part of this partnership with Roy Hill's Drag Racing School, especially adding another unique value for our loyal Cobra Jet buyers," said Jamie Allison, director, Ford Racing. "This program fits well with our overall enthusiasts strategy whereby Ford enthusiasts can go to enjoy high performance driving, like the Ford Racing High Performance Driving School at Miller Motorsports Park with Mustangs, and the Ford Racing Fiesta Rally Experience at Team O'Neill Rally School. Mustang is America's muscle car and we look forward to strengthening Mustang's role in the grassroots drag racing school experience."
The debut of this new program is slated for Thursday, August 23rd and Friday, August 24th before the 2012 Ford Racing Cobra Jet Showdown that is being held in conjunction with the 6th annual JE Pistons NMCA Muscle Car Nationals at Milan Dragway in Milan, MI.
"We're fired up about working with the Cobra Jet buyers on Thursday and Friday, and then we'll be running in the Cobra Jet Showdown with both of our Phoenix Racing cars," Hill continued. "I'll be driving one, Robert Patrick will be driving the other, and we'll also have the Ford Racing Cobra Jet on hand."
Before heading to Milan, Hill will be racing the James Finch-owned Cobra Jets at Maple Grove Raceway for the Fun Ford Weekend on August 18th and 19th. He and fellow Ford Racing hero Hubert Platt will also pick the top 25 cars on display as guest judges for the car show.
"Robert Patrick will be driving the Coca-Cola / Alsco car with Purvis Ford on the hood this weekend in Maple Grove," said Hill. "Then he'll be driving the car again and helping us out with the school at Milan, and to top it off he'll be competing in the car at the U.S. Nationals. This is just another way the Ford Racing family works together and we're proud to have Robert and Purvis Ford on board."
Patrick, the longtime Ford campaigner whose family owns Purvis Ford in Fredericksburg, VA, is a perfect fit for both the Super Stock program and Roy Hill's Drag Racing School.
"When Roy called me about working with him for these next few races, I jumped at the opportunity," said the former IHRA Pro Stock champion. "I went to Roy's school back in the early '90s, and we've continued to have a strong relationship. I even helped him with some of his bigger schools back in the '90s and early 2000s. Ford has been involved with both of our race teams for a very long time, and what really excites me is being able to help Roy with the school and meet some of these Cobra Jet buyers."
To round out a star-studded roster of drivers, Hill has arranged for up-and-coming ADRL Top Sportsman pilot Lizzy Musi to drive the third car, the Ford Racing Cobra Jet, this weekend in Maple Grove. Lizzy is the daughter of engine builder and Pro Street legend Pat Musi, who also built and tunes the fuel injection system on Robert Patrick's nitrous-assisted Pro Modified Mustang.
"Pat and I have been friends for a very long time," said Hill. "He put me in one of his cars back in the '80s, and now I'm returning the favor. Lizzy is a great young female driver and has already gotten a lot of exposure this year, but I hope to get her some valuable experience by putting her in one of these Cobra Jets. She's exactly the type of driver we're looking for for this program."
"This is going to be a Fun Ford Weekend to remember, and I can't say enough about what Lex Dudas and Maple Grove Raceway have done to help put all of this together," Hill continued.
The stops in Maple Grove and Milan will certainly be highlights of Hill's season, but defending the Phoenix Racing team's Super Stock titles at the 58th annual Mac Tools U.S. Nationals on Labor Day weekend is also a priority.
"This will be our third year running the Cobra Jets at Indy, and we're going back to defend our titles," Hill stated. "I won SS/BA in 2010, and last year Charlie Downing drove the Coca-Cola / Alsco car to an SS/AA win while I won SS/BA again. Our cars will be in SS/AAA this year, which is a new class NHRA created specifically for our fast Cobra Jets. We've been an 8.26 at 166 MPH, which gives us the fastest NHRA-legal Cobra Jet on the planet."
After the U.S. Nationals, Hill will return to competition at zMax Dragway near Charlotte, NC, where another school for Cobra Jet buyers is scheduled prior to the 5th annual O'Reilly Auto Parts NHRA Nationals. In October Hill will host a corporate event for Coca-Cola Bottling Company Consolidated along with executives from select food chains and convenience stores affiliated with Coca-Cola.
"We've been working really hard to pull everything together this year, and I think we're looking good heading into the fall," said Hill. "Our main goal is to bring all of our partners, such as Coca-Cola and Alsco, in with Ford Racing and I think we've accomplished that. We also have Jacky Jones Ford in Cleveland, GA back with us for another year, and we're very happy about that. Jacky Jones Ford is where James Finch purchased all of the Phoenix Racing Cobra Jets."
The Phoenix Racing Ford Mustang Cobra Jet program has a busy schedule to finish out the year, but Hill's focus never drifts too far from his drag racing school.
"The standard classes are still available at the school. We're ready to accommodate anyone looking to bring their own car or suit up for our Pro Stock, Automatic Top Sportsman, Super Comp, and Jr. Dragster courses," Hill said. "We're also offering the new 'ride and drive' program, which progresses you from a ride in the two- or three-seater dragster to driving a stock Ford Mustang, then a V8-powered Mustang GT, and finally a Cobra Jet. Ford saw the value in having this program for their Cobra Jet buyers as well as for the engineers and executives that designed, built and sold these machines. We're really excited about what Ford's involvement has done for Roy Hill's Drag Racing School."
Visit www.royhillsdragracingschool.com for more information about Roy Hill's Drag Racing School and the team's Ford Mustang Cobra Jet Super Stock program.