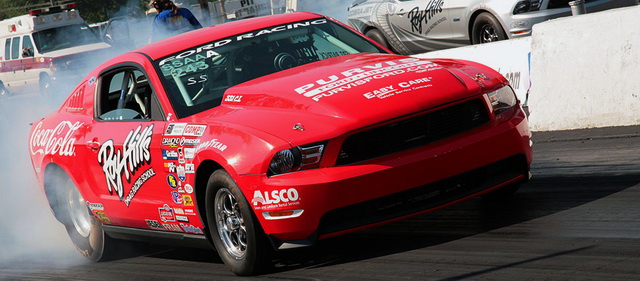 Roy Hill's Drag Racing School is offering a special session at zMax Dragway on October 16-17. This exclusive event will offer students one-on-one instruction not only from drag racing icon Roy Hill, but also from current NHRA Nitro Funny Car superstar Bob Tasca III.
"We've teamed up once again with the Tasca family to provide a once-in-a-lifetime opportunity for our students to learn from one of the top professional drag racers on the circuit today," said Hill. "The Tasca name is among the most revered in all of motorsports. Bob Tasca III is a Roy Hill's Drag Racing School graduate, and it's an honor to have him back to offer special instruction for our students."
In addition to Tasca III, his father, Bob Tasca Jr., and uncle, Carl Tasca, will also be in attendance as students at the school. Carl, owner of the fastest stock Ford Mustang Cobra Jet on the planet, will be honing his driving and tuning skills in his own car while Bob Jr. will be gearing up to potentially run NHRA Super Stock next season by making laps in the Roy Hill / Tasca Ford Cobra Jet.
"This school will also feature another complimentary session for new Cobra Jet buyers, which is something we now offer as the Official Drag Racing School of Ford Racing," Hill said. "We're looking forward to having those folks out to the track, but we're also offering our full range of regular school options for anyone looking to attend. This session is open to everyone.
"I can't think of a better time or place to attend Roy Hill's Drag Racing School," Hill continued. "We've got the Tasca family there, and we're going to be at the world's greatest drag racing facility at a very nice time of year. You can't ask for much more. As another added bonus, all students will be able to come in a day early and get to know everyone while we look over their cars and make sure everything is ready to go for Tuesday and Wednesday. Give us a call or visit our new website for more information or to enroll."
Before the aforementioned school session, Hill will have the Phoenix Racing Cobra Jets on display at zMax Dragway for this weekend's 3rd annual Charlotte Diesel Super Show as part of a new agreement with Greensboro, NC-based Epes Transport along with Ford, Coca-Cola, and Alsco.
"We're happy to announce a new marketing agreement with Epes Transport, and we're debuting it this weekend at the Charlotte Diesel Super Show," said Hill. "We're giving away Roy Hill's Drag Racing School ride-and-drive sessions thanks to Epes, so stop by and enter for your chance to win."
Visit the all-new www.royhillsdragracingschool.com or call (336) 498-7964 for more information about Roy Hill's Drag Racing School and the team's Ford Mustang Cobra Jet Super Stock program.
(Photo courtesy of CompetitionPlus.com)