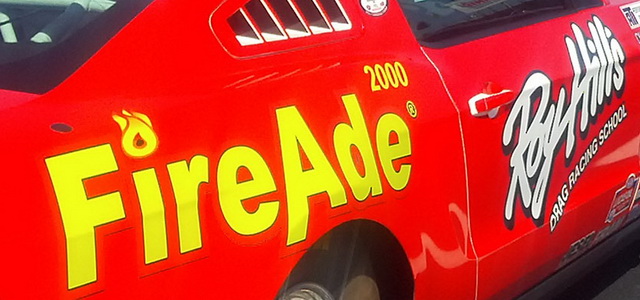 Drag racing icon Roy Hill has partnered with Fire Service Plus, manufacturer of firefighting agent FireAde 2000, for this weekend's 44th annual Amalie Oil NHRA Gatornationals at Auto-Plus Raceway in Gainesville, FL.
FireAde 2000 is the world's most complete firefighting agent. From Fire Service Plus' origins in founder Ron Thames' garage 29 years ago to today, the company's flagship product is now being used in 42 countries and by over 3,500 fire departments across the US as well as the US Military. Manufactured in Fayetteville, GA, FireAde 2000 is a non-toxic, water-based, biodegradable and environmentally friendly foam.
"Entering into motorsports is the perfect next step for a product like FireAde 2000 and we're thrilled to have Ron and his team on board," Hill said. "This product has so many advantages over a traditional spray and is something everyone in the pits needs. After using FireAde, the only thing you have to clean up is the area that was burning; it just wipes away with a cloth and doesn't damage the engine or other components. It's also safe for the driver to inhale."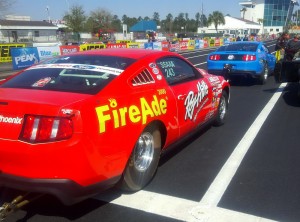 FireAde 2000 is available in many forms, including a 16-ounce handheld canister called the FireAde Mini Enforcer. The canister can be carried in a holster by crew members or kept in a readily-accessible place on the team's tow vehicle, making it an ideal solution for rapidly and effectively extinguishing the unexpected combustions common in drag racing.
"I'm so excited about this opportunity to team with Roy and his school," said Thames. "The FireAde Mini Enforcer is an incredible product for drag racing, but what makes it truly special is that a portion of the sales go to The Ronnie Thames Foundation. I lost my son in 2004 and we started the foundation in his name to support the Shriners Hospital for Children in Cincinnati, OH, which is one of the nation's best burn centers."
In addition to appearing alongside Coca-Cola, Alsco and Ford Racing on the Ford Mustang Cobra Jet Super Stock entry being driven by Hill at the Gatornationals, Fire Service Plus will be outfitting Roy Hill's Drag Racing School with an array of FireAde 2000 and EnforcerOne products to help ensure maximum safety for everyone that attends the school.
For more information about Fire Service Plus, FireAde 2000 and the EnforcerOne line of products, please visit www.fireade.com and www.enforcerone.com.
Visit the all-new www.royhillsdragracingschool.com for more information about Roy Hill's Drag Racing School and the team's Ford Mustang Cobra Jet Super Stock program.