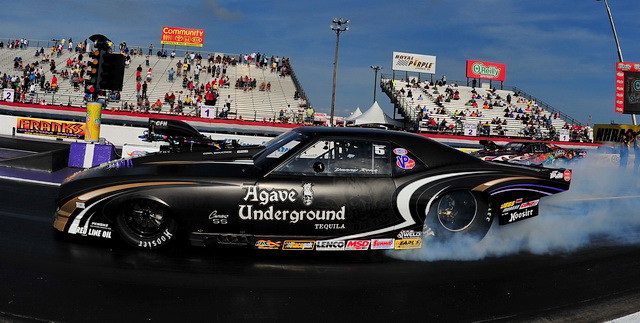 Danny Rowe continued his strong run during qualifying in the NHRA Pro Mod Drag Racing Series, as he raced to the lead on Friday at the 13th annual Ford NHRA Thunder Valley Nationals presented by Tri-Cities Area Ford Dealers at Bristol Dragway. The race is the fifth of 10 races in 2013 for NHRA's popular 250-mph doorslammer touring series.
Driving his Agave Underground Tequila Chevy Camaro, Rowe, who is seeking his first final-round appearance of 2013, put together one of only two 5-second passes during Friday's two qualifying rounds, running an impressive 5.958 at 242.76 mph.
"We knew we had some work to do after that first session, but we came back up for the second round and did exactly what we came here to do – put this Agave Underground Pro Mod at the top of the qualifying sheets," Rowe said.
Current points leader Kenny Lang and his Summit Racing Equipment Chevy Camaro ran an identical 5.958, but Rowe's speed topped Lang's 242.63 mph. Rowe and Lang , who both drive supercharger-powered Camaros, were the only two drivers to dip into the 5-second zone at Bristol Dragway.
Should Rowe hang onto the top qualifying position, it would give him the No. 1 qualifier for the second straight race and third time in the past four NHRA Pro Mod Drag Racing Series events.
"Saturday we'll focus on consistency and try to get ready for the opening round of eliminations," Rowe said. "There isn't a car here that isn't capable of winning this deal, so we're going to have to be on our toes tomorrow, but with the way this team has been performing this year, I couldn't be more confident. We're excited to go racing."
Following Rowe and Lang in the third spot is defending event champion Rickie Smith, who powered his IDG nitrous-injected Chevy Camaro to a 6.007 at 241.45 mph. Mike Janis is fourth with a 6.036 at 238.85, while Steve Matusek, who is currently seventh with a 6.090, posted the fastest run of the day at 245.58 mph in a Ford Mustang.
The final qualifying session for the NHRA Pro Mod Series is Saturday at 2 p.m. and will be followed by the first round of eliminations at 4 p.m. Pro Mod eliminations will continue Sunday beginning at approximately 3:30 p.m.
BRISTOL, Tenn. — Friday's results after the first two of three rounds of qualifying for the 13th annual Ford NHRA Thunder Valley Nationals presented by Tri-Cities Area Ford Dealers at Bristol Dragway, fifth of 10 events in the NHRA Pro Mod Drag Racing Series.  Qualifying will continue Saturday for Saturday's first round of eliminations.
Pro Modified
1. Danny Rowe, Chevy Camaro, 5.958, 242.76; 2. Kenny Lang, Chevy Corvette, 5.958, 242.63; 3. Rickie Smith, Camaro, 6.007, 241.45; 4. Mike Janis, Camaro, 6.036, 238.85; 5. Eric Dillard, Ford Mustang, 6.070, 243.02; 6. Mike Castellana, Camaro, 6.085, 223.21; 7. Steve Matusek, Mustang, 6.090, 245.58; 8. Pete Farber, Dodge Daytona, 6.090, 240.04; 9. Von Smith, Camaro, 6.132, 228.61; 10. Chip King, Daytona, 6.136, 231.52; 11. Chris Juliano, Mustang, 6.227, 215.58; 12. Doug Winters, Chevy Bel Air, 6.297, 215.48; 13. Robert Patrick Jr., Mustang, 8.500, 111.87; 14. Clint Satterfield, Camaro, 8.598, 114.03; 15. Troy Coughlin, Corvette, 9.197, 124.12.