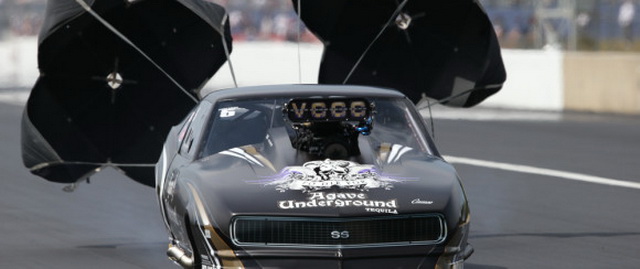 Danny Rowe, driver of the Agave Underground Pro Modified Camaro, parlayed his number-one qualifying effort at Bristol Dragway this past weekend into a strong semi-final finish at the NHRA Thunder Valley Nationals and – more importantly – made a big move in the championship points standings.
After qualifying first with a 5.958-second, 242.76mph quarter-mile blast, Rowe met Clint Satterfield in the opening stanza. Rowe was off the starting line first and never wavered, moving on to the quarterfinals with a 6.004/243.59mph effort. Rowe then dispatched turbocharged frontrunner Eric Dillard before meeting with another turbocharged racer – Troy Coughlin – in the semifinal round.
Rowe again had the advantage at the starting line, but couldn't quite hold off Coughlin, who snuck around him at the 1,000-foot mark, taking the win with a 6.001/246.53mph pass over Rowe's 6.028-second, 241.8mph run. Coughlin's margin of victory was a mere 0.0123-seconds, approximately four feet.
Although shy of his goal of repeating his 2011 final round appearance at Bristol Dragway and this time scoring a win, Rowe made a tremendous move in the points – making the jump from ninth to fourth and straight back into title contention.
"Of course, we'd have loved to win this one, but I really couldn't be happier about all the ground we made up in the points chase," said Rowe, who is actually tied for fourth place in the points with Mike Janis. "We came up a little short there in the semis against Troy [Coughlin], but, again, we can't feel too bad about the progress we made in Bristol.
"We're just now hitting the midway point of our season; we've got a lot of racing left to do and we're thrilled – truly excited – to have found a way to keep this Agave Underground Pro Mod team in contention for the NHRA Pro Mod world championship. We can't wait to get to Norwalk and get back at it."
The NHRA Pro Mod Drag Racing Series returns to action at the Summit Racing Equipment NHRA Nationals in Norwalk, Ohio. Qualifying is set to begin at 4:00PM with a second session schedule for 6:30PM. Qualifying will continue on Saturday with a third and final session at 11:00AM with the opening round of eliminations set for 1:30PM. Final eliminations will continue Sunday at approximately 2:30PM.
To learn more about Agave Underground Tequila products, sweepstakes and hosted events, visit www.agaveunderground.com, Facebook.com/AgaveUnderground or Follow @AgaveUground on Twitter.
To keep up with the latest news and results from Danny Rowe Racing, log onto www.dannyroweracing.com