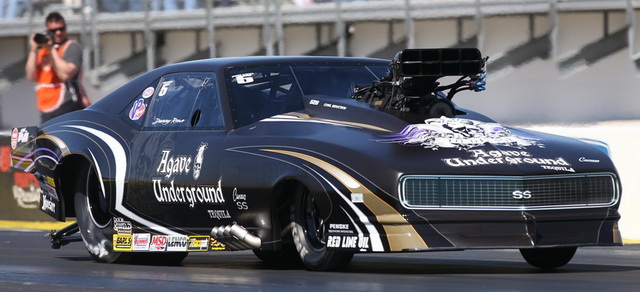 Danny Rowe certainly earned his Father's Day gift during the recently completed NHRA Summernationals in Englishtown, New Jersey, where he qualified No. 1, but missed elimination day when he chose to fly home to California for his youngest daughter's high school graduation.
But now he's looking to make up lost ground in the NHRA Pro Mod Drag Racing Series points chase with a big outing at Bristol Dragway.
"We're not worried about the points," says Rowe, checking in from the pits in Thunder Valley, home to one of his personal favorite racing facilities.
"The way I look at it is that the situation's no different now than it ever is – you want to win every race. Nobody is running away with the points, which speaks to how competitive NHRA Pro Mod is right now, so we're going to take it one round at a time, one race at a time, and let the chips fall where they may."
Rowe, who is currently ninth in the championship points standings, 68 points behind leader Kenny Lang, could change the dynamic dramatically with a win in Bristol – not at all out of the possibility for the Agave Underground Tequila Pro Mod team led by veteran crew chief Jimmy Rector.
"We've had a consistently fast race car, so we're here in Bristol with a lot of confidence," Rowe continues. "There are a lot of great teams out here. The competition in this series seems to ratchet up a notch every year – any car that qualifies is capable of winning.
"This Agave Underground team has demonstrated from the start of the season that we're frontrunners, though, and at this level you've got to expect to win, expect to qualify number-one. And when you've got a guy like Jimmy [Rector] on your side it's hard not to. We're excited to go racing and we're excited to see what this second half of the season has in store for us."
Qualifying gets underway for the NHRA Pro Mod Drag Racing Series at 5:00 PM, with a second session scheduled for 7:00 PM. A final qualifying session will be held Saturday at 2:00 PM with the opening round of eliminations slated for 4:00 PM. Final eliminations will continue Sunday at approximately 2:30PM.
To learn more about Agave Underground Tequila products, sweepstakes and hosted events, visit www.agaveunderground.com, Facebook.com/AgaveUnderground or Follow @AgaveUground on Twitter.