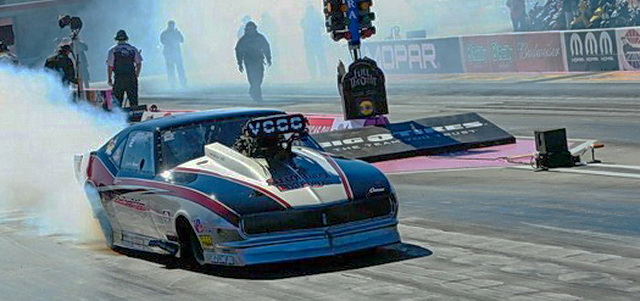 With three rounds of qualifying in the books for the 12th annual Big O Tires NHRA Nationals at the fabulous Strip at Las Vegas Motor Speedway, Danny Rowe and his Sterling Bridge Pro Modified Camaro started eliminations from the No. 2 spot.
"With as crazy of a season as this has been – the points lead constantly changing hands, the different combinations coming in and out of favor – we wanted to come to this final race of the season and just leave it all on the race track," says Rowe, who will face No. 15 qualifier, Kenny Lang, in the opening round of eliminations.
"Jimmy Rector [crew chief] has this thing tuned up and we're ready to get after it," continues Rowe, who posted a stout 5.890-second, 245.67mph quarter-mile pass to earn the No. 2 qualifying position. "It's been an interesting year and, as usual, we're going to see this NHRA Pro Mod championship come down to the wire and that's great – it's exciting for the fans and all the people who follow Pro Modified drag racing. At this point, though, we just want to go out with a bang. We want to have a big performance here in Vegas, run hard, and let the chips fall where they may."
Rowe's teammate, Donnie Martin, qualified fifth for the 16-car Pro Mod field with a 5.917-second, 244.12mph pass, and will face No. 12 qualifier, Rickie Smith, in the opening stanza.
"With both cars solidly in the top half of the field, we've got an opportunity to have a big weekend here," says Martin, driver of the Going Green NRG Pro Mod Camaro. "Like Danny has been saying, we're swinging for the fences – we want to finish the season strong, on a positive note. Going rounds on race day at this final race would let us go into the offseason feeling good."
The opening round of Pro Mod eliminations for the Big O Tires NHRA Nationals at The Strip at Las Vegas Motor Speedway began at 4:00 PM local time on Saturday (Oct. 27). Rowe ran 5.960 at 219.08 to defeat Kenny Lang's 6.117 at 241.32 mph, while Martin fell to championship contender Rickie Smith. Elimination rounds continue on Sunday.
(Photos by Roger Richards)
LAS VEGAS — First round-by-round results from the 12th annual Big O Tires NHRA Nationals at The Strip at Las Vegas Motor Speedway, the 10th of 10 events in the NHRA Pro Mod Drag Racing Series presented by ProCare Rx:
ROUND ONE — Raymond Commisso, Chevy Camaro, 5.974, 246.08 def. Todd Tutterow, Plymouth Duster, 6.076, 243.68; Pete Farber, Dodge Daytona, 5.974, 242.23 def. Steve Matusek, Ford Mustang, 13.713, 85.96; Troy Coughlin, Chevy Corvette, 5.827, 253.75 def. Mike Janis, Mustang, 6.879, 153.81; Rickie Smith, Camaro, 6.048, 232.87 def. Donald Martin, Camaro, 5.915, 244.56; Don Walsh, Mustang, 5.883, 248.39 def. Clint Satterfield, Camaro, 6.008, 243.24; Mike Castellana, Camaro, 6.275, 235.19 def. Jay Payne, Camaro, 11.783, 109.57; Leah Pruett, Mustang, 5.967, 250.09 def. Dennis Radford, Camaro, 6.107, 197.31; Danny Rowe, Camaro, 5.960, 219.08 def. Kenny Lang, Camaro, 6.117, 241.32
In the meantime, check out the new Danny Rowe Racing website at www.dannyroweracing.com
Visit Danny Rowe Racing Sponsors:  www.hottingergroup.com , www.sterlingbridge.ca, www.gainsboroughcapital.com , www.rcdengineering.com, www.impactracing.com, www.hoosiertire.com, www.redlineoil.com, www.ngksparkplugs.com, www.weldracing.com, www.permatex.com, www.promodzone.com, www.competitionproducts.com, www.fstopaerialmedia.com, www.mr-horsepower.com
Visit Danny Rowe Racing supported charities and foundations: http://dwbhshirts.com, http://www.rustyunlimited.com