When $100,000 is on the line, as is the case for the Drag Illustrated World Series of Pro Mod, Aug. 4-5 at Bandimere Speedway, there are extra preparations to be made.
For a tongue-in-cheek Danny Rowe, one of the 14 drivers invited to compete in the main event, that even means some added plans off the track after he envisions his winner-take-all victory.
"First of all, I'm bringing security guards with me to take it all home," Rowe said. In reality, Rowe is well aware of the magnitude of the highly-anticipated Pro Mod event. Such is the case when the first six-figure payday is on the line for Pro Mod drivers.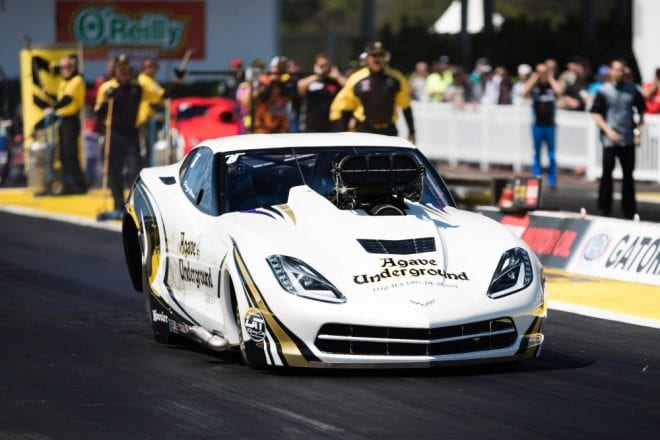 Rowe, a veteran in the sport, is no stranger to high-level Pro Mod racing. The Laguna Hills, Calif. native has finished second on two different occasions in the NHRA Pro Mod series, posting five career wins. But even with the big-time racing experience, a résumé that also includes a West Coast Pro Mod Association championship, racing for $100,000 will be a massive deal when he arrives at Bandimere Speedway for a showdown featuring the top Pro Mod racers in the world.
"It's a special event and the guy who walks away with the win will be the first one to win $100,000 in a Pro Mod race and that has got some major prestige as well," Rowe said.
"We're not going to be pulling any punches and you're always trying to win. This is a whole new one for me. Everybody out there has that winner-take-all mindset every lap when they're racing and now it's multiplied by 100,000."
That means as much preparation as possible, a matter that grows exponentially bigger by the various challenges the race presents. Of course, there is racing at an altitude of nearly 6,000 feet, something that presents its own set of challenges, but the race format is also plenty unique.
There are no actual qualifying runs, only three shakedown runs with the scoreboards off. Not only will drivers not know how potential opponents are running, but they will only be able to gauge their own performance by feel. It's a slippery slope in a location as demanding as Bandimere Speedway, but Rowe also appreciates the fact that the added challenge adds another interesting dimension to the event.
"You're going in with the idea of what you can do but you don't know until you get up there," Rowe said. "It's going to be a challenge but that's what makes it exciting. With the shakedown runs, most teams like us are going to wonder what the track is going to take. I think it's going to be kind of like grabbing dice and throwing them. You go out there with the best of intentions and try to make a perfect run."
A series of perfect runs is the perfect scenario for Rowe, but beating a who's-who list of Pro Mod drivers won't be easy. Along with the 14 drivers invited to compete in Saturday's WSOPM main event, a 15th participant will be voted in by a fan vote online, while the final driver will be determined by who wins Friday's 16-car, $10,000 to win shootout on Friday.
But Rowe – and the rest of the invited drivers – will know their first-round matchup a full month ahead of the race when they are randomly drawn on Drag Illustrated Editor-in-Chief Wes Buck's Live! Show on Wednesday, July 5.
Rowe will be able to think about that opening-round match for a month, something he admits could "be a pain in the ass" if he doesn't approach it properly.
"You try to go out there and perform with a little knowledge of who you're going to race, but that can give you a false sense of security," Rowe said. "This is a whole new ball of wax."
Ultimately, Rowe believes the WSOPM event is further indication of how much the legal Pro Mod class is thriving. The NHRA Pro Mod class continues to boast impressive numbers and competitiveness, while Rowe believes August's WSOPM is the start of something special for that event as well.
"I really believe it's a testament to how strong legal Pro Mod is," Rowe said. "(The Real Pro Mod Association) has done a great job building the (NHRA) series with great sponsorship, and an event like this is an exciting first step. It's amazing to me and I'm really excited for it."