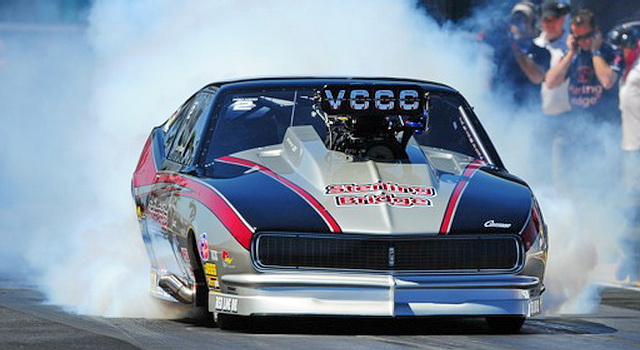 Rolling into the fifth event on the 2012 NHRA Pro Mod Drag Racing Series tour at the legendary Bristol Dragway, Danny Rowe and the Sterling Bridge Pro Mod team are riding a wave of momentum that they hope will propel them to a third straight victory.
Over the years, Rowe has always had a fondness for Bristol Dragway both for its beautiful setting between two mountains and the big time performances Thunder Valley's quarter-mile is capable of producing.
"Last year we ended up going to the final here in Bristol, but we weren't able to seal the deal," says Rowe, who currently sits No. 1 atop the NHRA Pro Mod championship point standings. "We're hoping we can put this Sterling Bridge Pro Mod Camaro right back in the money round this year, and maybe this time around we can turn on the win light."
Rowe, who has won the last two races in a row (NHRA Spring Nationals and Super Nationals), has every reason to feel confident headed into Thunder Valley.
"I really can't say enough about the work this team has been doing and the focus they've had," says Rowe. "We know that it's going to be this mid-season races, these races in the heat of summer, that really make or break us late in the year, and to string a couple wins together is huge.
"Winning a third straight would be nothing short of amazing, but we don't want to get the cart ahead of the horse here. We're not treating this race any different than we have the others. First and foremost, we want to get qualified well. With such a tough field of cars, it's critical that you get qualified towards the top. From there it'll be the status quo – one round at a time.
"Again, I can't say enough about this team and the race car they're giving me," says Rowe. "Jimmy [Rector, crew chief] and this whole group have given me a fast and consistent hot rod – that's all a driver can ask for. I know we've got a car capable of winning, so with a little bit of luck, maybe we'll be hauling another Wally home with us."
The NHRA Pro Mod Drag Racing Series presented by ProCare Rx gets underway Friday, June 15th, with the first round of Pro Mod qualifying at 4:30 PM followed by a second session at 6:30 PM. The third and final round of qualifying will take place at 1:30 PM on Saturday, with the first round of eliminations slated for 4:00 PM.
(Photos courtesy DRR; Click to enlarge)
Check out the brand-new Danny Rowe Racing website at www.dannyroweracing.com
Visit Danny Rowe Racing Sponsors:  www.hottingergroup.com , www.sterlingbridge.ca, www.gainsboroughcapital.com , www.rcdengineering.com, www.impactracing.com, www.hoosiertire.com, www.redlineoil.com, www.ngksparkplugs.com, www.weldracing.com, www.permatex.com, www.promodzone.com, www.competitionproducts.com, www.fstopaerialmedia.com, www.mr-horsepower.com
Visit Danny Rowe Racing supported charities and foundations: http://dwbhshirts.com, http://www.rustyunlimited.com