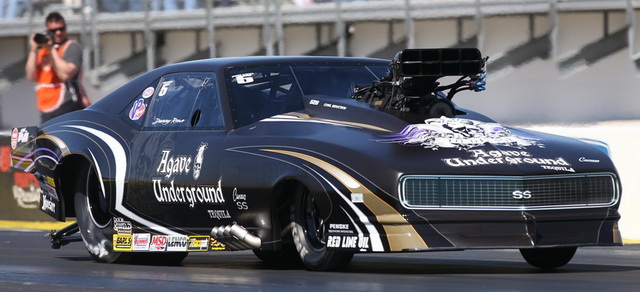 While scoring a win at one of the most historic events on the NHRA Mello Yello Drag Racing Series trail in Gainesville, Florida, would have been fantastic, Danny Rowe and the Agave Underground Pro Mod team are nothing short of thrilled with their 2013 debut at the NHRA Gatornationals.
After qualifying number-two amongst an extremely competitive Pro Mod field with a 5.852-second, 248.98-mph quarter-mile blast, Rowe faced off with fellow supercharger racer, Mike Knowles, in the opening stanza. Rowe was off the line first in the Agave Underground Pro Mod Camaro and never trailed, streaking to victory with a 5.890-second, 248.80-mph pass to easily best Knowles' 6.309/216.34 combination.
In Sunday afternoon's quarterfinal round, Rowe faced off with eventual race winner Von Smith in the Dr. Moon's Rage Camaro. Again, Rowe was off the starting line first, but it wasn't enough to hold off Smith, who made his quickest pass of the weekend, a 5.898 at 245.99, and took the win by a margin of just 0.0018-seconds – approximately 8 inches.
"It was close down there," said Rowe. "I didn't know for sure who won, but then Karen [Rector] came over the radio and told me that he got us. With all these great teams racing in the NHRA Pro Mod Drag Racing Series, you're bound to be in some close races and sometimes you're going to be on the wrong end of the deal.
"Honestly, though, there's no being upset about this weekend," Rowe continued. "To bring out our new sponsor, Agave Underground Tequila, at a race like the Gatornationals, make a bunch of good runs, qualify well and go a couple rounds – it's a great way to get this season started. This whole team worked hard all weekend to give me a great race car; I can't say enough about them. I know we're all looking forward to Charlotte.
"Another thing I cant' say enough about is the crowd at the Gatornationals – it's amazing. We had a steady stream of fans come by the Agave Underground pit and everywhere we went in Gainesville we bumped into race fans that had been out to the track. It made for a great place to bring out a new sponsor and really show them the passion of the fans and excitement of the events here on the NHRA Pro Mod Drag Racing Series tour."
The next stop on the NHRA Pro Mod Drag Racing Series presented by ProCare Rx is the NHRA Four-Wide Nationals, April 19-21, at zMax Dragway in Charlotte, North Carolina.
To learn more about Agave Underground Tequila products, sweepstakes and hosted events, visit www.agaveunderground.com, Facebook.com/AgaveUnderground or Follow @AgaveUground on Twitter.
To keep up with the latest news and results from Danny Rowe Racing, log onto www.dannyroweracing.com
(Photos courtesy Danny Rowe Racing)
ABOUT AGAVE UNDERGROUND
Established in 2009, Agave Underground was started by Mike Ivey, who not only was an avid connoisseur of tequila, but also was intrigued by the story and history behind the making of tequila. Agave Underground has mastered and perfected three unique tastes of their tequilas; Silver, Reposado and Anejo. In addition to establishing distributorship in Minnesota with Wirtz Beverage Group, they are a part of Hensley & Co based in Phoenix, Arizona, and Republic National Distributing Company (RNDC) based in Colorado. For more information about the tequilas and company, please log onto www.agaveunderground.com or call 949.387.9478. Please drink responsibly.