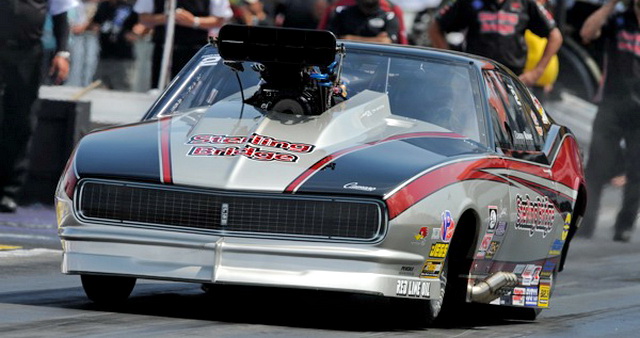 With the start of the racing season just around the corner, Danny Rowe Racing this week announced their planned schedule for 2013, which includes full-time participation in the NHRA Pro Mod Drag Racing Series.
"We're committed to the NHRA Pro Mod Series," says Rowe. "We're looking forward to finishing up our pre-season testing, getting down to Gainesville Raceway and competing for a world championship."
The 2013 NHRA Pro Mod Series will again feature 10 races; be contested at the same venues as in 2012; feature 16-car fields; and provide world championship points and an overall purse, including event purses and a year-end bonus fund, totaling $470,000. The Pro Mod season will open with the NHRA Gatornationals at Auto-Plus Raceway at Gainesville March 14-17. From there, the series will make the first of two visits to zMAX Dragway in Charlotte April 19-21 as part of the NHRA Four-Wide Nationals. The 250-mph machines will compete in the traditional two-wide configuration.
After Charlotte, the NHRA Pro Mod Drag Racing Series returns to the O'Reilly Auto Parts NHRA Spring Nationals presented by Super Start Batteries in Houston April 26-28, the Toyota NHRA Summernationals in Englishtown May 30-June 2, the Ford NHRA Thunder Valley Nationals presented by Tri-Cities Area Ford Dealers in Bristol June 14-16, and, to conclude the first part of the season, the Summit Racing Equipment NHRA Nationals in Norwalk July 4-7.
The second half of the season begins at the most prestigious NHRA event of the season, the NHRA U.S. Nationals presented by Auto-Plus at Lucas Oil Raceway at Indianapolis, Aug. 28-Sept. 2. Following the traditional Labor Day weekend event, the Pro Mods will head to Charlotte for the NHRA Nationals Sept. 13-15 and the AAA Insurance NHRA Midwest Nationals in St. Louis Sept. 27-29 and conclude the season Oct. 24-27 at the NHRA Nationals in Las Vegas.
Special appearances will be announced at a later date, prior to the start of the season.
(Photos courtesy Danny Rowe Racing, Click to enlarge)
2013 NHRA PRO MOD DRAG RACING SERIES SCHEDULE
NHRA Gatornationals – March 14-17 Gainesville
NHRA Four-Wide Nationals (Note: will not race four-wide) – April 19-21 Charlotte
O'Reilly Auto Parts NHRA Spring Nationals – April 26-28 Houston
Toyota NHRA Summernationals – May 30-June 2 Englishtown
Ford NHRA Thunder Valley Nationals – June 14-16 Bristol
Summit Racing Equipment NHRA Nationals – July 4-7 Norwalk
NHRA U.S. Nationals – Aug. 28-Sept. 2 Indianapolis
NHRA Nationals – Sept. 13-15 Charlotte
AAA Insurance NHRA Midwest Nationals – Sept. 27-29 St. Louis
NHRA Nationals – Oct. 24-27 Las Vegas