One year ago, Top Fuel rookie Richie Crampton was a crewmember for Morgan Lucas Racing that thought he was living the dream when he was asked to fill in and test a dragster for MLR driver Brandon Bernstein. This Monday at Lucas Oil Raceway at Indianapolis, Crampton was crowned champion of the 60th annual U.S. Nationals, making him the newest king of the drag racing world.
"Just like so many things that have happened to me this year, I can hardly believe what's going on," Crampton said. "I'm the luckiest guy in the world, bar none. Just to be driving a Top Fuel car is the dream come true for me. Then we were the 100th different Top Fuel winner in Englishtown (N.J.), and now we've won the 60th annual U.S. Nationals. That's two pretty historical moments we got to be a part of.
"After Englishtown I sat down and looked at the 99 other drivers that have won Top Fuel races in the NHRA, and it was so humbling to think I was a part of that group. I'm going to find time to look at all the Indy winners and I'm sure I'll have the same feeling. This is crazy stuff for a kid from Adelaide (Australia). I'm a long way from home."
Just as it was when he won Englishtown, Crampton had nothing given to him on race day. He started the day with a 3.782 to 3.795 win over Billy Torrence to set up a second-round date with reigning world champion Shawn Langdon. With the pressure on, Crampton peeled off a daring 3.769 at 324.59 mph, his quickest pass of the race to that point, to get past Langdon's powerful rail.
The semifinals pitted him against Tony Schumacher, who dismissed Crampton earlier in the weekend in the final round of the $100,000 Traxxas Shootout. This time Crampton got the better of the seven-time world champion, winning by .001-second after a pass of 3.784 seconds at 322.81 mph to Schumacher's 3.788 at 325.69 mph.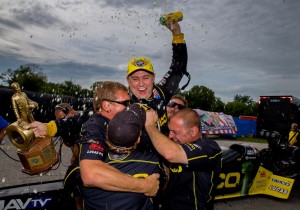 "That might have been the biggest single round-win of my career," Crampton admitted. "All we heard leading up to that race was that Schumacher was trying to win his 10th Indy trophy. Well, the guys in this pit weren't going to give in to anything."
Beating Schumacher set up a huge final against Steve Torrence, who was runner-up in this race one year ago. With everything on the line, Crampton dug down and posted both his best reaction time of the race (.062-second) and quickest and fastest pass of the weekend, beating his rival with a 3.766 at 327.98 mph to a 3.799 at 327.82 mph.
"The GEICO dragster was like a bracket car all weekend; it was up to me not to screw it up," Crampton said. "It's pretty special to put your name on the list of U.S. Nationals winners. Big thanks to Forrest and Charlotte Lucas, GEICO, Lucas Oil, and of course Morgan (Lucas) for letting me drive this car.
"Indy is hallowed ground for drag racers and now we've left our mark. It feels wonderful."
(Photos courtesy MLR/Rebilas/Rhodes; Click to enlarge)