Street Car Super Nationals: Anarchy at the Arch III continued its tradition of unforgettable shows this weekend at Gateway Motorsports Park as Jason Scruggs and his 1969 Camaro Pro Mod edged out Brandon Lewis' '57 Chevy Belair Saturday night in the Flying A Outlaw Pro Mod final. Scruggs laid down a pass of 3.613 seconds at 215.65 mph after qualifying fourth. In the Precision Turbo Pro Nitrous v. Pro Boost class, Thomas Eddie Rogers came from all the way from seventh to earn the victory in his '69 Chevelle over Jim Bell. Rogers' ran a 3.936-second lap at 186.90 mph to end the night in the Winner's Circle.
Once again, an expertly-prepared racing surface at Gateway allowed racers literally from all over the world to show off in hot, humid conditions as both heads-up and bracket racers earned personal bests in nearly every class.
The same crew that prepped a near-perfect track also displayed their ability to protect those racers. "The Captain" Terry Barkley, top qualifier in the Pro Nitrous v. Pro Boost class, was involved in a horrific wreck Saturday evening as his 2014 Camaro got loose, crossed into his opponent's lane, hit the wall, and exploded. The car (seen above) was demolished, but Barkley was able to walk away from the crash
Another huge story for the weekend involved Justin "Big Chief" Shearer, the star of the Discovery Channel's Street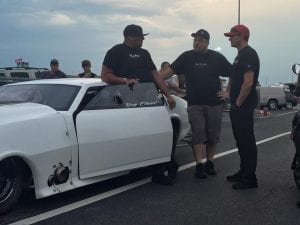 Outlaws program. The Oklahoma native and his already near-mythical CrowMod arrived unexpectedly Thursday to watch the event and then decided to enter. Shearer is entered in the NHRA US Nationals in Indianapolis and ran in full NHRA-mandated trim for the first time while racing at Gateway. Big Chief qualified ninth in the class with a pass of 4.35 seconds and earned the E1 round win Saturday.
In addition to Scruggs and Rogers, the following drivers won the event in their respective classes: Morrow Bros. Radial v. The World, Josh Klugger (3.952, 201.82 mph); Fuel Tech Limited DR Radial, Matt Bell (4.239, 180.79 mph); Mickey Thompson 275 Radial, Cecil Whitaker (4.575, 153.56 mph); MMR Outlaw 8.5/MX 235, Justin Cynnet (4.724, 156.10 mph); MagnaFuel 7.0 Index, James Thurston (7.041, 103.50 mph); Calvert Racing 6.0 Index, Kevin Prior; Ross Racing Pro 7.0, Cory Millet (7.016, 191.76 mph); Phenix Industries Pro 7.5, David Shaffer (7.501, 164.71 mph); Hot Heads Pro Comp, Gary Leever (8.558, 154.32 mph); Quick Fuel Pro Gas, Greg Hillyer (10.068, 129.75 mph); Victory NSS, Randy Van Hook (10.926, 122.86 mph); Jr. Dragster 6-12, Tori Bryan (8.980, 72.32 mph); and Jr. Dragsters 13+, Trenton Willis (7.963, 79.21 mph).
The granddaddy of them all, the Street Car Super Nationals XII, is scheduled for Nov. 17-20 at The Strip at Las Vegas Motor Speedway.