Paying homage to the golden age of drag racing and ensuring that nostalgia cars have a place to run in the future has become a mission for Rocky Pirrone, who attended his first drag race with his father back in 1965.
"My dad used to run supercharged gassers on the East Coast, so my early time was spent around those cars," says Pirrone, a Philadelphia native. "In '69, my dad was doing the transmission for the original "Frantic Ford" Funny Car and I helped out with whatever I could, grabbing wrenches, holding parts, stuff like that. I got the nitro Funny Car bug."
Pirrone cherishes those childhood memories of racing and quality time spent with his father, and those same memories inspired him to build a tribute to the Frantic Ford.
Once in his teens, Pirrone began his own racing endeavors and after dabbling in competition with a small-block Chevy he earned his license to drive a blown car in '81 when he picked up a '33 Willys coupe with a supercharged 426 Hemi. Ironically, the car had previously belonged to his father, so Pirrone jumped at the chance to buy it back and make it his own.
Still, he recalls getting a lot of criticism about the car, as people would often ask, "Why would you bring an old car like that to race?" But Pirrone's passion for nostalgia remained undeterred and by the 1980s he'd teamed up with some of the bigger-name teams of the day, including the Wild Bunch. Over the next few years, Pirrone says he traveled constantly, bouncing from Canada to Florida and back again.
By the late '90s, Pirrone also noticed the nostalgia drag racing niche had become a huge hit with spectators, especially the nitro-fueled Funny Cars that were so wildly popular in the '70s. As they regained a stronghold among fans, he vowed to preserve the history and heritage of the classic machines.
"I got it in my mind to put on a show. I knew we could get paid to go racing to entertain fans, but too many tracks were scared (of running nostalgia nitro cars) and nobody wanted to pay a whole lot of money." So instead of building a nitro car as originally planned, Pirrone put together an alcohol-burning '77 Pontiac Trans Am Funny Car. "We won every possible meet you could win on the East Coast with that car, the "Screamin' Eagle," and we still have it today," he says.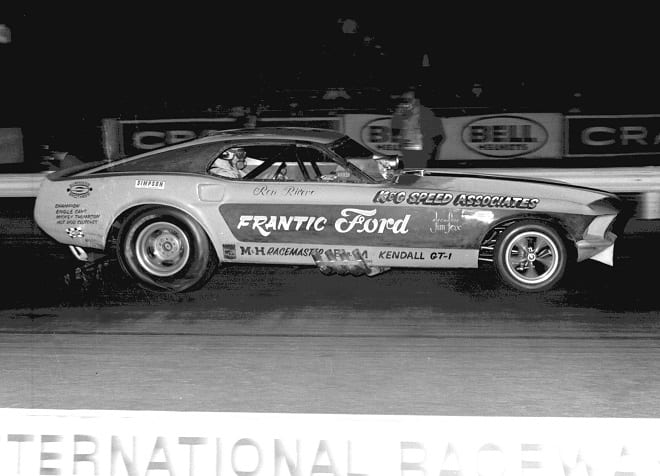 Pirrone's desire to run a nitro car never faded over the years, however, and by 2012 he got to work fulfilling his dream. Longtime friend and fellow nitro Funny Car guru Al Liebmann came on board as a marketing partner and Pirrone credits Liebmann for being instrumental in contacting Jim Fox, the owner of the original Frantic Ford, about doing a revival build. Fortunately, Fox loved the idea and Pirrone and team quickly got to work in starting their long-awaited tribute.
Wanting to stay true to the original Frantic Ford's roots, the guys molded their fiberglass body from an original '69 Ford Mustang. "It's a wide-chassis Funny Car, about 12 to 15 inches wider than most modern nostalgia Funny Cars, built by Steve Grunewald," Pirrone proudly proclaims. Finishing fabrication was handled by Pirrone and Ellershaw Racing. Pirrone also made sure the chassis was period-correct from the '70s, as is the 'glide-style Boninfante clutch mated to a two-speed Lenco transmission. Pirrone's Frantic Ford is powered by a nitromethane-fed, blown 426 Chrysler Hemi motor, complete with iron heads, aftermarket KFX billet block, and an old-school Mallory/MSD magneto. Wrapped in M&H slicks, the rear wheels are actual magnesium units from an early '70s-style nitro Funny Car. The only truly modern aspect of the car is required safety equipment for it to be legal to run at NHRA and IHRA tracks.
Before long, the famous East Coast Ford fuel flopper was back to live a new life in a new body. Jerry Newman now manages the tune-up and a team of about 20 people are on point at any given time to keep the car running at its best. "We work hard at the shop, we race hard at the track, and then at the end of the day, we party hard!" laughs Pirrone.
Driving the Frantic Ford is a visceral experience for Pirrone, who especially enjoys the violence of driving something so
old school and slightly primitive. "The Frantic Ford is a 6.50 at 220-mph car and we geared it that way on purpose," he notes. "But even despite that, with this nitro Funny Car, when you hit the pedal it's like the gates of hell open up and suddenly it's Armageddon. That feeling of 'wow' is what I really love."
Not one to go only halfway on anything, Pirrone and team soon added another nitro Funny Car to their stable—a '70 Super Camaro—and they currently campaign six cars in total. "We set it up so we could match race the two Funny Cars and attend NHRA events, hot rod reunions, things of that nature," Pirrone explains of the quarter-mile, exhibition-style racing the team specializes in. Currently in their third season of racing, Pirrone is pleased that their schedule and fan following have continued to grow each year.
"I cut my teeth in the stands watching Jungle Jim and guys like him shoot big header flames and do long, smoky burnouts," Pirrone reminisces. "That's what got me wanting to do nitro Funny Car racing and we're here to make big flames and cater to the entertainment aspect. We try to bring back what the '70s were all about, putting on a truly great show. Nowadays, it's all about competition, and we get so many people thanking us for bringing back the old era of racing."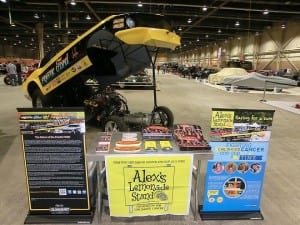 It's not only about putting on a show, though. In addition to doing their jobs on the track, Pirrone and Liebmann feel like they also have a responsibility to their community. So they've found ways to incorporate charitable work into the busy race program and often commit the Frantic Ford for special promotional appearances.
"We work with three primary charities: Alex's Lemonade Stand, Shelby's Way, a suicide prevention organization, and Artie's Party, which raises money for the Ronald McDonald House," Liebmann says. Through their efforts over the years, the Frantic Ford team has raised almost $10,000 in donations.
For Pirrone, nostalgia Funny Car racing is where his heart has always been; it's been his passion since childhood. "We did nostalgia racing before it was popular. It's so neat for me to sit down now and say, 'Wow, look what this team's done; look where it's come!' It's great to see it going and growing."