Check out this new 2019 Chevy Camaro completed at RJ Race Cars & Quarter-Max Chassis & Racing Components for Jeg Coughlin Jr. and the JEGS/Elite Motorsports NHRA Pro Stock team.
The RJ Race Cars full tube 4130 chromoly chassis features a newly re-designed pro stock chassis for 2019. The exterior of the car features an all carbon fiber body from Five-Star, with the signature JEGS yellow paint by SD Enterprises. This highly sophisticated modern day Pro Stock car is optioned out with the latest technology and high quality Quarter-Max products from tip to tail.
The rear suspension features a custom 11″ RJRC built fabricated 4130 rear end housing with Strange 2-piece axles and carbon fiber brakes, state-of-the-art 4-link suspension with RJ extreme adjustable billet titanium 4-link chassis brackets, RJ extreme 2″ anti-roll bar, RJ extreme pro series wishbone, RJ titanium wheelie bars with QM load cell sensor, Weld Delta-1 rear wheels, and Penske inerter rear shocks from Adam Lambert at Precision Racing Suspension.
The front suspension features Quarter-Max threaded adjustable strut mounts, the new Strange billet aluminum steering rack and pinion, Penske triple adjustable struts, Strange pro carbon brakes, and Weld V-Series front wheels.
The interior was built custom for Jeg. Inside is a fully loaded lightweight carbon fiber interior featuring 46″ wheel tubs, flat sheet panels, tube protectors, RJ pro pedals, and even a sun visor. Cockpit safety upgrades include a RJ carbon wraparound seat with Simpson Platinum 7-point seat belts, and a Butler Built safety head pad system. A highly optioned Racepak data system will provide over 50 channels of data for the team to analyze every run.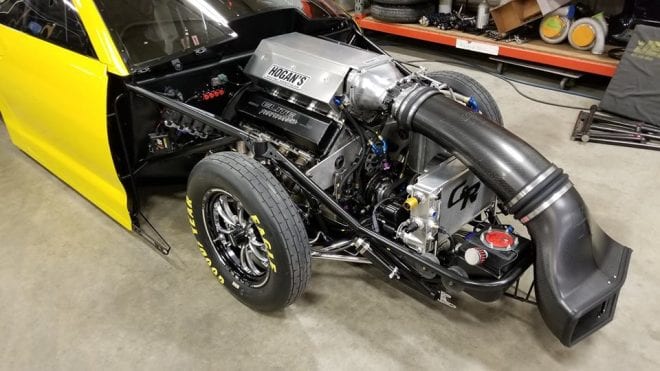 Under the hood features an Elite Performance built NHRA Pro Stock legal 500 cubic-inch DRCE naturally aspirated 10,500 RPM engine that puts out about 1400 horsepower burning Sunoco Race Fuel. The fuel system consists of a 1-1/2 gallon fuel cell featuring the latest Aeromotive fuel pump, filter, and regulator, that will be managed by the Holley EFI system. Other features include custom stainless headers, Hogan's intake, CFE cylinder heads, and K&N Pro Stock induction package.
Special thanks to car owner Mark Stockseth for all his support of RJ Race Cars and the Elite Motorsports Team.
Jeg Coughlin Jr., a six-time series champion, fresh off a win at the Arizona Nationals in Phoenix plans to debut the new car next week at the 50th Amalie Motor Oil NHRA Gatornationals March 14-17 in Gainesville, Florida.