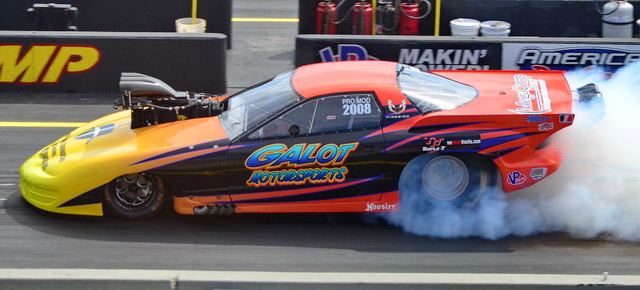 GALOT Motorsports driver Kevin Rivenbark participated Aug. 10, in his first Extreme Outlaw Pro Mod (EOPM) race at Virginia Motorsports Park in Petersburg, VA, and also completed testing to obtain his NHRA license.
In a field of more than 20 cars, Rivenbark qualified sixth after a best eighth-mile run of 3.877 seconds at 190.40 mph in his supercharged 2002 Pontiac Firebird.
Moving into eliminations, Rivenbark ran an impressive 3.858 at 190.83–an identical elapsed time to his opponent–however, the time slip showed Rivenbark left the line a hundredth of a second later and he lost to a holeshot.
Regardless, with GALOT teammate Todd Tutterow managing the car, Rivenbark returned later that evening to make several quarter-mile passes toward obtaining his NHRA competition license and made his quickest pass to date at 5.93 seconds and 237 mph.
Quickly making a name for himself as an up-and-coming driver in both ADRL and X-DRL Pro Mod classes, Rivenbark's hard work, positive attitude and consistency are rapidly earning him the respect and attention of the racing community.
With licensing now complete, he plans to drive at several NHRA races this year in the Pro Mod class.
(Photos by Ian Tocher; Click to enlarge)