The National Hot Rod Association racers invaded Las Vegas last weekend for the first of two national events at The Strip at Las Vegas Motor Speedway, the SummitRacing.com NHRA Nationals. Racing was exciting all day, despite typical Sin City weather that challenged crew chiefs and drivers. K&N Filters crowned the champion of their annual K&N Horsepower Challenge on Saturday, and execs from Summit Racing Equipment passed off checks to the SummitRacing.com Nationals champions on Sunday. In the Pro classes, one winner was a legend of the sport, one a driver in his sophomore season, and the final champ was picking up her second big check of the weekend.
The dice have fallen, the time slips have been handed out, and the teams have slept off a hot race day in preparation for "Monday Nationals" testing. It's time to recap the best and worst moments from the SummitRacing.com NHRA Nationals.
Enders-Stevens Obliterates Las Vegas; Completes Historic Sweep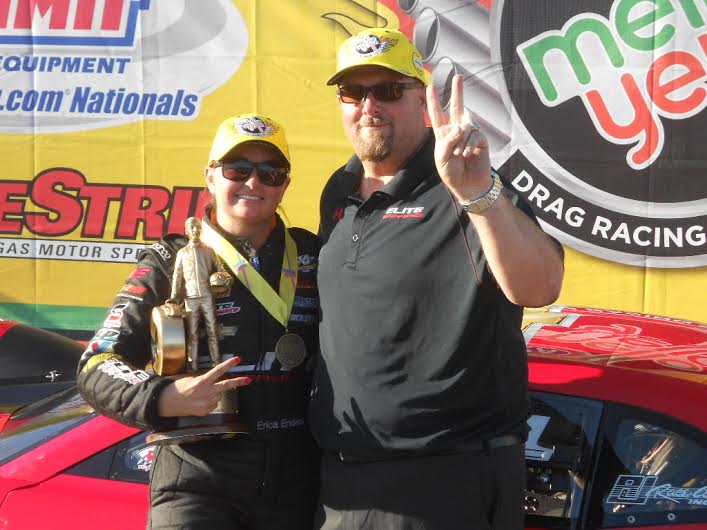 Elite Motorsports driver Erica Enders-Stevens turned in another brilliant driving performance to continue her run of success at The Strip at Las Vegas Motor Speedway, winning the SummitRacing.com NHRA Nationals on Sunday to secure a second consecutive double-up at The Strip.
Enders-Stevens also won the K&N Horsepower Challenge on Saturday, completing the Challenge/national-event sweep for the second year in a row. The sweep earned Elite Motorsports a $25,000 bonus to go with the $50,000 earned from winning the Challenge.
"I guess we can start saying Vegas is our lucky track," Enders-Stevens said. "Winning is very challenging, and to be able to do it at both Vegas races last year and then come back here and do it again shows what we're capable of. But it's also very surreal. There are so many tough competitors out there, and the bar has really been raised. I'm just proud of my team.
"It's certainly a high-pressure situation, but my guys thrive on it. They perform very well under it, and I'm so proud of them."
The Las Vegas winning streak has reached 18 round-wins, including last fall's national event. She last lost a round here in October 2013 when she was with another team. She also became the first driver to sweep the Challenge and national event in consecutive years since Bob Glidden did it in 1987-88.
"I'm just really proud for Elite Motorsports and Elite Performance," Enders-Stevens said. "My guys have worked so hard and continue to give me a great race car, which has been a struggle at the start of this year. I think we've got our hot rod back."
The victory was Enders-Stevens' 13th of her career and first of the season. A test session following the Four-Wide Nationals in Charlotte two weeks ago went a long way in her Elite team overcoming troubles with a new tire and new fuel for 2015.
Sunday, though, Enders-Stevens had to undergo her own troubles. Flu-like symptoms, including a sore throat and fever, left her dehydrated before the race, and she took intravenous fluids before the first round. She took another IV later in the day.
"I just really had to focus on the mental side of it," Enders-Stevens said. "Anybody can relate to feeling so bad you don't even want to get out of bed. To have to get in a race car on a 130-degree racetrack in a 15-layer firesuit certainly tests you. I just had to be positive.
"I asked my crew chiefs (Rick and Rickie Jones) to do their best to pump me up on the radio, so we had some fun out there. I give them the credit today. They gave me a consistent race car. Granted, we did win on a couple of holeshots, but that's my job as a driver. You don't get sick days here."
Enders-Stevens responded with holeshot wins in the semifinals and final. She had a bye in the first round after Matt Hartford failed to make the call, and she then beat Jimmy Alund with a pass of 6.661 seconds at 207.27 mph to Alund's 6.697 at 206.70 mph.
She then ripped off a .001-second reaction time in the semi's to overcome Greg Anderson's quicker 6.671 at 208.71 mph with her run of 6.673 seconds at 207.53. The difference was on the Christmas Tree, where Anderson's light was .055.
In the final Enders-Stevens and Vincent Nobile — opponents in the K&N Horsepower Challenge final on Saturday — made identical 6.674-second passes. Enders-Stevens, though, had a .024 light, a tick quicker than Nobile's .040.
"I don't want to dwell on being sick," Enders-Stevens said. "It's not that big a deal. Everybody gets sick. They took care of me, and we were able to get it done today and that's all that matters."
Racer Who Made the Best of the Worst Luck: John Force
http://instagram.com/p/1ZcfByOBdY/?taken-by=courtneyforce
Last year's championship runner-up hasn't exactly been having a dream start to his 2015 season. Force struggled to escape first round in the first four races of the year with new manufacturer Chevrolet, new sponsor Peak Antifreeze and a new crew led by new crew chief Jon Schaffer. Everything came together on Sunday, though it wasn't a dominant win by any means. Force was the slowest winner in the first and third rounds, and was second-slowest behind DeJoria in the second round. A last-minute find in the pits called for a motor swap with assistance from Robert Hight's Auto Club team, then their tow strap broke on the way to the starting line for the semifinals, forcing the already-rushed crew to push Force's Camaro Funny Car the rest of the way. Even though Hight looked to be the favorite based on his Sunday performance and winning final round record over Force, the 16-time champion pulled through to win by just two thousandths of a second.
Best Comeback: Larry Dixon
Just weeks after walking away from a gnarly accident at the Gatornationals, three-time Top Fuel champion Larry Dixon rebounded forcefully on Sunday when he went all the way to the final round. Though he dropped the final to Richie Crampton, Dixon and his Tiger team started out eliminations strong when he outran Tony Schumacher in the first round. He beat six-time IHRA Top Fuel champ Clay Millican and Gainesville winner Spencer Massey before falling to Crampton. Though obviously referring to the Gators incident, the "Best Comeback" title is also applicable to Dixon's 15th qualifying effort.
Honorable mention: Alexis DeJoria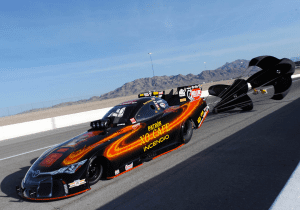 Alexis and her Tequila Patron Incendio team were the talk of the pits before racing action even began. The team's hauler suffered an electrical fire during set-up on Thursday. The crew worked to get the Patron Funny Car and spare car away from the flame, then worked overtime to repair any damages. A handful of teams lent their support during the ordeal. DeJoria went on to qualifying fourth, then beat pal Courtney Force in the first round and teammate Del Worsham in a remarkable second-round pedalfest, but wasn't able to recover to catch John Force in the semifinals.
Best Event Performance (Sportsman): Jimmy DeFrank
If Erica Enders-Stevens' performance wasn't so impressive, it would be easy to award the best flatout event performance title to Jimmy DeFrank. The California racer scored his second double-up when he turned on the final round win lights in Super Stock and Stock Eliminator. By the end of eliminations on Sunday, DeFrank collected 13 winning time slips.
Tightest Pro Class: Pro Stock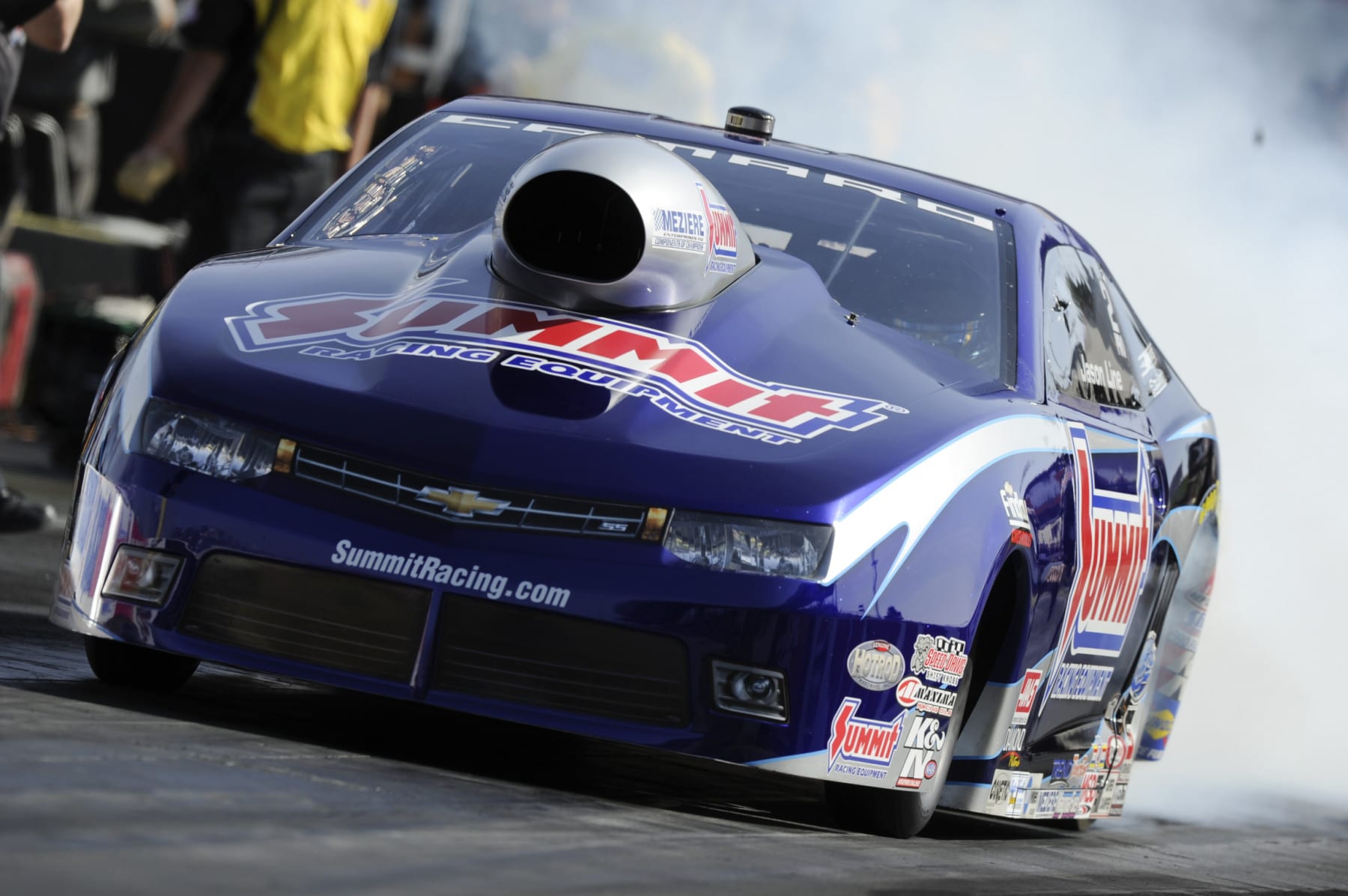 The racing in Pro Stock was some of the most exciting action we've seen in the class in some time. Three of the first-round matches were decided via holeshots. Finalist Vincent Nobile beat Chris McGaha by four thousandths of a second in the second round. Enders-Stevens used a .001 reaction time and 6.673 elapsed time to take down rival Greg Anderson and his 6.671 in the semis. The final round was just as exciting, as Enders-Stevens and Nobile both lit up the scoreboards with 6.674-second elapsed times.
Larry Morgan's Luck Runs Out
The luck ran out for FireAde Racing Pro Stock driver Larry Morgan when he shook the tires in his first-round matchup on Sunday with Jimmy Alund at the SummitRacing.comNHRA Nationals at The Strip at Las Vegas Motor Speedway, giving the win to the Swedish driver.
Morgan was coming off a victory at the NHRA Four-Wide Nationals two weeks ago in Charlotte and was running well in Las Vegas, but the generator in the team's hauler failed Sunday morning, leaving Morgan and his team without power. That meant they had no computer from which to tune his Chevrolet Camaro, and it bit Morgan in the first round.
His Chevy shook the tires almost immediately at the hit, while Alund made a clean 6.695-second, 206.42-mph to move to the second round. Morgan's official numbers were 12.972 seconds at 65.81 mph as he coasted across the finish line.
"Well, I guess we went from hero to zero, right?" Morgan said with a chuckle. "I bet I won't get as many texts this week as I did in Charlotte. That's part of racing, I guess. I wish we could've done better for FireAde and Ron Thames and everyone there. We'll get 'em next time."
Morgan ended a long winless streak in Charlotte and, much to his surprise, received hundreds of congratulatory texts and phone calls. His good fortune continued in Las Vegas, where he made four quick passes and qualified No. 7.
But without a computer, the best Morgan and his team could do was guess at a tune-up.
"We were worried about the generator this morning, trying to get it fixed," Morgan said. "We just missed it. What can I say? We did the best we could, but we probably had too much gear in it.
"That doesn't change anything with my confidence in what we're doing. We've got a great sponsor, great horsepower, great people supporting us. We'll be OK, I promise you."
(Photos by NHRA, Gary Nastase, Geiger Media, DI Archives)