With the idea of building a better world tour – to celebrate the 50th anniversary of one of the most famous AA/Fuel Altereds of all time – Rat Trap Racing has retained the services of Thacker & Friends to help with the logistics, media relations and sponsorship. The Rat Trap World Tour kicked-off last month at the historic March Meet in Bakersfield, CA, and will soon head to Europe for a series of events, including two at Santa Pod, England and another at Hockenheim, Germany. Additional dates are being added.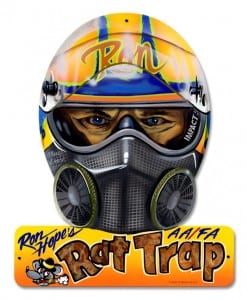 "With four race cars and five members of the family driving, we're as busy as the Pied Piper," said Rat Trap Racing team owner Ron Hope. "It gets pretty hectic, and that's why we're thrilled to have the experience, enthusiasm and resources of Thacker & Friends to help us with our anniversary world tour. Tony and his team will be laying the groundwork for the European Tour, helping with scheduling and transportation, handling hospitality, and lining up some additional sponsors. Thacker & Friends are the best there are at this kind of work."
"This is a dream project," said Tony Thacker, principal of Thacker & Friends. "I was at the very first race at Santa Pod, on Easter in 1966, so to be involved in the car's return for not only its 50th Anniversary, but also for the 50th Anniversary of Santa Pod, is fantastic. And, Rat Trap Racing is a wonderful addition to our roster. Ron, his whole family, and the team are great people and dedicated racers. The world tour is a project where we can promote hard because the car is so legendary with fans all over the world. The reaction has been overwhelmingly positive and we're looking forward to a fun tour."
There have been a series of record-setting Rat Trap AA/Fuel Altereds. The first was constructed circa 1965; however, today's Rat Trap is a continuation of the car developed by chassis builder Dennis Watson in 1968. Unlike the early cars that were conventional in design, Watson's car was revolutionary, with independent front suspension, a nitro-burning Chrysler Hemi, and distinctly wild paint scheme. The Rat Trap was one of the four cars that participated in the celebrated Fuel Altered Tours of 1970, '71 and '72.
The Rat Trap Racing runs two Fuel Altereds and two land speed roadsters. The cars and team race regularly for nine months of the year, in both the U.S. and Canada. They have also made previous appearances overseas, having been invited to participate at the prestigious "Goodwood Festival of Speed" in England, and at Rod Millen's "Leadfoot Festival" in New Zealand. Rat Trap Racing is based in Franklin, TN.
"In racing, it's the team work that makes the difference. Rat Trap Racing has a terrific crew and fabulous sponsors, and adding Thacker & Friends makes us even stronger," concluded Hope. "We can't wait to see all our fans around the world."
For the full Rat Trap World Tour schedule, please visit: www.RatTrapRacing.com/schedule