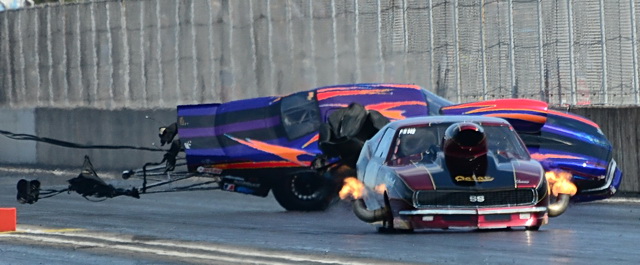 By Ian Tocher
I've often heard people say things like, "I would be a good race driver; I like to go fast," or "It's all about the car, the driver doesn't do that much," or the best one of all, "How hard can drag racing be, all you have to do is mash the gas and go straight!"
Well, tell that to Monte Grace, or Shannon Jenkins, or John DeCerbo (above), each of whom experienced serious crashes at this past weekend's ADRL season opener at Rockingham Dragway. They all fortunately walked away from the carnage with no serious injuries, though Jenkins and especially Grace were feeling far from a hundred percent the following day.
But DeCerbo, who arguably took the hardest hit of all, emerged completely unscathed from the fiery wreck of his Tim McAmis-built '68 Camaro. In fact, not one hour later he even said he felt "good."
As I watched DeCerbo's crash unfold through the lens of my Nikon (see the full sequence at CompetitionPlus.com), I was astonished by the violence and ever-mindful of the genuine danger the driver was in as he bounced and spun his way toward me.  When the battered car finally came to a stop just short of my position near the quarter-mile mark I trained the camera's focus on the cockpit, honestly not knowing whether I'd see DeCerbo fighting to extract himself, or worse, slumped unresponsive in his seat.
Thankfully, and to my great amazement–and admiration–I instead watched him remove his gloves and casually toss them on the dash while popping the driver's door open even before the first rescue workers arrived literally seconds after the car slid to a halt. He then set about unbuckling the chin strap to his helmet, looking no more hurried or flustered than he might have been at the conclusion of a successful pass. Finally, he climbed over the roll cage and stepped out of the car, already with his ball cap in place, and immediately walked to the front of his now-crushed Camaro to inspect the damage for himself.
Honestly, I believe I felt more of an adrenaline rush from watching this drama unfold than DeCerbo displayed after enduring probably a 180-plus-mph meeting with an unforgiving Rockingham wall.
I spoke with DeCerbo shortly after the accident and could tell it was no act, no result of shock or trauma that would catch up with him later. He appeared as cool as you might expect; interested in seeing the photos displayed on the tiny screen of the camera, but decidedly unmoved by the images other than to see if he could figure out what might have triggered the crash.
And that, ladies and gentlemen, is the difference between a real race driver and most of us mere mortals. Where we might be kissing the ground to celebrate just remaining alive, DeCerbo and his ilk are able to mentally compartmentalize even the most shocking and violent turns of events while issuing the age-old comment: "Well, that's racing."
Remarkably, too, it appeared DeCerbo's car was as unimpressed by the accident as its owner and driver. By the next day it was well on its way to the Tim McAmis Race Cars shop in Hawk Point, Missouri, where by Thursday a Facebook photo (below) showed it already was receiving a new front clip and would no doubt be ready in time for testing and the next ADRL race at South Georgia Motorsports Park in mid-April.