Del Worsham, Jack Beckman and Tommy Johnson Jr. will decide the NHRA Funny Car world championship Sunday at the Auto Club NHRA Finals.
Worsham and Beckman, who have battled for the title during the six-race Mello Yello Countdown to the Championship, gave fans at Auto Club Raceway at Pomona today a sneak preview of what tomorrow's 11 a.m. eliminations could bring by closing out qualifying with a powerful side-by-side 3.89-second race.
Series leader Worsham will take a 36-point lead over Beckman into the final race of the season. Friday qualifying leader Johnson, who is a long shot at 96 points back in his Make-A-Wish Dodge Charger, needs to have his two rivals lose early and then win the race and set a national record to have any chance at the title.
Worsham, who qualified third in his DHL Toyota Camry, will meet Tony Pedregon in the opening round and No. 2 qualifier Beckman will face Chad Head. Beckman, who entered the playoffs as the top seed and had a record-setting regular season at the controls of his Infinite Hero Foundation Dodge Charger R/T and had the quicker car in tonight's thrilling final run, will need to go two rounds more than Worsham, who got hot with three victories in the Countdown playoffs, to win the series crown.
"It was a great qualifying effort for the DHL Toyota team," said Worsham, who could meet Beckman in a critical semifinal matchup if the two drivers advance through the first two rounds. "We have the Camry running strong and I am proud of our effort. We will go into tomorrow and lay it all out on the line."
All three drivers made runs during qualifying that bring the possibility of a national E.T. record into play. With weather conditions forecasted to be in the mid-60s on Sunday, conditions should set up perfect for one of the teams to set the mark and grab the 20-point bonus.
"It's an unbelievable time to be a fan of nitro Funny Car," Beckman said. "I really like the position that we are in. It's nerve racking because we aren't leading the points, we have to be two rounds better than another car to capture the championship. And this is the scenario where it's fourth down, the clock has almost run out and you're going to get the ball again and you have to be perfect. And I think we can be perfect."
Ron Capps (Funny Car), Antron Brown (Top Fuel), Greg Anderson (Pro Stock) and Jerry Savoie (Pro Stock Motorcycle) were No. 1 qualifiers in their categories at the NHRA season-finale near Los Angeles.
Newly crowned Top Fuel world champ Brown took his seventh No. 1 of the season and 44th of his career by posting a 3.721 at 326.71 in his Matco Tools dragster. He will meet veteran racer Cory McClenathan in round one as he goes for his eighth win of the season.
"We just want to go out there and compete," Brown said. "Coming into this race as the champs we get to enjoy this with the fans. That's what we've been doing this weekend. We are trying to suck it all in and enjoy this moment because they don't come very often."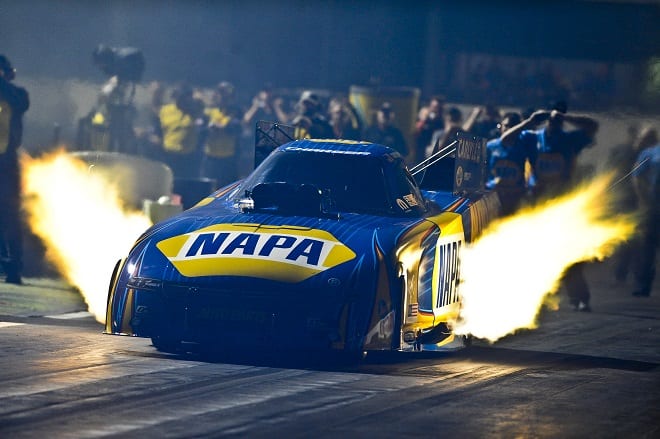 Capps, who was eliminated from championship contention after Worsham and Beckman made a qualifying attempt Friday, took his first No. 1 position of the season and 17th of his career with a career-best performance of 3.886 at 326.87 in his NAPA Auto Parts Dodge Charger.
"It's an E-ticket ride right now in Funny Car and you have to be on your game and have a lot of luck," said Capps of his blazing track record run. He will race local favorite Jeff Arend in the opening round.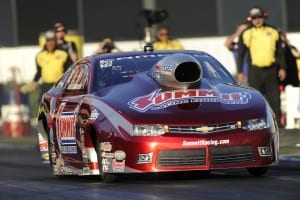 Anderson powered to his fifth No. 1 of the season and 80th of his career in Pro Stock, clocking a 6.490 at 213.03 in his Summit Racing Chevrolet Camaro. It is his ninth No. 1 at Pomona and he will face Matt Hartford in the opening round as he tries to lock down the second position in the points order behind recently crowned Pro Stock world champ Erica Enders.
"The attitude has changed, it's just relax and have fun," Anderson said. "This is one of my favorite places to race. When the sun goes down it's a magical place to race. You can run fast and set records here. We got more aggressive tonight. Even though we're not going to walk away as the world champion it's been a good year. We can close out the year with a good day and get a win at the last race in a carburetor for Pro Stock."
In Pro Stock Motorcycle, championship hopeful Savoie rode to his third No. 1 qualifying performance in a row and fourth in the Countdown playoffs, posting a 6.803 at 197.51 on his White Alligator Racing Suzuki. He will meet Mike Berry in the first round as he tries to overcome a 38 point deficit to series leader Andrew Hines.
"Things are clicking really well," said Louisiana alligator farmer Savoie, who cut series leader Andrew Hines advantage from 46 to 38 during qualifying. "Tim (Kulungian, crew chief) has a good handle on the bike. We got a little aggressive and we tried a new combination and it freed up a little more horsepower. To be a true champion you have to be consistent and we really haven't been this weekend until today. We'll just see how it plays out tomorrow."
Series leader Hines qualified fifth with a 6.837 at 195.73 on his Screamin' Eagle Vance & Hines Harley-Davidson and he will meet Michal Ray in round one. Title long shot Eddie Krawiec qualified eighth and will face Scotty Pollacheck in the opener.
Savoie needs to go two rounds farther than Hines to win the championship. Krawiec needs Savoie and Hines to lose in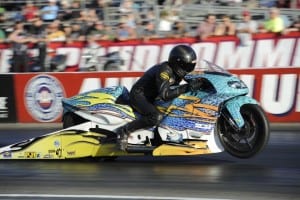 the first round and then go on to win and set a national record. Hines just needs to maintain his position and hope his two rivals lose early. All three riders are on the same side of the ladder, which will make things interesting for sure.
Friday leader Karen Stoffer dropped to second in the final order with a best of 6.823 at 196.36 and will face Jim Underdahl in the opening round.