It was another impressive season for Jay Cox in 2017. He won three Professional Drag Racers Association (PDRA) races for the second straight year, grabbed another win in the Mad Mule shootout series and finished second in the loaded PDRA Pro Nitrous class. But to match that success next year, Cox will need to find a racing partner to bring along for the journey.
"I can't thank Luke and Jessica Clements from Clements Mechanical enough for their support this past year," Cox said. "Unfortunately, plans change and they won't be returning as our primary backer next season."
Cox is seeking sponsorship for the 2018 season, hopeful that past success, future goals and a big personality can help deliver the ideal partner.
The former University of North Carolina baseball star has undoubtedly become one of the most popular drivers in doorslammer racing. His car, a RJ Race Cars-built orange '69 Camaro with a 950-plus cubic inch fuel-injected engine from Buck Racing Engines, is affectionately dubbed the "The Pumpkin," delivering big-time performances in the 3.60s at more than 200 mph.
As far as his racing plans for 2018, the Smithfield, N.C. native hopes to race the eight-event PDRA schedule and the four-race Mad Mule shootout slate at GALOT Motorsports Park and Virginia Motorsports Park. He's optimistic the 12-race schedule will come to fruition, remaining confident he can build on what he accomplished in 2017.
---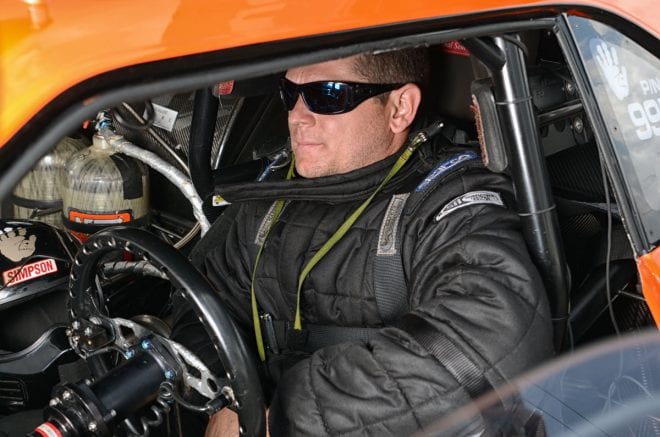 DI: What stood out to you most about what you were able to accomplish last season?
COX: The biggest thing was just having consistency. Pretty much every race we went to the semis or the finals and not just in PDRA. Day in and day out, if a sponsor wants to put in a little money and do some advertising on the car, hopefully they take into consideration how much that car is out front. That's the thing I'm probably most proud of, just how consistent we are. We're always there at the end.
Having that kind of success against top-flight competition, does that mean more to you?
Absolutely. I mean, if you want to be the best, you've got to beat the best, and it makes you feel good when you show up and you know the best in the country are going to be there. We've got the best nitrous cars here on the East Coast, and it's fun when you show up every weekend and race the best there is and you come out on top.
As you've made a name for yourself, your personality, the car, it's all managed to stand out. Where does that come from?
A lot of these people in drag racing are scared to offend somebody. Don't get me wrong, I don't want to offend anybody. I'm a good ole' country boy, but I am who I am and I'm not going to be fake for anybody. I'm going to race hard and when I'm in that lane and you're against me, I'm going to do whatever it takes to win. When I'm at the racetrack, a lot of other people show up to have a good time and party. Buddy, I'm there for one reason and that's to win. I ain't there to party, I'm there to win. I love winning and if someone's as passionate and as driven as me and my team about winning, sometimes people get the wrong perception. I'm outspoken a little bit, I tell you what's on my mind and I tell you what I'm going to do, and I do it. It makes me who I am and I think it's good for drag racing.
What has been your message to someone when it comes to partnering with you?
The first thing they think is this is just kind of a hobby and it's something I'm just doing for fun. But to me it's not a hobby. It's my livelihood. To the day I die, this is what I want to do. I grew up that way playing baseball, just being really competitive. The biggest thing I've learned is to try to stress to people that this is a job to me and a business, and I'm serious about it. I want to represent whoever sponsors me in a professional way and I'm going to run right at the top. When you get that point across I think it's a little easier. Yeah, we have fun and this is a lot of fun, but I'm very serious about it.
As you look for a sponsor for the 2018 season and beyond, what would be the ideal situation for you?
At the end of the day, if I had two or three sponsors, ultimately that's what I would love to do. I would love to split this thing, and that way all your eggs aren't in one basket.
I want to race. I own all my equipment and it's a shame not to race and run it, as good as we've done, but I don't mind letting my stuff sit there and tune for somebody if they're willing to make the investment. If you've got good equipment, all it takes is the knowledge to have the success I've had and run at the front. I also don't mind running a two-car team deal. Ultimately, I would love to do that. I'm open to anything and everything.
At least for next year, what does the timeline look like for you?
Last year, I didn't pick anything up until January and it gave me enough time to be ready, but, in reality, it's almost December. It would be nice to have something secured in December. I've got a brand new engine sitting here and it would be nice to be able to run that thing in January and February down south and get it worked out. My car sat on jacks until February this year and I rolled that thing out of the barn, stuck it in the trailer, went to South Georgia (Motorsports Park), qualified No. 1 and won the race. That speaks volumes about my guys. I've got the best crew, best engine-builder; I've got the best of the best in my corner. It doesn't bother me to sit there, but the sooner I can secure something the better we will be to make a run at the championship.
Cox can be reached at (919) 669-2667.