Outlaw 632 racing paves way to Extreme Pro Stock future for Johnny Pluchino
Just a baby, drag racing was already front and center in Johnny Pluchino's life. Adorning a tiny pair of red headphones, he would sit in his father's lap, anxiously helping John Pluchino with the levers while warming up his Pro Stock car in the pits. But as the younger Pluchino's fascination with the sport grew exponentially, it also caused a major shift in his father's schedule.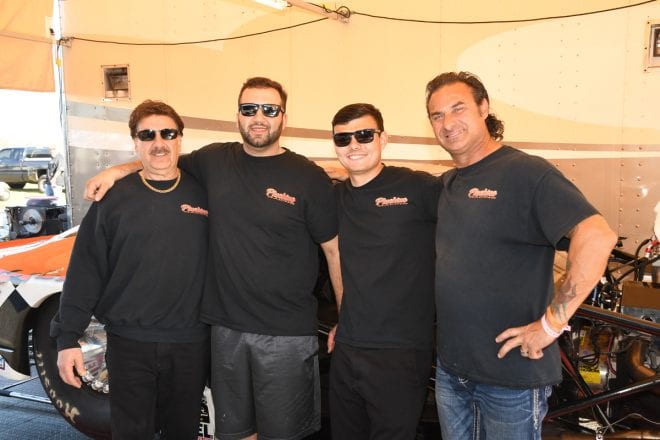 "There was a time when he was probably 5-6 years old, I couldn't pull out of the driveway without him. I would have to sneak out of the house real early in the morning," John Pluchino said. "If he heard the truck, he was running for the front door. He was really, really into it."
Not much has changed for Johnny in that regard. He is still as passionate about drag racing as he is anything, and he's still clamoring for that opportunity to drive his father's Pro Stock car. Despite his constant urging, though, that seat is not yet available. John has enjoyed a late-career renaissance in the class, winning a PDRA Pro Stock world championship in 2016. That Pro Stock ride – now a 2013 Mustang – will be Johnny's at some point in the future, but in the meantime his talents have become evident in the Outlaw 632 class over the past year.
Johnny won three of the four races he attended in Outlaw 632 last season, including the World Street Nationals in Orlando, making a name for himself in his father's old Pro Stock car, a striking orange Ford Escort. He advanced to the finals of the first PDRA Outlaw 632 race in 2017 – an event scheduled to be completed in Darlington – after dipping into the 4.30s for the first time at Lights Out 8 in February, already putting together an impressive start to this season.
While Johnny continues to remain as hands-on as possible with his father's car, the opportunity to drive at a high level in a thriving class has given him the best of both worlds. Getting to share it all with his father has made it even more special.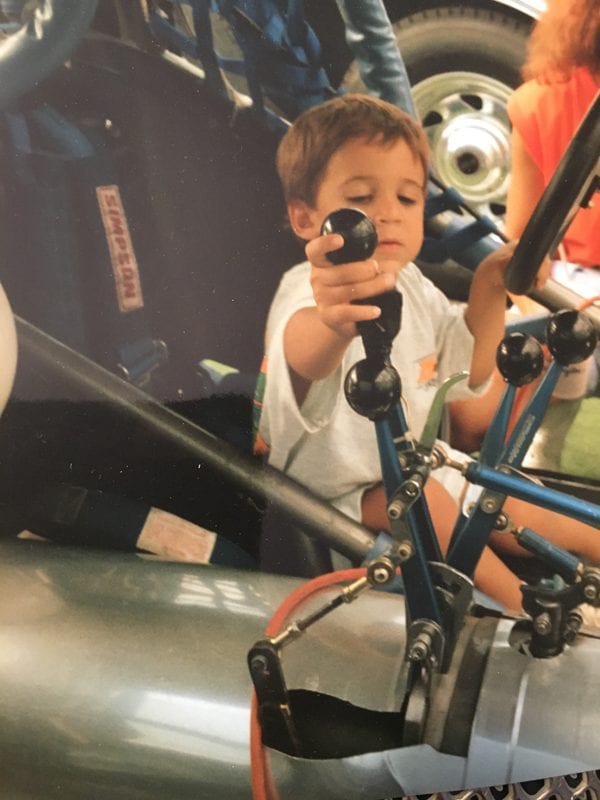 "I've known this sport my whole life because of him," Johnny Pluchino said. "The only reason I've been able to do this is him. I love seeing him do well and, personally, I'm the most competitive guy in the world. I like winning. When I first started this 632 deal, my goal was maybe to qualify. But I love winning with my dad and it's nice because we're the underdog even though some guys say we're not. I always think we will be, and that drives me and my dad."
After Johnny's initial enthrallment with drag racing, John stopped racing in 2000 to focus on his son's thriving Junior Dragster career. Johnny won three track championships in Junior Dragster at Old Bridge Township Raceway Park, winning in both the 330 and 7.90 classes. John was clearly impressed and, years later, it became clear it was much more than just a father bragging about his son.
"I knew from a long time ago he was going to be a killer at this," John Pluchino said. "He makes me proud. He grew up around it and he sees how I am. When we're at the track we're there to work on the car. Everybody is tuned in and nobody works harder than him. As we came along with this and he got older, I tried to teach him every aspect of the car. He's like a sponge. He just picks things up and runs with it. If he tells me something on the radio, I don't even question it."
As much fun as the Junior Dragsters were, Johnny wanted more and that meant pestering his father to return to Pro Stock. John ultimately relented and bought a Mountain Motor Pro Stock car in the late 2000s, winning his first ADRL Pro Stock event in 2012. It was the start of a tremendous late-career run in the big-budget Pro Stock class for the now 62-year-old Pluchino, and it lit Johnny's fuse even more. But as his father enjoyed more and more success, he knew his own timeline in the seat was changing.
That didn't dampen Johnny's desire to drive and he got licensed in 2014 at Atco Dragway, racing in a sportsman event just days later at Englishtown. Johnny raced a few more IHRA Top Sportsman events to stay busy, but because of the 2002 Cougar's clutch set-up and 632 engine, that class wasn't the ultimate destination. Johnny's focus was still his father's Pro Stock operation, but his immediate opportunities were also becoming more clear in Outlaw 632.
When John bought the Mustang before the 2016 PDRA season, he sold the Escort to Dominic Addeo, who quickly mentioned the idea of having Johnny convert it to the Outlaw 632 class, driving it and make a serious run. Addeo's help became the only way possible for the Pluchinos to have a two-car team and the car immediately became a player last year, winning twice in Orlando and a third time in Outlaw 632 at a Super Chevy race at Palm Beach International Raceway.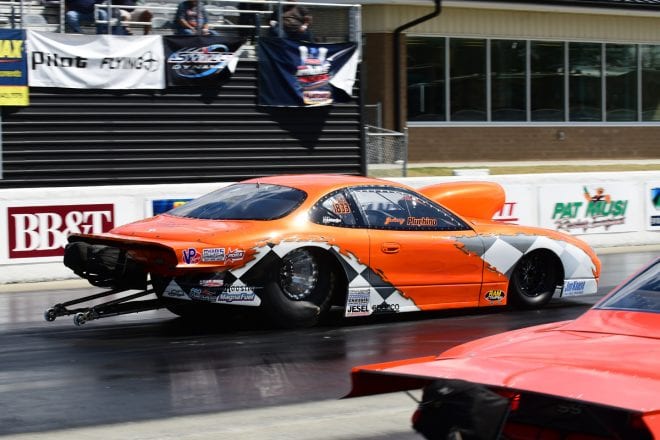 "I really like this class and I kind of realized I fit into it," Johnny Pluchino said. "I love the diversity of the class. There's so many different cars and combinations that can run the class, and it's good competition. It's been a journey that moves fast and we're thankful for Dominic. We wouldn't have been able to fund two cars. But we're applying what we learned (in Pro Stock) to this car and that gave us quick success."
Johnny cracked the 4.30s at Lights Out and then went an even quicker 4.33 in preparation for the PDRA opener. The plan – at least for this year – was to run between six to eight Outlaw 632 races, compete for the PDRA championship, all the while helping his father defend his PDRA Pro Stock crown.
Of course, it's not all rainbows and lollipops in the pits between father and son, but both are certain the moments they share together racing can't be replaced.
"It's chaotic and we thrash and we butt heads, but we hash it out and we're good again," Johnny Pluchino said. "We're like that because we both love what we do and we're both passionate about doing well. He's made me a better driver and he's prepared me in a lot of ways."
Said John Pluchino: "It's a great feeling having your son with you. Having him by your side, it's absolutely priceless. There's no words to even describe it. To see his excitement, it's just awesome."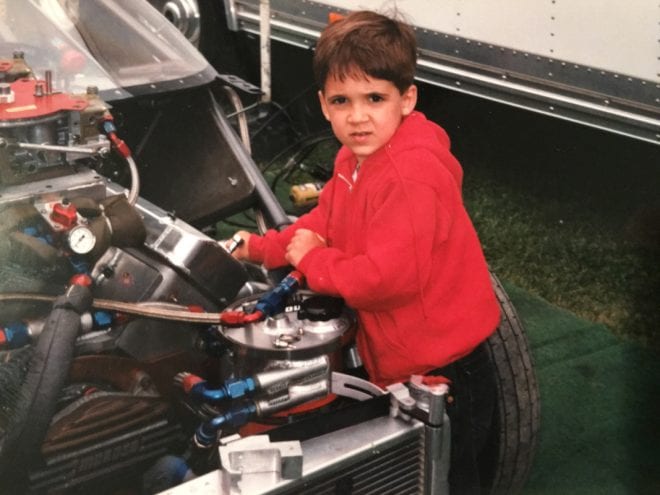 But to elicit the most excitement out of the 26-year-old Pluchino, just mention the prospect of someday driving his father's Pro Stock Mustang. There's no "if," but the "when" is still to be determined. John is still enjoying all that comes with the challenges of the class and as recent history has proven, he's still pretty darn good at it. But he sees his son's enthusiasm and gets just as excited about the future he sees in Johnny driving in Pro Stock. As for his son, well, sitting in that Pro Stock seat is the fulfillment of his biggest dream – one that quite possibly started sitting on his father's lap, wearing those tiny red headphones.
"I still want to be in his seat more than anything," Johnny Pluchino said. "For Christmas he bought me a pour-in seat and I asked which car it was for. I've made one run in that car and I went to half-track. I want to drive the car more than anything, but at the same token we've been able to excel as a program over the years being an underfunded team and that's been special.
"Every year we seem to get a little better and it's awesome for my dad because his whole life he's wanted to compete at the level he's at now. He's 62 years old now and once he gets out he's not going to get back in. But, man, I'm eager to get back in there."