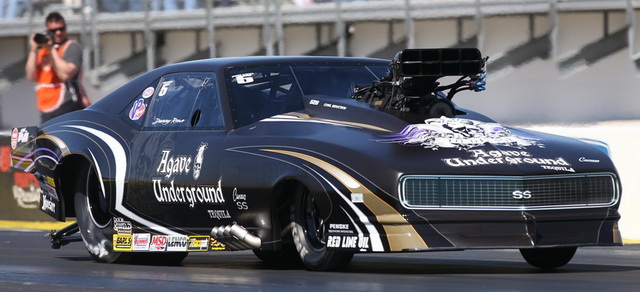 NHRA Pro Mod Series No. 1 qualifier Danny Rowe and his Agave Underground Tequila Camaro was upset in the first round of eliminations Apr. 20, at the Dollar General NHRA Four-Wide Nationals fueled by Full Throttle.
The popular 250-mph doorslammer touring series is competing in the traditional two-lane configuration at zMAX Dragway in Charlotte, NC.
Rowe qualified on top with a 5.867 at 249.07 in his Agave Underground Tequila '68 Camaro, but his machine suffered tire-shake off the starting line in the first round of eliminations and Mike Knowles cruised to the victory in his '68 Camaro.
Other first round winners in the second of 10 events in the NHRA Pro Mod Series were defending world champion Troy Coughlin, local favorite Rickie Smith, veteran driver Kenny Lang, 2010 world champ Von Smith and Mike Castellana.
Sunday's second round pairings, which are scheduled to begin at approximately 3:30 p.m., include Coughlin vs. Castellana, R. Smith vs. Steve Matusek, Knowles vs. Clint Satterfield and V. Smith vs. Lang.
CONCORD, N.C. — First round results and second round pairings from the NHRA Pro Mod Series portion of the fourth annual Dollar General NHRA Four-Wide Nationals fueled by Full Throttle at zMax Dragway:
ROUND ONE — Clint Satterfield, Chevy Camaro, 6.090, 238.68 def. Pete Farber, Dodge Daytona, foul; Von Smith, Camaro, 5.884, 245.67 def. Eric Latino, Camaro, 5.928, 246.80; Troy Coughlin, Chevy Corvette, 5.909, 248.52 def. Chip King, Daytona, 6.015, 249.81; Steve Matusek, Ford Mustang, 5.987, 250.55 def. Mike Janis, Camaro, 7.000, 147.79; Mike Castellana, Camaro, 5.945, 243.06 def. Kevin McCurdy, Camaro, 6.096, 239.53; Rickie Smith, Camaro, 9.215, 100.24 def. Chris Juliano, Mustang, 9.285, 128.38; Kenny Lang, Corvette, 6.401, 173.52 def. Doug Winters, Chevy Bel Air, 7.199, 150.03; Mike Knowles, Camaro, 5.963, 241.67 def. Danny Rowe, Camaro, 10.359, 85.96;
ROUND TWO PARINGS — Knowles vs Satterfield; Castellana vs Coughlin; Lang vs V. Smith; and R. Smith vs Matusek.
CONCORD, N.C. – Final order after two rounds of qualifying in NHRA Pro Mod Drag Racing Series at the Fourth annual Dollar General NHRA Four-Wide Nationals fueled by Full Throttle:
Psn—Num-Driver, Home Town, Car Type—————Qual-ET–Qual-Spd-Top Spd
1    5 Danny Rowe, Laguna Hills CA, '68 Camaro        5.867  249.07  249.07
2   10 Kenny Lang, Grande Pointe MB, '63 Corvette     5.931  247.20  247.20
3   43 Rickie Smith, King NC, '12 Camaro               5.936  241.45  242.41
4    2 Mike Castellana, Muttontown NY, '12 Camaro      5.944  238.93  238.93
5    1 Troy Coughlin, Delaware OH, '13 Corvette        5.963  243.72  243.72
6 1456 Mike Janis, Lancaster NY, '12 Camaro           5.969  241.63  241.63
7  301 Eric Latino, Port Perry ON, '69 Camaro          5.976  243.94  245.09
8  701 Clint Satterfield, Albuquerque NM, '68 Camaro   6.019  246.98  246.98
9    8 Pete Farber, Baldwinville MA, '69 Daytona      6.030  242.45  242.45
10 2377 Von Smith, Oak Ridge TN, '68 Camaro            6.033  236.92  236.92
11    9 Steve Matusek, Olathe KS, '12 Mustang           6.074  243.68  243.68
12  213 Chip King, Southport NC, '69 Daytona            6.082  247.16  247.16
13  191 Kevin McCurdy, Hamburg PA, '68 Camaro           6.143  231.83  231.83
14  567 Chris Juliano, Iberia MO, '67 Mustang           6.208  226.89  226.89
15 2105 Doug Winters, Pleasant Garden NC, '57 Bel Air  6.592  214.55  214.55
16 5011 Mike Knowles, Grand Junction CO, '68 Camaro    9.339  100.92  103.43
———— Not Qualified ————
17  377 Harold Martin, New Hudson MI, '11 Corvette       DQ