Of all the themed issues we put together here at DRAG ILLUSTRATED, I don't think any get me as jacked up as the annual State of Drag edition, which we shipped out a few months back. As most people know, I'm a relentless optimist when it comes to this sport, but I also believe critical analysis is necessary for positive change, even if a tad uncomfortable at times. In my opinion, the key component in this is not simply identifying problems, but being willing—even at the risk of being embarrassingly incorrect—to offer solutions.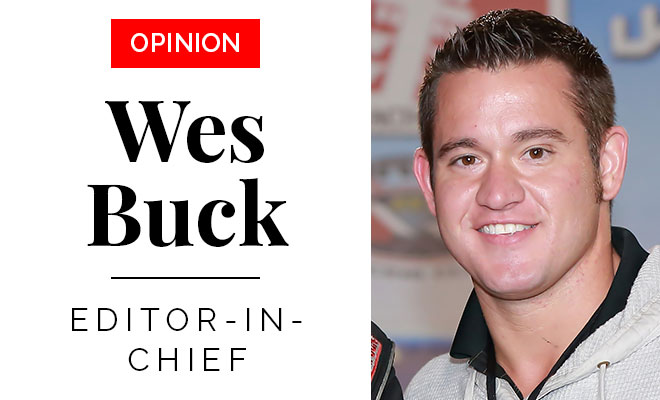 We leaned on some of drag racing's most trusted and best-known voices to provide some perspective on a multitude of subjects in this issue, but personally I feel massively compelled to offer my own thoughts on Pro Mod as a class in 2017, as in where the eliminator is headed and what could ultimately determine its long-term success—or failure.
Some of my earliest, fondest drag racing memories are of heading the 87 miles north from my home in Kirksville, Missouri, to Eddyville Raceway Park in southeast Iowa for one of Carl Moyer's legendary $10,000-to-win Pro Mod shootouts in the mid-'90s. Follow that up with several years following the American Drag Racing League while getting this magazine off the ground and in recent years keeping close tabs on the NHRA Pro Mod Drag Racing Series, and it's clear that Pro Mod has been a big part of my life for a long time. However, it's never been more a part of my daily experience than the last ten months or so after we announced, then held our first-ever, in-house racing event early this August with the DRAG ILLUSTRATED World Series of Pro Mod (WSOPM) at Bandimere Speedway in Denver.
The DI team faced a slew of challenges in the months leading up to WSOPM, but I think one of the biggest was contending with the fact there are well over a dozen current variations of Pro Mod (likely a super low estimate), being contested in North America. In reaching out to racers far and wide, it became almost comical the way so many had their cars set up for specific regional and national series and would require considerable time, effort and money to fit within WSOPM rules, which were simply those of the NHRA Pro Mod Drag Racing Series, albeit with slight amendments made to turbocharger boost limits and supercharger overdrives due to the unique atmospheric challenges of the mile-high venue.
That said, what I believe Pro Mod needs, maybe more than anything else right now, is a unified set of rules. That there is no clear definition of what it means to have a "legal" Pro Mod right now is becoming increasingly problematic and something that needs to change ASAP before we allow this particular brand of drag racing to become even more segmented. NHRA, IHRA, NMCA, ADRL and practically every other alphabet organization you can think of has its own set of rules, while PDRA has three distinct Pro Mod classes at each event; which I'm not arguing against, I just believe one of them should meet a standardized definition of "legal." In fact, it seems like every new series—or even single event—introduces a new set of Pro Mod rules and I believe that's a trend that simply has to end. It's madness.
But I know how it happens and I understand why. As a promoter at Eddyville I realized that with every line added to the rule book it meant one less car might participate. I've been on the phone with a racer making a valid argument or promising to come to all my races if I would just bend one rule or delete one line, and I'll admit I caved sometimes because like so many other promoters I felt obligated to do everything possible to put cars on the track. However, in recent weeks with WSOPM, I toed the line and held firm to our established rules for the greater good—and it's something I'm proud of. It wasn't just a matter of integrity, though; it stemmed from my firm belief that the only way to truly grow Pro Mod is for us all to be using the same guidelines.
One needs look no further than John Sear's beloved X275 eliminator for drag radial racers to find what I believe is the shining example of how a set of rules can essentially be franchised nationwide. Sears has basically patented a set of rules for use at events and series around the country, though he doesn't promote a singular series or any specific event. He just established and manages a set of definitive X275 rules and promoters that want to hold an X275 race—employing Sears' well-known logo and having the event included on his website and associated with his program—must abide by Sears' rules. In my opinion, that's precisely what Pro Mod needs.
Now understandably, there exists a belief by some organizations and officials that simply accepting a standard set of rules—especially if established by a perceived rival sanction—will be seen as a sign of weakness or at least as bowing down, but let's not make something out of nothing. What Pro Mod needs now is to adopt a universal definition, which I would argue should be that of the Real Pro Mod Association (RPM) that races within the J&A Service NHRA Pro Mod sanction. Certainly the argument can be made that NHRA favors one combination (nitrous, roots-blown or twin-turbocharged) over another at times, but there's no denying they have consistently made the effort to maintain parity over the years.
I believe no better example exists of what can happen to a sport when infinitely segmented and divided over the course of time than with boxing, which once was one of the most respected and followed sports in the world. In the 1950s there were a handful of boxing weight divisions contested around the globe and a handful of true world champions that ruled over them. These days there are a myriad of federations and organizations (at least four majors) and something like 17 individual weight classes with the potential of 100 different fighters clinging to "world champion" status.
I've almost always looked at a drag race as a fight, which now unfortunately extends even to how it's officiated and sanctioned. We need look no further than boxing to see where Pro Mod is heading. To avoid a similar fate the time has come to establish a singular definition of a "legal" Pro Mod car.