The quiet town of Martin, Michigan will come alive with the thunder of 3,000+ horsepower doorslammers this weekend as the Professional Drag Racers Association (PDRA) rolls into town for the PDRA Summer Drags. The northernmost event on the nine-race PDRA circuit, the Summer Drags has grown to become one of the largest races of its kind in the region.
One of the biggest stories to watch at Martin is the dominance of Kevin Rivenbark in the GALOT Motorsports Park Pro Boost class. The North Carolina driver won all three prior PDRA events this season behind the wheel of his supercharged GALOT Motorsports 2015 Corvette. Surprisingly, he doesn't feel any particular pressure to maintain his undefeated record.
"Actually I feel relief more than anything," Rivenbark revealed. "I have a substantial lead. Of course I want to win and keep the streak going, but I feel a sense of relief with such a lead in the points. I'm just going to keep doing what I normally do – go A to B. I think we're good to go."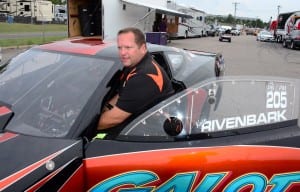 Rivenbark is one of three drivers in the powerhouse GALOT Motorsports camp, which is owned by Earl and Peggy Wells. Teammate John Strickland is sitting fifth in the Pro Boost points standings after finishing runner-up to Rivenbark at the PDRA Texas Nationals in May. Todd Tutterow, who tunes the team's cars along with Jeff Bohr, is third in the ultra-competitive NAS Racing Pro Extreme class. Rivenbark says the capabilities of his team allow him to focus on his task of piloting the 200 mph racecar down the eighth-mile.
"With Todd, Jeff, Brad (Schmidt) and Ty (Tutterow) and all those guys, and the support and resources from Mr. Wells to do what we do, it's mine to lose. I know there won't be any issues with the car, the equipment, or the crew, so it's really up to me. I feel very confident that I'll have a car good enough to win at Martin."
Competing with Rivenbark at Martin will be a diverse group of Pro Boost racers, including Gary White and the EKanoo Racing team, who recently shipped their record-setting Pro Import Toyota GT86 to the U.S. from Bahrain. Other Pro Boost stars to watch are Canadian Paolo Guist, Melanie Salemi, and Ric Fleck.
The PDRA Summer Drags, June 9-11, will be packed full of racing action as the NAS Racing Pro Extreme, Switzer Dynamics Pro Nitrous presented by MoTeC, GALOT Motorsports Park Pro Boost, and Drag 965 Pro Extreme Motorcycle professional classes will be joined by the mountain-motored Extreme Pro Stock class for the second time in 2016. The small-tire DiSomma Racing Engines Outlaw 10.5 class will make its 2016 debut with the PDRA this weekend. Rounding out the line-up are Ronnie Davis Top Sportsman presented by MagnaFuel, Lucas Oil Top Dragster, Talbert Pro Junior Dragster, and MegaCorp Top Junior Dragster. Jet cars and wheelstanders will also be on hand to thrill the Michigan fans.
PDRA competitors will have one full day of testing on Thursday, June 9th before going into the first of three qualifying sessions on June 10th. A fourth and final qualifying session is scheduled to kick off on Saturday morning. Eliminations are set to begin on Saturday afternoon. Visit www.PDRA660.com for event details and tickets.