In a drag racing world densely populated by American muscle, Keith Mayers has proved that his little Porsche is a potent player and that German cars have plenty of their own power, too.
"I was painting cars for a guy that did a lot of imports, and there was a BMW I had been considering," recalls Mayers of his mid-'90s career. "There was a Porsche there, too, and I have loved them since I was a kid so I talked the owner into letting me have it."
Mayers wasted no time in stripping down the '85 Porsche 944 and selling off all the viable components. Then, armed with a VCR and television set that he rolled into his garage, he watched video after video to learn how to build a race car.
Soon, Mayers had the car back-halved and stuffed a 396 ci big-block engine in.
"I only cut up what I needed to drop the motor in, and it still had power windows and stock suspension up front," he notes of the unique combination. Mayers originally intended to run NHRA Super Street with his home-built Porsche, and also dabbled in some footbrake classes. "My first year out with it around '96 or '97 I wound up winning a championship."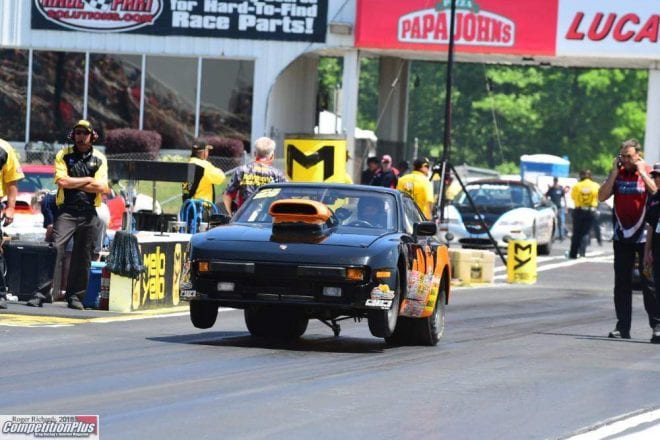 Since its early days, Mayers's 944 has seen quite a few different engine combinations but currently runs a 565 ci big-block Chevy-based bullet with a Powerglide transmission and a Ford 9" out back. An all-aluminum big block is in the works, and the car runs consistent 10.90s in the quarter-mile. It also has a few little touches that show off Mayers's fun personality, including a sunroof, CD player, and even a dancing hula girl on the dash.
"She makes the decisions," laughs Mayers. "If she's nodding her head, she's telling me to hit the brakes at the stripe."
Bouncing between Delaware and the Eastern Shore of Maryland, 51-year-old Mayers has accumulated an impressive track record with his Porsche over the nearly 25 years he has been competing with it. He has no problem being the odd man out with his German-engineered drag car, and has taken every opportunity to disprove the naysayers with his aerodynamically advantaged entry.
Mayers has earned multiple IHRA championship titles, including the 2005 and 2009 seasons, and racked up nearly a dozen national event wins. Footbrake and bracket races with prizes paying out upwards of $10,000 have all seen Mayers and his Porsche posing proudly in the winner's circle, and he's also found tremendous success in the Mid Atlantic .90 Association – including world titles three years in a row.
Even more impressive was Mayers's recent winning streak where he won 33 consecutive rounds across multiple races. He took home the Wally at the 2018 NHRA Southern Nationals in Commerce, Georgia, for the Super Street category, and went on to win the 11.50 index class with his small-block-powered '67 Dodge Coronet at a Mid Atlantic race in Maple Grove, Pennsylvania, where he doubled up by winning with the Porsche that day as well.
Mayers's innovation and Porsche-pioneering spirit haven't gone unnoticed. Companies such as Weldon High Performance Racing Pumps have partnered with Mayers for product testing and development, such as with the Weldon 16250-A Carb Series and 19420-A fuel pumps.
"When I went to a bigger motor a few years back, I found myself running out of fuel. I found a Weldon pump for sale, put it in, and it solved the problem," explains Mayers of how the working relationship got started. Eventually, the pump needed to be replaced and Weldon worked with Mayers to find a replacement to work in his tight-fit location. "They have been great about getting me what I need, and I ain't had a lick of trouble with their products. Now I know I'll have plenty of fuel supply for when I move to the 632 ci aluminum motor, too."
Looking ahead, Mayers is content to stick to NHRA Super Street as long as he's got his wife, Etta, by his side and support from his friends and fellow racers like Gerald Pierce and Jeff Fisher. Running against high-dollar cars with an unconventional ride and an open trailer pulled by a '99 Ford F350 pickup truck may cause less-secure folks to feel down on themselves, but Mayers knows his homemade German hot rod has the goods to go up against any American muscle – and win.
NOTE: This article originally appeared in Drag Illustrated 140.